Creekside Bar + Grill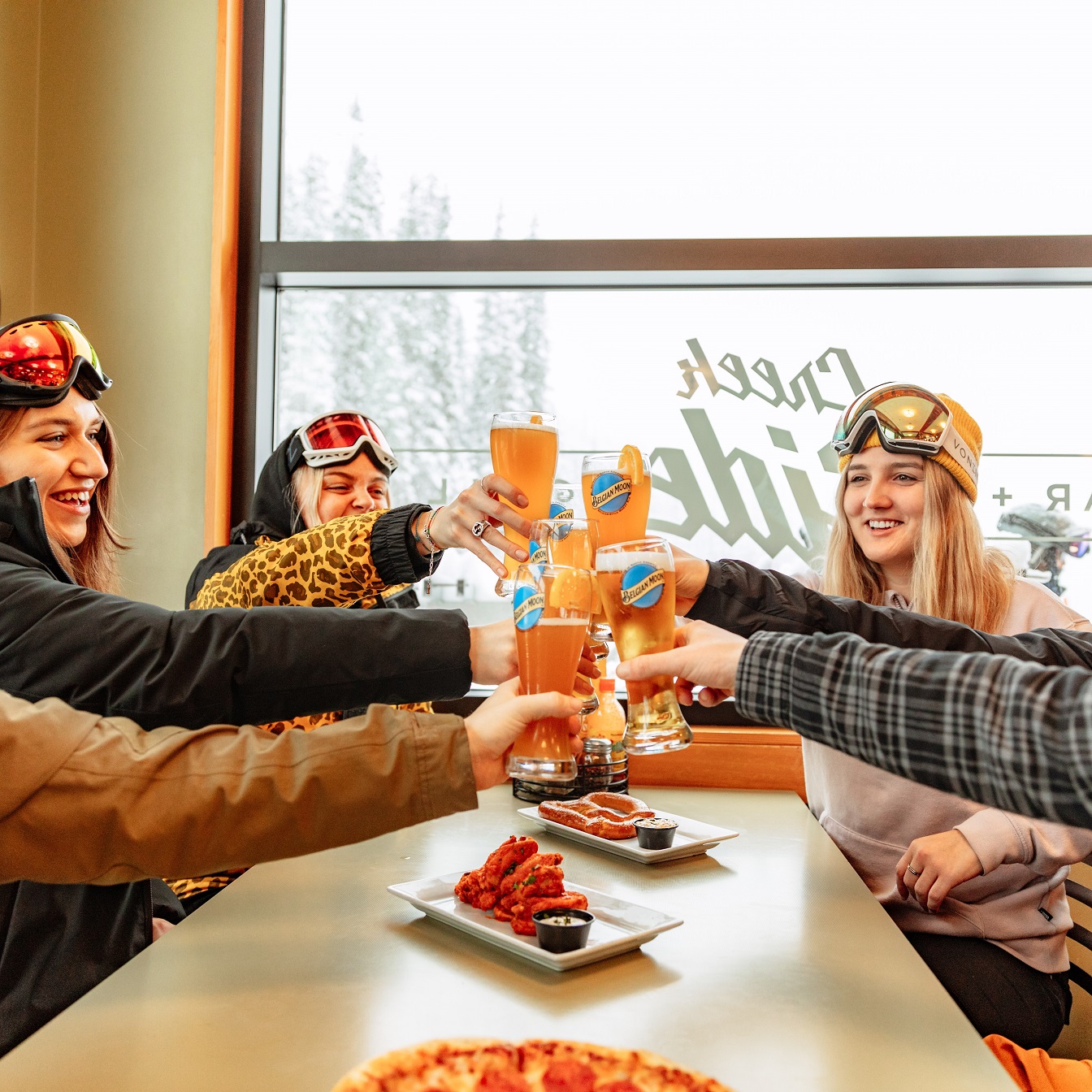 APRÈS
Gondola Wings or Boneless Tenders
Choice of Bourbon BBQ, Maple Chipotle, Sea Salt and Cracked Pepper or Hot. $16
Farside Fries
Famous Crispy Golden Fries. $8
Ecstacy Poutine
Our famous In House Cut Fries topped with Fresh Local Curds and Rich Gravy. $14
SOUPS & BOWLS
Soup of The Day
Made in house, from scratch, everyday. $9
ENSALATA
Bourgeau Greens (V)
An assortment of Market Fresh Baby Greens topped with Heirloom Cherry Tomatoes, Bell Peppers, Cucumbers Roasted Chickpeas and Quinoa, tossed in our house Cranberry Citrus Vinaigrette. $12
Hail Caesar
Heart of Romaine, Double Smoked Bacon, Focaccia Croutons, Shaved Parmesan. $12
Add Chicken. $7
MAINS
Served with choice of Soup, House Salad or Fresh Cut Fries.
Upgrade to Kettle Chips or Caesar Salad for $3.
Sunshine Burger
Chopped Beef Chuck, Cheddar Cheese, Lettuce, Tomato, Bermuda Onion, Spiced Pickle, Brioche Bun. $18
North Divide Crispy Chicken Burger
Local Hand Breaded Crispy Chicken Breast, Crisp Lettuce, Roma Tomato's, Chipotle Aioli, Brioche Bun. $20
Big Bunkers Black Bean Burger (V)
Spiced Black Bean Burger Patty, Market Greens, Roma Tomato, Bermuda Onion, Chipotle Aioli on a Brioche Bun. $16
CREEKSIDE STONE FIRED PIZZA 12"
Rock Ledges Peperoni & Cheese
Dry Cured Pepperoni, Mozzarella. $16
Forget Me Not Grilled Veg
Zucchini, Eggplant, Portabella, Bermuda Onion, Vegan Cheese, Pesto Drizzle. $15
KIDS MENU
All items served with Salad or Fries.
Star Trek Chicken Tenders. $10
Tiny Tigers 7" Pep and Cheese Pizza. $10
Creekside Cheese Burger. $10