Sunshine Burger Company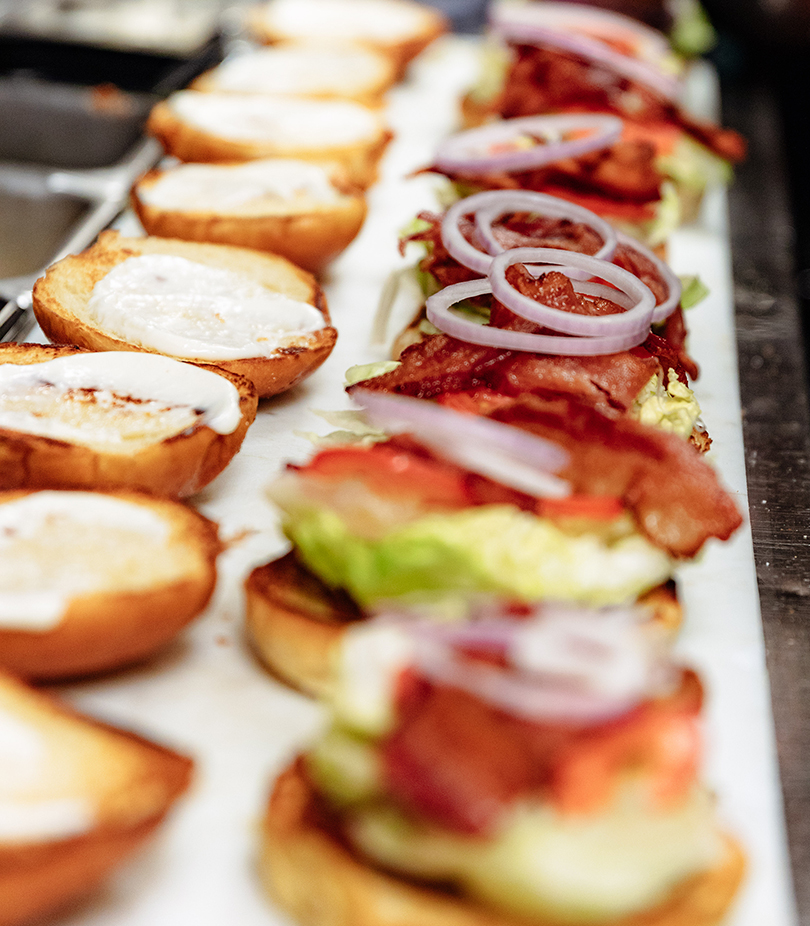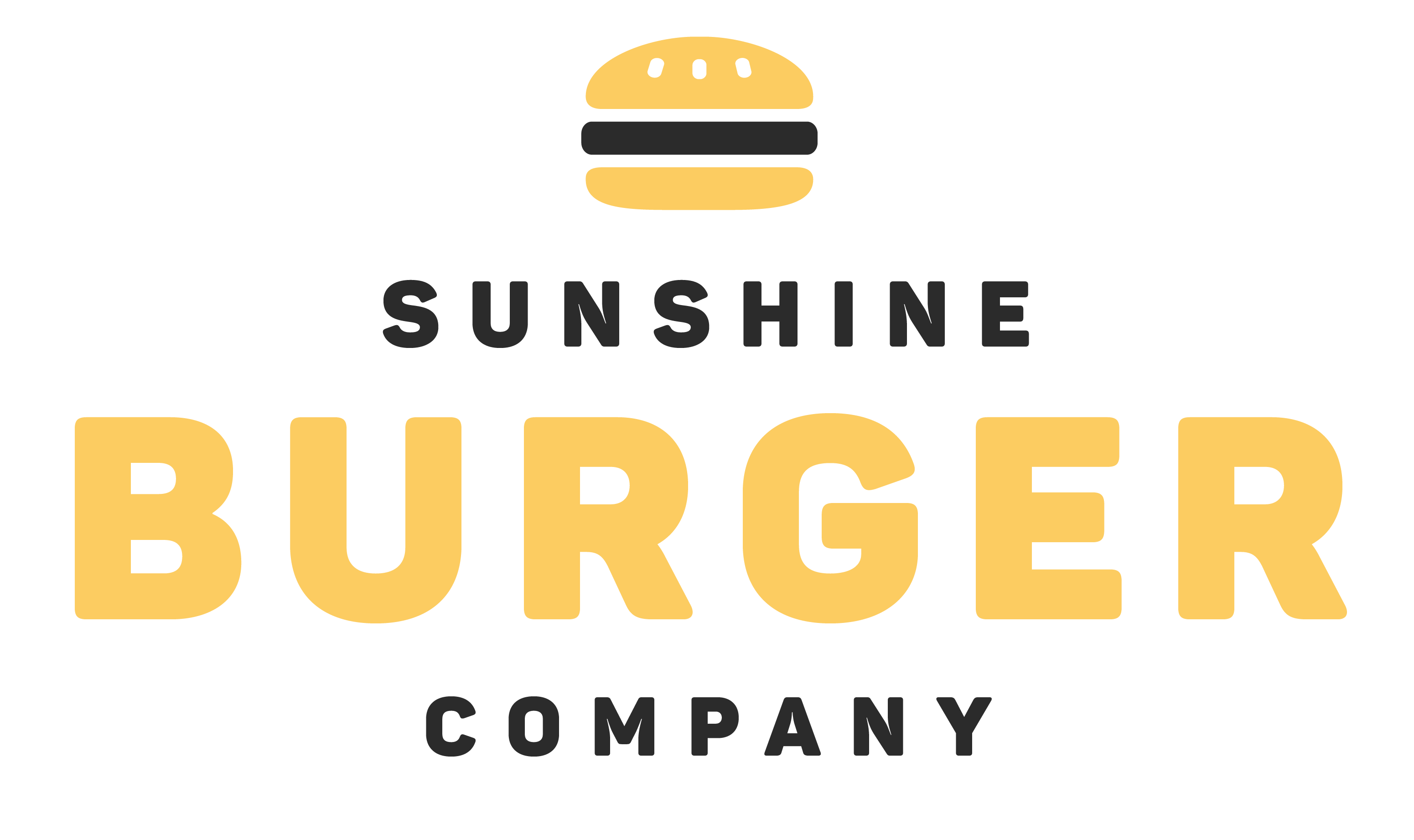 STARTERS / SHAREABLES
Gondola Wings or Boneless Tenders $18
Choice of Hot, Bourbon BBQ or Salt & Pepper, served with an assortment of Fresh Vegetables and Ranch Dip
Pork Riblets $16
Fried until golden brown, seasoned with salt and pepper, served with Ranch Dip
Extraordinary Poutine $15
Fries topped with fresh Local Curds and Plant-Based Gravy
Fried Mac & Cheese Bites $12
Crispy on outside, melted inside! Served with Marinara Sauce
SOUPS & SALADS
Chef's Scratch Made Soup $10
served with bread roll, upgrade to baked focaccia add $4
Market Greens $16
Mixed Greens and Roasted Beets tossed in our House Vinaigrette topped with Goat Cheese and Candied Pecans.
Hail Caesar $15
Heart of romaine, double smoked bacon, focaccia croutons, shaved parmesan
Add Grilled Chicken Breast $8
Add Focaccia $4
Add Tofu $5
Burgers & More
Served with choice of house salad or fries.
Upgrade to Sweet Potato Fries or Caesar salad for $3 Add Gravy $4
Alpine Falafel Burger $21
Hand Formed Chickpea Patty, Vegan Tzatziki, Crisp Lettuce, Pickled Bermuda Onion, Herbed Ciabatta Bun
Jack and Bleu Burger $22
AAA 8oz Prime Rib Patty topped with Jack Daniels Caramelized Onions, Smoked Bacon, Blue Cheese Crumbles and Monterey Jack Cheese. On a Brioche Bun with Lettuce, Tomato and Garlic Aioli.

Alberta Bison Burger $25
Bison & Beef blend. 8oz Burger with Blueberry Jalapeno jelly topped with Monterey Jack Cheese, Lettuce, Tomatoes and Pickle Onions. Brioche Bun
Nashville Hot Chicken Burger $21
Crispy Chicken Breast with Chef made Nashville Hot Sauce, topped with Bread-and-Butter Pickles and Chef Made Slaw. Brioche bun.

All Beef JUMBO Hot Dog $18
Jumbo All Beef Hot Dog, Fresh Roll, Chopped Bermuda Onion, Mustard, Ketchup
The Reuben $19
Thinly sliced Corned Beef Topped with Sauerkraut then Smothered with Swiss Cheese on grilled Marble Rye with our house made Russian Dressing, served with Dijon Aioli for dipping
Halifax Donair $18
Spiced Beef & Lamb Mixture Slices Grilled and served in a Warm Pita with Lettuce, Tomato and onions and Topped with a Sweet Garlic Sauce and Feta.
DESSERT
Hot Brownie Avalanche $12
Hot Brownie, Ice Cream, Hot Fudge, Candied Pecans
Sticky Toffee Pudding $12
Moist Sponge, Chopped Dates, Toffee Sauce, ice cream
Apple Crumble $12
Tart Apple Slices, Cinnamon Scented Caramel, House Made Granola Topping, ice cream
(GFA) - Gluten friendly available, (GF) - gluten friendly, (V) - Vegetarian, (VG) - Vegan, (VGA) - vegan available
DRINKS
House Wines
RED
The Show Cab Sauv
Look for dominating aromas of prune and smoky oak with floral, licorice and cassis notes. On the palate expect resonating plus flavors with soft texture all the way through the finish.
5oz 15$
8oz 20$
Bottle price 60$

Manos Negras Red Soil Pinot Noir
The autumn berry aromas are earthy with flavours of bramble, chocolate and plum with some earthy spice
5oz 15$
8oz 20$
Bottle price 60$
WHITE
Cable Bay Sauv Blanc
Lime zest, elderflower and notes of guava come together to form an expressive nose. It has a textural, slightly saline and crunchy, zesty lime sorbet finishes on the palate.
5oz 15$
8oz 20$
Bottle price 60$

Cline Chardonnay
Orange Blossom, citrus and pineapple aromas and flavors. The palate is lush with a creamy texture and integrated oak and vanilla on the finish.
5oz 15$
8oz 20$
Bottle price 60$
ROSE
La Vie En Rose
Pale rose wine with fresh red berries and fruit drops on the nose. Full and refreshing on the palate, with the acidity and richness bringing out the very pleasant aromatic range, reinforcing the first impression on the nose.
5oz 12$
8oz 17$
Bottle price $50
PROSECCO
Cantico Prosecco DOCG
The prosecco is light and lemony with green apple floral characters.
5oz 15$
Bottle Price 60$
Subject to availability