Sunday, March 15
What We're Doing to Stop Germs In Their Tracks.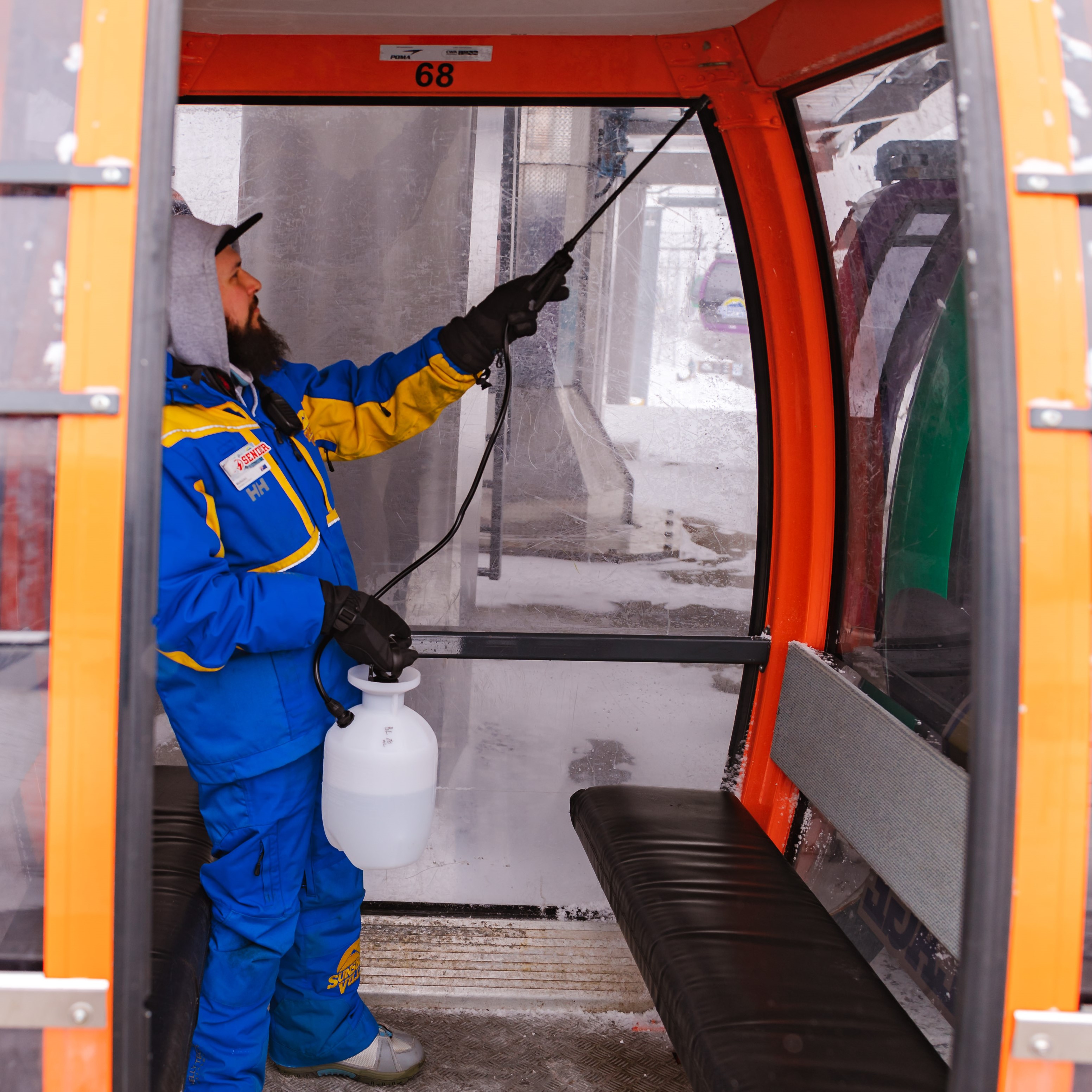 Mar 15, 2020
What We're Doing to Stop Germs In Their Tracks.
At Banff Sunshine Village, the health and wellness of our mountain resort, our guests, and our team members are our top priority. We are taking extreme measures to ensure cleanliness across all facets of our mountain playground – including the daily sanitization of all our gondola cabins. As a resort, we are actively working to stop germs in their tracks while allowing Albertans to get outside and exercise in this time of stress.
In a recent interview with British Columbia's top doctor, Dr. Bonnie Henry, she recommended Canadians go ski – as it's a great way to relax in this time of uncertainty. We believe that during this tumultuous time, Canadians need and want a safe place to recreate and enjoy the clean, wide-open alpine landscapes at Banff Sunshine Village. We intend to continue to offer access to our pristine environment responsibly.
We do strongly encourage any guest (or team member) feeling under the weather, over the age of 70, or with a pre-existing health condition to stay at home at this time.
Social Distancing at Banff Sunshine Village:
To encourage and promote healthy social distancing, we at Banff Sunshine have implemented changes across our resort.
Gondola and Lifts:
- To promote confidence amongst skiers, we have eliminated singles lines for all lifts, including our gondola. Across our mountain, we will not be forcing skiers or snowboarders to ride with guests they do not know.
- To allow for more personal space on both ski lifts and our gondola, we will not be maximizing our capacity. We're recommending a maximum of four guests per gondola cabin, and two guests per chair on Teepee Town Lx.
- If your skiing with your family, families will be kept together and can self-select to ride any lift as a group.
Public Lodges and Restaurants:
- To promote and encourage social distancing, we have reduced seating capacity in all our lodges, restaurants, and public spaces, effective March 15th, no room at Sunshine Village will have more than 250 seats.
- We have removed tables from our Alpine Grill, and we are asking guests to leave spaces between groups.
- Seating has been removed from Trappers, Creekside, Chimney Corner, Java Lift, Burger Co, Lookout Lounge, and Goat's Eye Lodge.
- Our team will be running outside BBQ's daily to allow for more outdoor seating.
Busses and Public Transportation:
- We've reduced the capacity of our busses to allow for greater social distance.
- We're requesting guests to leave empty seats between fellow passengers while riding the Sunshine Express.
- Our busses, like our gondola cabins, continue to be sanitized daily.
If you have any questions or would like to learn more about the actions we've implemented to stop germs in their tracks, please email us at media@skibanff.com