Tuesday, December 31
Carve Into a New Decade!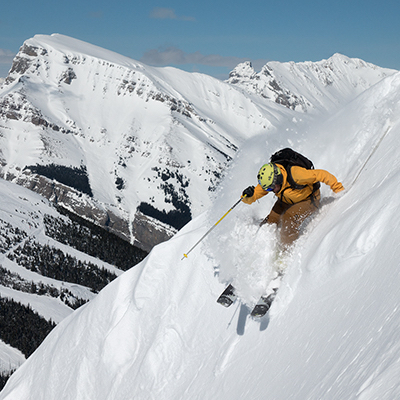 Dec 31, 2019
Carve Into a New Decade!
In the spirit of starting a new decade, we at Banff Sunshine are here for you and all your New Year's Resolutions. At Banff Sunshine, we want to help you keep and commit to your 2020 goals.
Check out how we can help you commit to your new year/new decade resolution:
Enjoy More Family Time
Want to enjoy more family time this year? Make the most of family time and enjoy quality family time on the slopes of Banff Sunshine with a Sunshine Family Season Pass. For just $2,850 (the same price as two adult passes) you and your family can enjoy unlimited skiing or snowboarding of Canada's Best Snow from now until May 18th.
Exercise More
Both skiing and snowboarding are fun forms of exercise. The sports provide a form of anaerobic and high-intensity interval training. While downhill skiing or snowboarding, you'll work up a sweat on the downhill – using the large muscles of your leg. Did you know you can burn upwards of 400 calories an hour skiing or snowboarding?
Eat Healthier
Eating healthy at Banff Sunshine is now easier. This year we're pleased to feature vegetarian and vegan options at all of our food outlets. For a healthy meal; try the Gourmet Veggie Burger at Chimney Corner, the Vegetarian Pho at Alpine Grill, the Spring Rolls at Trappers, the Grilled Vegetable Panini at Lookout Restaurant, and the Super Model Vegan Salad at Creekside.
Drink Less, you know what
If cutting back on adult beverages is a new years' goal for you, our bar team at Sunshine has a solution. This season we're excited to feature non-alcoholic cocktails on our drink list. We recommend trying the lavender lemonade at Creekside.
Spend More Time Outside
Make 2020 your year to get outside and enjoy the beauty of the Canadian Rockies. At Banff Sunshine, we make recreating in the mountains easy. Order your Sunshine Season Pass and enjoy all you can ski from now until May 18th.
Expand Your Knowledge
Looking to learn more about winter in the Canadian Rockies, while expanding your snow knowledge. This season, sign up for an AST (Avalanche Skills Training) course to learn how to stay safe in snow country. If you're thinking of exploring the backcountry, or if you want to ride Delirium Dive or the Wild West, we recommend you sign up for your AST 1.
Try Something New
Never skied, or snowboarded before? Invite a friend who is also new to winter sports and sign up for our First Timer Package. Our First Timer Package includes a lift ticket, rentals, and a lesson, making it the ideal way to ease into winter fun on the slopes of Banff Sunshine.
Laugh More
Reserve your stay at Sunshine Mountain Lodge for Slush Cup 92. The wild costumes and the brave attempts by competitors to ski or ride across a 110-foot pool of ice water will have you laughing out loud as you soak in the final ski day of the 2019/2020 ski and snowboard season.
Make Time To Practice
Researchers say it takes 10,000 hours to master a skill. This winter master your beacon skills in our BCA Beacon Zone (located at the top of Wawa).
Make Time To Stretch
New this winter at Sunshine Mountain Lodge, we're offering FREE yoga every Friday evening. Join us for a relaxing and calming yoga class designed to stretch and restore your ski muscles.
Waste Less
In an effort to reduce our paper waste, we've launched Mobile Lift Tickets. With our Mobile Lift Ticket, you'll help us reduce paper waste all while saving money.
Dress Greener
Looking to live greener this year? We at Banff Sunshine are excited to partner with Pure Waste, a company that uses recycled textile materials for all their apparel items. Check out our Pure Waste Sweatshirts online (they make the perfect mid-layer).
Practice Gratitude
Trust us, the mountains have a way of making you feel blessed to be alive. One ride up Great Divide is all it takes to practice gratitude in the moment.