Wednesday, December 4
Standish Express Is Now Open!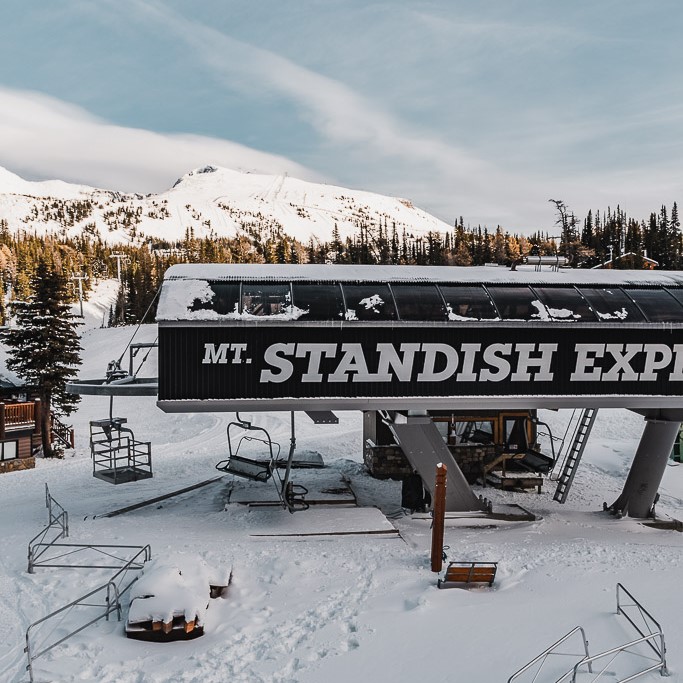 Dec 4, 2019
Standish Express Is Now Open!
What do blandish, banish, and outlandish have in common? They're words that all rhyme with STANDISH!!
Now, if you're sitting there reading this, you might be wondering why we're trying to find words that rhyme with Standish. Truth be told, we're a little giddy with excitement for the 2019/2020 season opening of one of our favorite lifts, Standish Express.
This afternoon, Wednesday, December 4th, our mountain operations team has given the "go ahead" to open Standish for skiers and snowboarders. (YAY!!)
Standish Express, is a favorite of skiers and snowboarders for its unique mountain terrain, as the lift services playful terrain for skiers and snowboarders of all levels. The high speed of Standish makes the chair perfect for getting in those hot laps!
Mount Standish, is named after one of Banff's early Families. In the early 1900s, the Standish Family settled in the town of Banff. The family made their name through a hardware shop, while they enjoyed playing in the great Canadian Rockies.
With the opening of Standish Express (and before the opening of Goat's Eye), Lift lift ticket prices will now be $119 for an adult, $93 for youth and seniors, and $46 for a child ticket.
At Banff Sunshine, with the opening of Standish Express, we now have 8 chairs open (Great Divide Express, Angel Express, Teepee Town LX, Standish Express, Strawberry Express, Wolverine Express, Wawa Quad, and Jackrabbit), two magic carpets, and one 15 feature terrain park.
With the snow falling, and accumulating, in the Rockies, our team is working hard to open more of our mountain terrain for you to carve up. It's our goal to be wide open as soon as we can.
As it is still early in the ski and snowboard season, we at Banff Sunshine encourage you to ski and ride with care, as our terrain may be more wild than normal. While on the slopes please keep your eyes out for unmarked hazards.