Monday, February 3
Try Out Our Sunshine Instagram AR Filter And Gifs!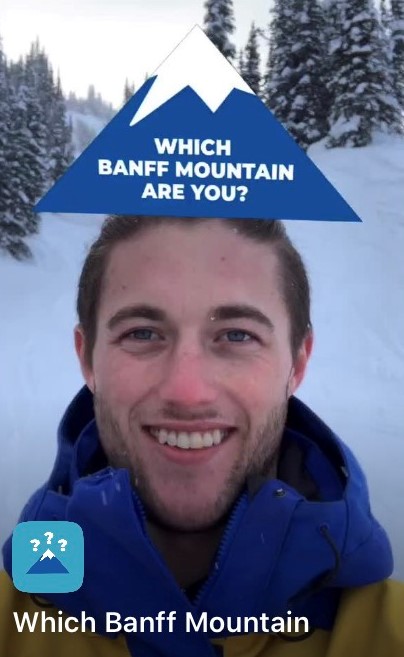 Feb 3, 2020
Try Out Our Sunshine Instagram AR Filter And Gifs!
Add a little flavour to your stories with our gifs and new AR filter.
At Banff Sunshine, we love it when you share your love for the mountains and riding Canada's Best Snow on your Instagram and Facebook stories. To help make your Sunshine Stories even better, we have new GIFS and a new AR FILTER!
SUNSHINE GIFS
Oh, Gifs! Don't you love them? Since we launched our first gifs a season ago, we have seen you share the coolest stories on social media!
To help you explore more of that wild and creative side of yours, we have added new ones to our collection. We now have over 25 gifs to play and have fun with!
Haven't tried them yet? Our Sunshine GIFs are available everywhere you can access GIPHY, like Snapchat, Instagram & Facebook Stories. Use them to share your mountain love or show off those dreamy pow days! We made our GIFs especially for you, ski and snowboard enthusiasts, to add a fun touch to your photos and videos. Take a look at our channel here: giphy.com/sunshinevillageresort.
Ready to get started? Adding Sunshine GIFs on Instagram Stories is easy! When you tap to add a sticker to a photo or video in stories, you will see a search box on the top. Type 'sunshine village' or 'ssv' for easy access, select your favorite and voilà!
We can't wait to see what you all create next! Remember to mention or tag us in your stories so we can see them.
SUNSHINE AR FILTER
If you're into Instagram, you have probably seen and used AR face filters already. You know them, they are fun, playful and easy to use!
Not familiar with it yet? No worries! Augmented reality (AR) filters are digital effects that alter the image of your front or back phone camera. These computer-generated effects layer over the real-world image and move with you as you move.
Want to know which Banff Mountain you are? Are you Standish? Goat's Eye? or perhaps Mount Assiniboine?
Go to our Instagram account, select the face icon under the story highlights, click on the AR filter and find out! Let us know what Banff mountain you are by sharing your stories with us using #sunshinevillage and @sunshinevillage.