Wednesday, February 12
Sunshine Pick-up Lines that Work!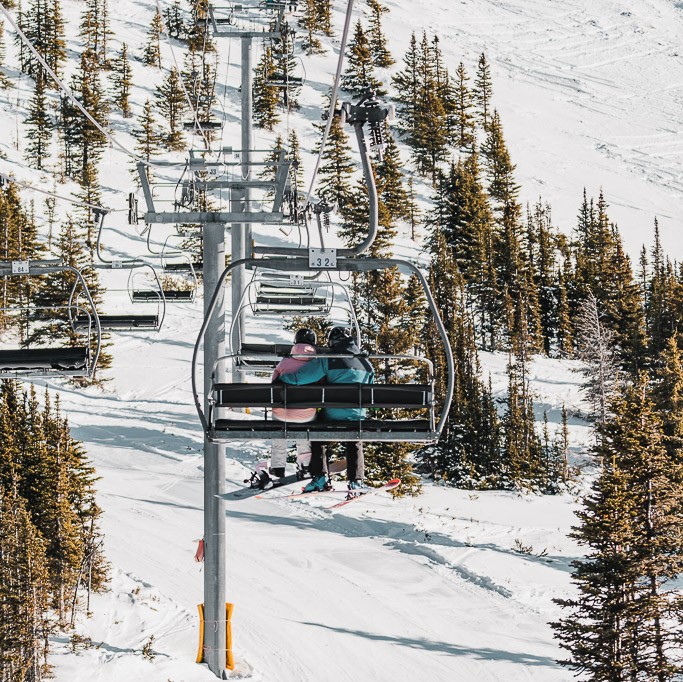 Feb 12, 2020
Sunshine Pick-up Lines that Work!
Pick-up lines that will melt the ice of your crush's heart.
Just in time for Valentine's Day, we've put together a list of the 12 cutest and cheesiest conversation "icebreakers" we've heard on the mountain.
1. I'm Wilder than the West about you!
Now, this is a line that deserves to be on the back of a kid's valentine card. The cute line mixed with a little of our extreme terrain makes this pick up line a Sunshine Favourite. If you're looking for a 'wilder than the rest' mountain experience – check out the Wild West located off of Goat's Eye Express.
2. Let's say Bye-Bye to not knowing each other?
Bye-Bye Bowl, located off of Great Divide, is one of our most iconic runs at Banff Sunshine Village. The long Alpine black run, skis you in and out of the Alberta/BC border. We recommend using this line when striking up a conversation with someone you want to get to know.
3. Are you a Monarch, because you class up the Canadian Rockies.
If you've skied Sunshine, you've likely stopped to take a picture of the Monarch – the large fan-like Mountain that rests just behind Standish Express. Like The Monarch Mountain, use this line to show your appreciation for a true beauty of a person.
4. I'm skiing us together
Yaaaa, we said it. We're 'skiing us together' this Valentine's Day. So, clear your calendar and join us on the slopes for what's sure to be an incredible day….
5. Are you an Angel? Because You're on the Express to my heart.
This twist on a classic, makes us giggle. We love how it plays on Angel Express, our (and the Canadian Rockies) first high-speed express chair.
6. Honey, I'm totally a "Little Bunkers" for you.
Off of Standish, you'll find both "little bunkers" and "big bunkers." These runs are kid's favorites as the young at heart fondly change bunkers to bonkers.
7. I'm FREE FALLING for your love.
Goat's Eye Mountain is home to some of our wildest terrain at Banff Sunshine. Back in 1995 when we first opened the mountain, we held a naming contest for the new runs. With steep, seemingly vertical, terrain Free Fall was a fan favorite. Just as first turns down Goat's Eye where love at first carve, that feeling of finding the one can be a total free fall.
8. Lucky me, I've always wanted to ride with an angel, what run should we do?
Take a lap of Angel with your special friend, and use this smooth – and more than a little cheesy line to make your date blush. For bonus points, suggest Little Angel as you run down the mountain.
9. Are you a Trapper, because you've caught my affection.
Inspired by Mad Trapper's, this clever line is sure to start a conversation après hours. Just be warned it will likely make the recipient laugh.
10. My Mother in Law is a gem, after all, she gave me you!
Think what you want about your mother in law, but at Sunshine, she's a steep and deep chute to the skiers left of Goat's Eye. And just like some of the more difficult relationships in life, once you're back on the lift, you find yourself ready for a second visit.
11. You're the Goat's Eye.
Wink, wink. At Banff Sunshine Goat's Eye is our boldest mountain – the terrain has definite personality. Guaranteed to make you fall head over heels in love with skiing in the Canadian Rockies. Use this line on your Valentine to show them, just how special they are.
12. You're the only one I want to ride this Rollercoaster with.
Ask any 6-year old what their favorite run at Sunshine is, and you'll get Roller Coaster. This Valentine's Day, show you're special someone that you're in it together. Through the ups and the downs of a fun little run called Rollercoaster.
And if those fail, you could stick to the classic. "Like a snowflake, you're one of a kind!"
Now that you've got the slick tricks (we mean phrases) to melt the ice of your crush's heart, come take a ride on our Sunshine Love Chair. Which will be taking flight in the Sunshine Village area on Friday, February 14th, from 11 am to 3 pm.
And just remember, ski passes last longer than flowers and are always 100% fat-free. This Valentine's Day surprise your snow bunny or hot dog with a heart-pumping day of fun 'skiing' the difference of Canada's Best Snow.
Want more of a 'snowmance,' book a stay at Sunshine Mountain Lodge – Banff's only ski-in, ski-out hotel.