Wednesday, April 14
8 Things to know about Spring at Sunshine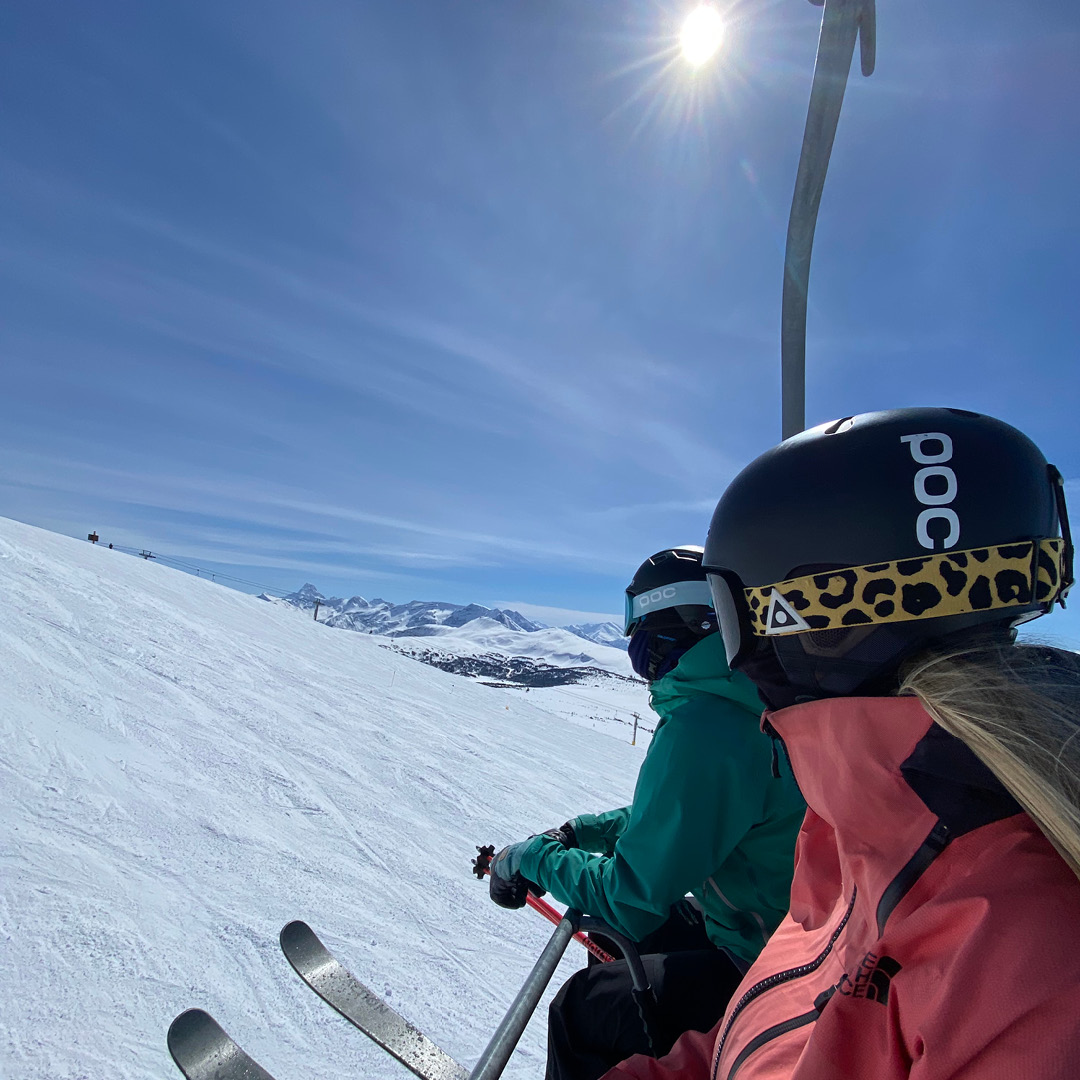 Apr 14, 2021
8 Things to know about Spring at Sunshine
8 Things You Need to Know About Spring Skiing
Let's hear it for the Sunshine!!
At Banff Sunshine, spring is our favourite time of year to carve up the slopes. Thanks to our unique location high on the continental divide, we're famous for being home to Canada's Best Spring Skiing and Snowboarding.
What makes spring at Sunshine so special? For us, it's all about the snow did you know March and April are traditionally our snowiest months of the year. So far this April, we've received 60 cm (2') of Canada's Best Snow, which brings our total snowfall this season to 902 cm (29'6").
With incredible conditions on the slopes of Banff Sunshine, make up for last spring, and ski why Banff Sunshine is home to Canada's Best Spring Skiing and Snowboarding.
This spring, we invite you to fall in love with spring skiing too. To make the most of your time on the mountains this second season, we put together 8 things you need to know about Spring Skiing and Snowboarding at Banff Sunshine Village.
1. Stock up on Sunscreen!
When the sun is out the risk of getting a sunburn is higher. Make sure you get a tan instead of sunburn this season and protect your face with some SPF before hitting the slopes!
We recommend using a mineral sunscreen with an SPF 30 or higher for better protection. Remember to reapply a couple of times during the day.
If you're prone to dry lips, we recommend keeping your lips hydrated with an SPF lip balm.
Most Sunshiners recommend keeping a small bottle of sunscreen with you while you ski to fend off sunburns. At 7,200 feet above sea level, the UV index is higher at Sunshine than it is in town. When skiing or riding, make sure you protect the lower part of your nose and chin as the sun's rays can bounce off the snow.
If you forgot to pack your sunscreen in the morning rush, we got you covered! Stop by our retail stores in the village to find this and more spring essentials.
2. Goggles and Helmet are a Must
Goggles and helmets are your best friends, no matter the season. The sun reflection from the snow is more intense than usual in the last three months of the season. So, protect your eyes by keeping the wind and UV rays out with a good pair of goggles.
Wearing a helmet will help prevent your scalp from burning while keeping you safe! A must if you're hoping to learn new tricks in our Great Divide Park this spring.
3. Dress in Layers
The warmer days are calling for lighter ski wear. Spring in the Rockies is famous for cool mornings and sunny afternoons. When indulging in spring at Sunshine, dress smart and layer up.
We recommend swapping out your down jacket for a lighter shell and dressing in sweat-wicking base layers. (We're big fans of wearing lululemon under our ski pants come spring.) As the temperatures warm up, remove the mid-layer if it gets too hot. Or open the armpit zippers to let some fresh mountain air flow around.
Add some sunshine to someone's day and make a statement on the slopes this spring with a colourful ski suit. Get your best outfit ready and share it with us using #sunshinevillage on Instagram & Facebook.
4. Stay Hydrated
When enjoying spring skiing, staying hydrated is a must! The sunshine combined with the high altitude can drain your juices pretty quick. When riding this spring, be sure to fuel up with water or electrolytes regularly so you can continue to enjoy your time on the slopes. (We recommend stopping for a water break every hour to help keep you hydrated.)
5. Follow the Sun
Plan your day so you spend more time in the sun and less in the shade. In the morning, try starting on Wawa, Standish and Strawberry. In the afternoons, try Continental Divide, Teepee Town Luxury Express Quad and Goat's Eye.
6. Extra Time on The Slopes
To help you take advantage of the longer, warmer, days, and the fabulous ski conditions, each spring we extend our lift hours to give you more time on the slopes.
Our ski lifts are now running from 9 AM until 4:30 PM. Jackrabbit, runs 'till 5 pm. Find more info about spring hours here.
Go for an extra run or two before you cap it off with a refreshing beverage at Trappers.
7. Eat Your Lunch Outside
Après Ski in the spring for some might be more popular than actual skiing and riding. Luckily, thanks to the warmer temperatures this time of year, eating lunch outside is a no-brainer. At Banff Sunshine, we have some great outdoor lunch spots set up around the mountain.
Goat's Eye Gardens down next to Goat's Eye Chair is a great spot to stop for anyone who brought their own lunch and wants to grab a beer from our beer garden kiosk.
Up in the Village, Centennial Snow Garden, right outside of the main day lodge, features Tenn Roof Co. Taco Truck and beer garden kiosk. There are also a number of picnic tables set up on the Centennial Lodge deck.
And last but not least is Trappers, an all-time crowd favourite. This season, the Trappers Beer Garden is offering takeout options that can be ordered indoors from the bar and enjoyed out in the sun and snow!
8. Pay Attention to Spring Conditions & Closures
With the hot spring sun comes constantly changing snow conditions and as a result, some extra caution is needed. The snow on slopes can be hard and firm to start in the mornings and soften up as the sun shines down in the afternoons.
Another thing to keep in mind when shredding the spring slopes is that the inevitable snow melt will cause some run closures. Some runs may fluctuate between open and closed throughout the day or from day-to-day. To keep up to date on run conditions and status, be sure to visit our conditions page: skibanff.com/conditions.
Don't have your Sunshine Spring Pass yet? Your Banff Sunshine Spring Pass is your all-access pass to Canada's Best Spring Skiing. At just $498 + GST your 2021 Sunshine Spring Pass Skis Off in just four days. Buy yours here.