Thursday, May 24
Meet Ms. Slush Cup 2018, Sydney Bezenar!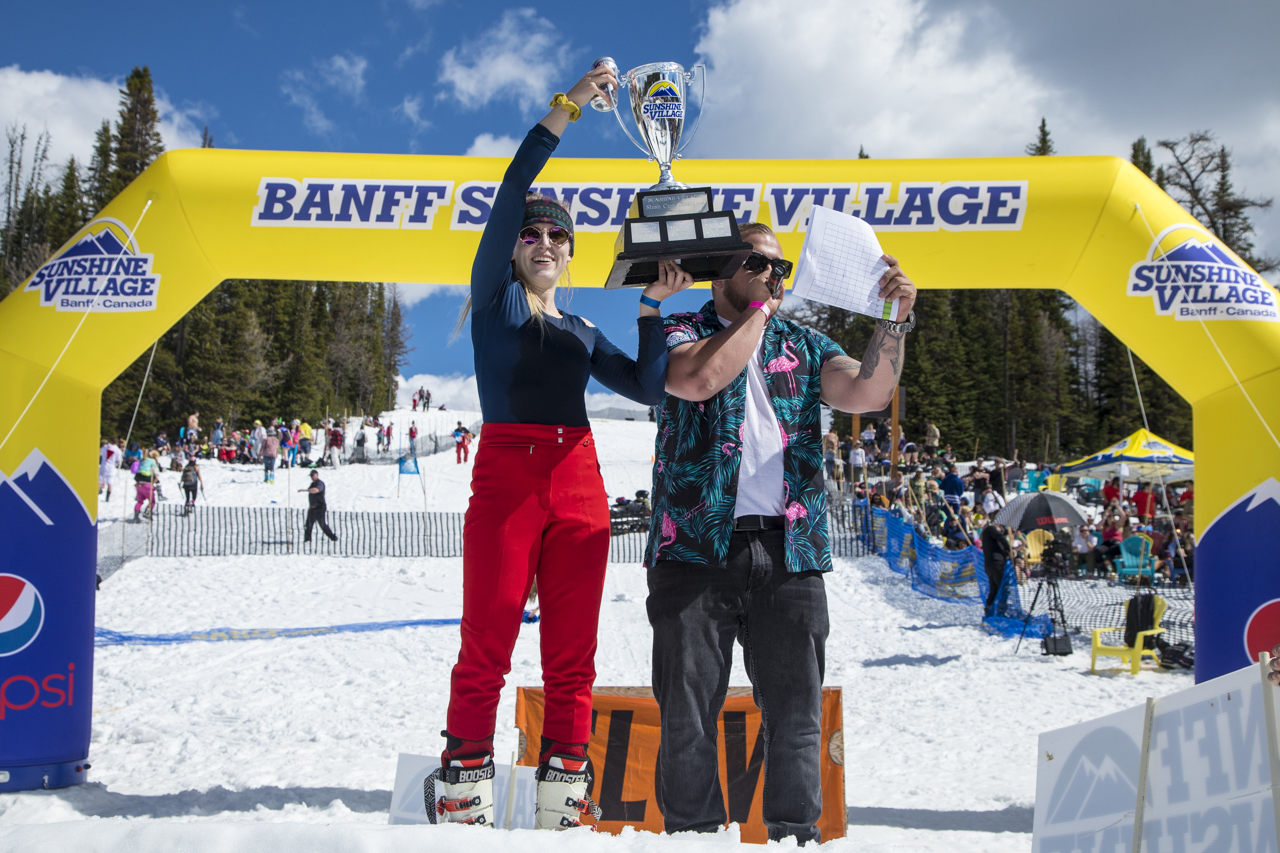 May 24, 2018
Meet Ms. Slush Cup 2018, Sydney Bezenar!
Meet Sydney Bezenar, the reigning (2X) Ms. Slush Cup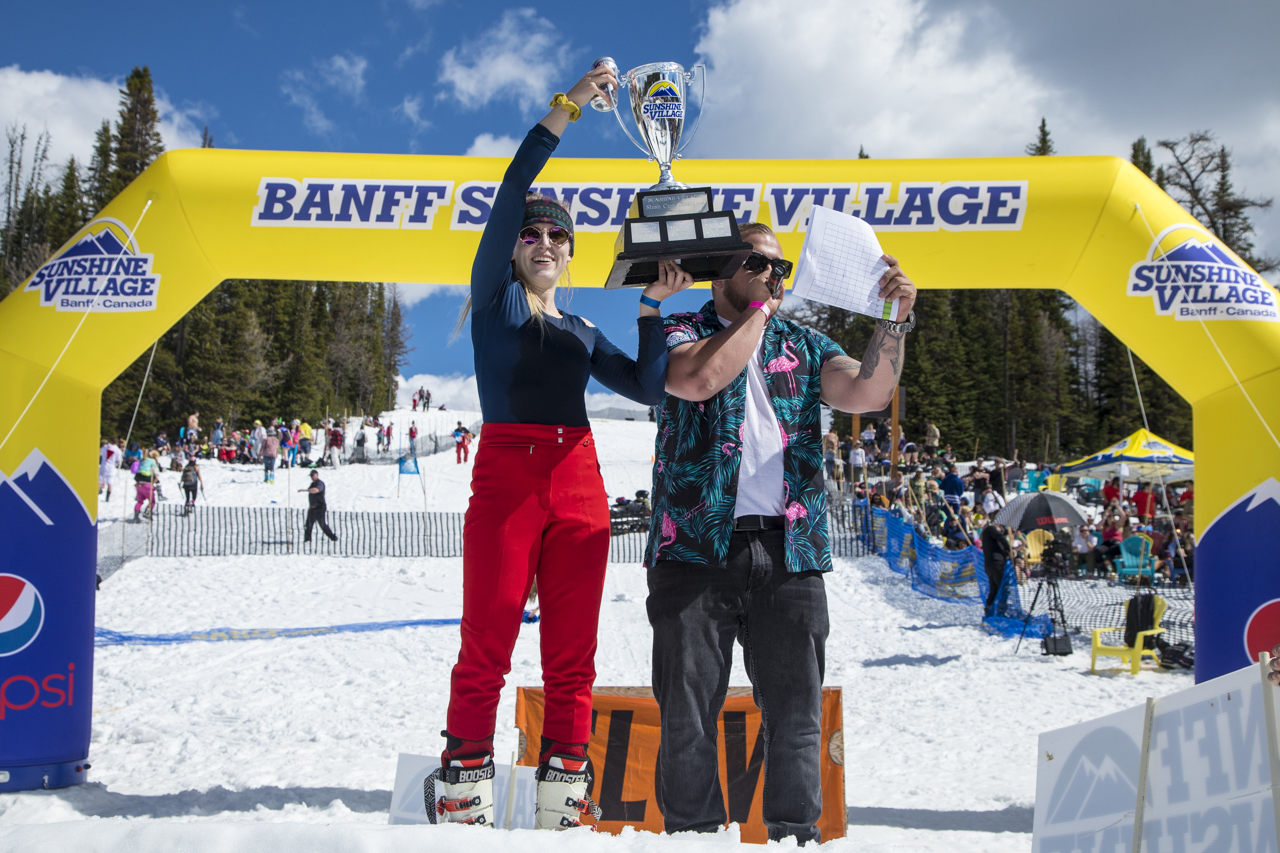 If you were at Slush Cup, you probably dropped your glass as your arms flew up in excitement for the 20-year-old pond-skim star. Not only, was Sydney the first, and the only female, to make it across the 110 ft. Slush Cup pool; she was also the first competitor to do so perfectly. Earning bonus style points with a clean 180 to the end off her run.
Syd went into finals with the highest score of the day. Which meant, she'd be dropping last. As the day wore on, the snow got slower. During finals, many of the competitors struggled to get the speed needed to clear the pool. Not Syd. Her last run was clutch. Textbook perfect.
When we asked Syd what it takes to be Ms. Slush Cup, she took a deep breath and explained that "claiming the title of Ms. Slush Cup takes a lot of hard work and dedication. If you want to win the coveted title, you've got to put countless hours of training in. You can never lose sight of the goal."
According to Syd, she has been training for Slush Cup her entire life. An alum of the Sunshine Ski Club, Syd has had her eye on the prize since her Nancy Green days. While others were training gates, Syd took her skis to the local pond to practice her skim technique.
"What a lot of people don't realize is that if you want to win Slush Cup, you gotta put in the time."
Syd confided that "In the weeks leading up to the big event (Slush Cup) I practically live in the gym, spending 15 hours a week powerlifting, perfecting my squats and mixing in some cardio."
When we asked Syd, what her secret to Slush Cup success is, she answered coyly. "On Slush Cup Monday, I chug back a protien shake and I get my body warmed up with some push ups. Besides that, I'd like my secret to Slush Cup Success to stay a secret… but the most important thing on Slush Cup day is to have a great time (and to keep your eye on the prize."
Watching Syd's final run, it's obvious all the time spent holding a squat paid off. The young Slush Cup star fought for her landing as she skimmed her way to Slush Cup victory. When we asked Syd, how she fought for her landing she smiled and said, "honestly my motivation came from not wanting to get wet, and I had a title to defend."
Now, before you start jumping to ridiculous conclusions about the width of her skis, know this: Syd competed on a pair of Kaestle BMX 98. Not the widest skis out there.
"You need to know your gear."
For first time Slush Cuppers, Syd did admit that riding a pair of fat skis will up your likely hood of making it across.
For those of you wondering when you'll see Syd again. She's promised us; she'll be back to defend her title at #SlushCup91.
Missed Slush Cup? watch the full event here.
Slush Cup Q & A With Sydney Bezenar:
SSV: What were the best costumes you saw on Slush Cup?
SB: Hands down Patrick the Star and Bam Bam. No one else came close.
SSV: How does planning a costume, and skiing in a costume on Slush Cup day impact your success?
SB: 100%. Not only is skiing in a costume just a great time, but it automatically makes you a better skier.
SSV: How did Slush Cup 90 compare to Slush Cup 2017?
SB: The vibes at this year's event were off the charts! So many people congratulating, and just being super excited about the event.
SSV: As the defending champ, heading into the finals with the highest score, how did you manage the pressure and pull off the winning jump of the day?
SB: The pressure was high. Not only had I been preparing my whole life to claim the title of Ms. Slush Cup once, now I had to do it again! The newly added finals round turned the pressure up a notch, but I just had to remind myself to trust my training and the rest would fall into place.
SSV: How do you plan to celebrate your Slush Cup win?
SB: My Ms. Slush Cup Sash may or may not be seen in Mexico later this summer.