Monday, May 21
90th Annual Slush Cup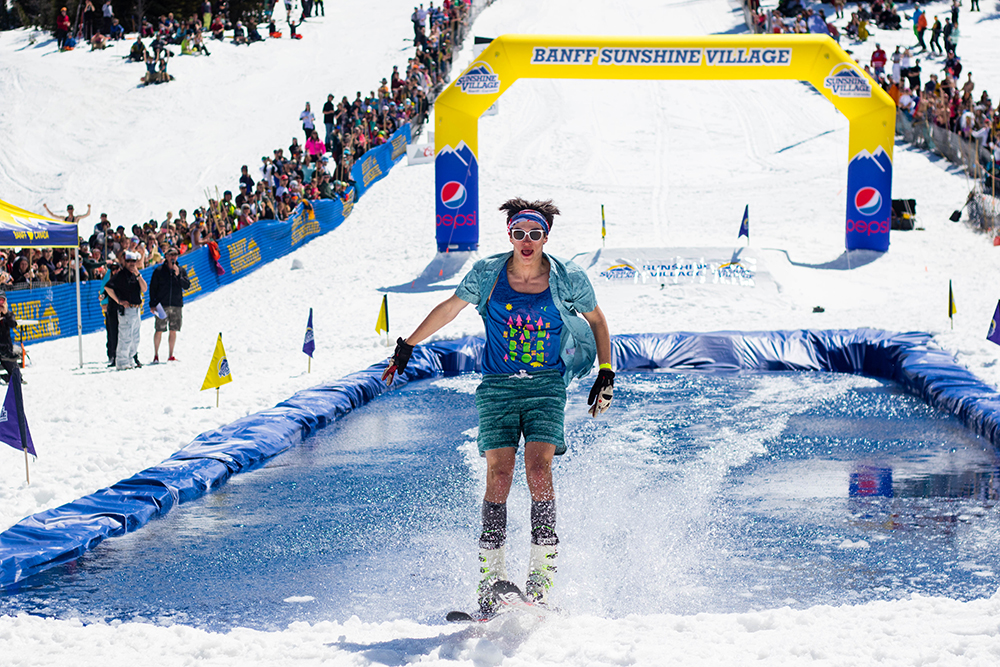 THE FINAL SPLASH OF THE SEASON.
BE THERE.
May 21, 2018
90th Annual Slush Cup
Are You Ready For Slush Cup Long Weekend?
Say goodbye to "one of the best" ski and snowboard seasons of recent memory at our 90th Slush Cup Long Weekend. We'll be enjoying the Sunshine as we toast the final "Spash of winter" all weekend long. We'll be saying "adios" to winter with a weekend jammed full with the slushiest of events.
On Saturday, we'll kick of Slush Cup Long Weekend with our Watergate Banked Slalom Event. In this classic race style event, participants off all ages will race through the gates and across ponds of water.
On Sunday, our annual SlushShine Rail Jam is back for freestyle skiers and snowboarders. It's sure to be a spash.
On Monday, join us for the legendary 90th Slush Cup. The first jump of Slush Cup is scheduled for 12 noon. Watch as participants skim their way to the Title Prize of Mr. & Ms. Slush Cup (while padding their bank accounts with some cod hard cash).
All Slush Cup Long weekend events are open to the public. Regestration will be taking place the day of the events.
Here are a few tips, to Make Slush Cup 90, your best yet!

Skip the ticket window, and order your Sunshine Spring Pass. At just $254 for a student pass, our Spring Pass is a great way to save. Plus it comes with added discounts on food and beverage, retail, and even the Sunshine Mountain Lodge. Just coming up for the day, save $20 on your lift pass with our mopbile lift ticket. Just download our app and order your mobile ticket online.

Wax your gear! With a forecast of almost tropical weather, the snow will be very spring-like. Wax your equipment, with warm weather wax. Don't have time to do it yourself, drop it off at our tech shop.

Make besties with Sunscreen, sunhats, and water. The Slush Cup Festivities are taking place in our village area at 7,200 feet. Prevent dehydration from the elevation and sunburn from the snow's reflection by staying hydrated, covering up, and lathering on the sunscreen. New for Slush Cup 90, we've added Sun Glasses and Slush Cup Bucket Hat to our 2018 offical merchandise.

Planning on competing this Slush Cup Long Weekend? Arrive early, (or book a room at Sunshine Mountain Lodge) Slush Cup fills up fast.

Up for the party? Leave your keys at home and book a spot on the Bust Loose Party Bus. Bust Loose will be headed to Sunshine on Slush Cup Monday morning.
Our annual Slush Cup Long Weekend is the place to be this May long!