Saturday, March 17
Deep Pow, Warmer Weather & Longer Shred Day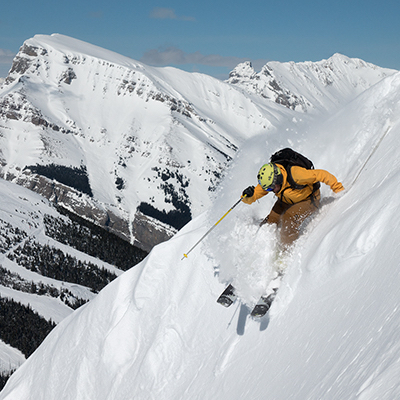 Mar 17, 2018
Deep Pow, Warmer Weather & Longer Shred Day
Let's Hear it for The Skiers Of Spring!
"Your bases shining in the snow,
Skiing real hard.
You got your sun-glasses on.
Your love of skiing grows more strong,
after the dark of winter is gone."

At Banff Sunshine Village, our spring ski season is something we look forward to each year. We welcome the spring blizzards, and we revel in the deep pillows of snow they leave behind. We invite the bright bluebird days, with faces slathered in sunscreen. We usher in the longer ski days, with an extra lap or two down Goat's Eye. We embrace the soft snow, as we learn new tricks in the park.
Like any good shred day, come spring we cap it off with a refreshing beverage on the Trappers Snow Deck. Spring Skiing at Banff Sunshine Village is about fun in the sun while ripping up Canada's Best Snow.
Sunshine's Spring 2018 Ski Season, announced its arrival with a dump of 25 cm (10 in) of Canada's Best Snow. The light, fluffy, hero pow was met with fanfare as skiers and boarders lined up anxiously awaiting first tracks. Turn after turn, from the chairlift all you could hear were the excited giggles of skiers and snowboarders having a ball in the deep spring pow.
Lucky for us, the snow is still falling in the Canadain Rockies. Environment Canada is predicting the snow to continue throughout the weekend- which will surely delight skiers.
Historically, our 66 day Spring Ski Season is rich in deep powder days. At Banff Sunshine, our snowiest months of the year are typically March and April. To help you take advantage of the longer, warmer, days, and the fabulous ski conditions each spring we extend our lift hours to give you more time on the slopes. As of today, our lift hours are 9 am 'till 4:30 pm (with Jackrabbit open till 5 pm).
At Sunshine, spring skiing is all about fun on the slopes. Wake up from hibernation and meet us on the mountain. This spring, we've amped up our spring events and our concert series. Find out more about what's happening this spring at Sunshine Here. As always your Banff Sunshine Season Pass is your ticket to Banff Coolest events all spring long. At just $466 your 2018 Sunshine Spring Pass Skis Off in just four days. Buy yours here.