Wednesday, January 24
Deidre, You Are Our Sunshine!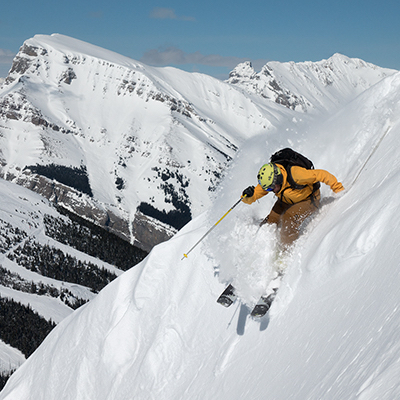 Jan 24, 2018
Deidre, You Are Our Sunshine!
Meet Deidre Maceachern, our Banff Sunshine Supervisor of the Month!
At Banff Sunshine, it's our team of passionate employees who bring the magic of Sunshine to life. We're lucky to have a strong team, dedicated to going above and beyond for our guests.
Each month, we at Banff Sunshine take time to celebrate the bright rays of sun, who make our mountain resort shine brighter. This month, we're pleased to award Supervisor of the Month to Deidre MacEachern, our Housekeeping Executive.
Deidre first joined our Sunshine Mountain Lodge Team in 2016, her easy-going nature, strong work ethic, and passion for Sunshine Mountain Lodge allowed her to grow in her position while working to upscale the image of Sunshine Mountain Lodge. Since leading the housekeeping team, she has coached her team to strive for room perfection. Each season Deidre has been with Sunshine she has been able to build and train a strong group of housekeepers who stay for a full season, and often they sign up for a second season (visa depending).
Today, many comments from guests marvel at the cleanliness of our hotel rooms. The attention to detail Deidre commits to her, and her team's work is noticed and appreciated by both guests and long time Sunshiners.
In receiving feedback from guests, Deidre is known to take guest comments to heart and will go out of her way (even if it means dumpster diving) to please the guest.
Deirdre's professionalism and passion for making all guests feel at home during their stay at their "home away from home" inspire her team of housekeepers each season to all do their best
From all of us at Banff Sunshine, thanks Deidre for making the rooms of Sunshine Mountain Lodge shine so bright!
Deidre's Top Picks at Banff Sunshine, and arround Banff:
- Her facourite room at Sunshine Mountain Lodge is 510, because of the view. She says if you're thinking of treating yourself to a night on mountain ask for room 510, one of our main lodge suites.
- Deidre picked up snowboarding this season and is loving exploring the mountain on a board. Right now, her favourite zone to ride is Wolverine.
- For coffee, Deidre recommends grabbing a cup of joe at Java Lift (located inside Sunshine Mountain Lodge).
- When in Banff, Deidre says a stop at the Magpie & Stump is a must. They have a great Old Fashioned, relaxed atmosphere, and it's fun to throw peanut shells on the floor. (Dee admits that as a housekeeper she finds it hard to litter the shells on the hardwood floor).
- According to Deidre, a trip to Banff isn't complete with a stop at the Fairmont Banff Springs. The building is so historic. It's worth an afternoon or evening to just explore the grand hotel.
Was there a Sunshiner who made your visit to Banff Sunshine Village extra special? If so, we'd love to hear about it. Please send us your positive team experience to comments@skibanff.com .