Saturday, March 3
Here Comes The Snow!
Mar 3, 2018
Here Comes The Snow!
March, The Snowiest Month Of All!
There are a few things in life that are certain, and snow at Banff Sunshine Village is one of them. Each year we receive an average of 30 feet of white gold. When it comes to the snow, historically the apex of our snow accumulation is in the month of March. Last March, at Banff Sunshine Village over three meters (9' 8'') of Canada's Best Snow landed on our slopes throughout Sunshine Village.
Talk to any hard core skier or snowboarder, and they will say, "skiing and snowboarding in powder is unlike anything else."
Riding pow is equivalent to floating on a cloud. The feeling of fresh tracks is surreal. As a skier, you feel weightless as you cruise down the slopes leaving your signature of turns in the white covered mountain terrain. Learning to ski powder can take a little practice, lucky for you a lesson with one of our Sunshine Ski and Snowboard pros can have you skiing powder like a hungry powder hound in no time. Learn more about our ski school, and book yourself in a workshop.
So far this ski season, we've been treated to quite a few fluffy powder days. To date, at Banff Sunshine, we have received 652 cm (21'7") of snow this season. When compared to ski season, we're tracking just above last winters snowfall, and well above the average snowfall for this time of year.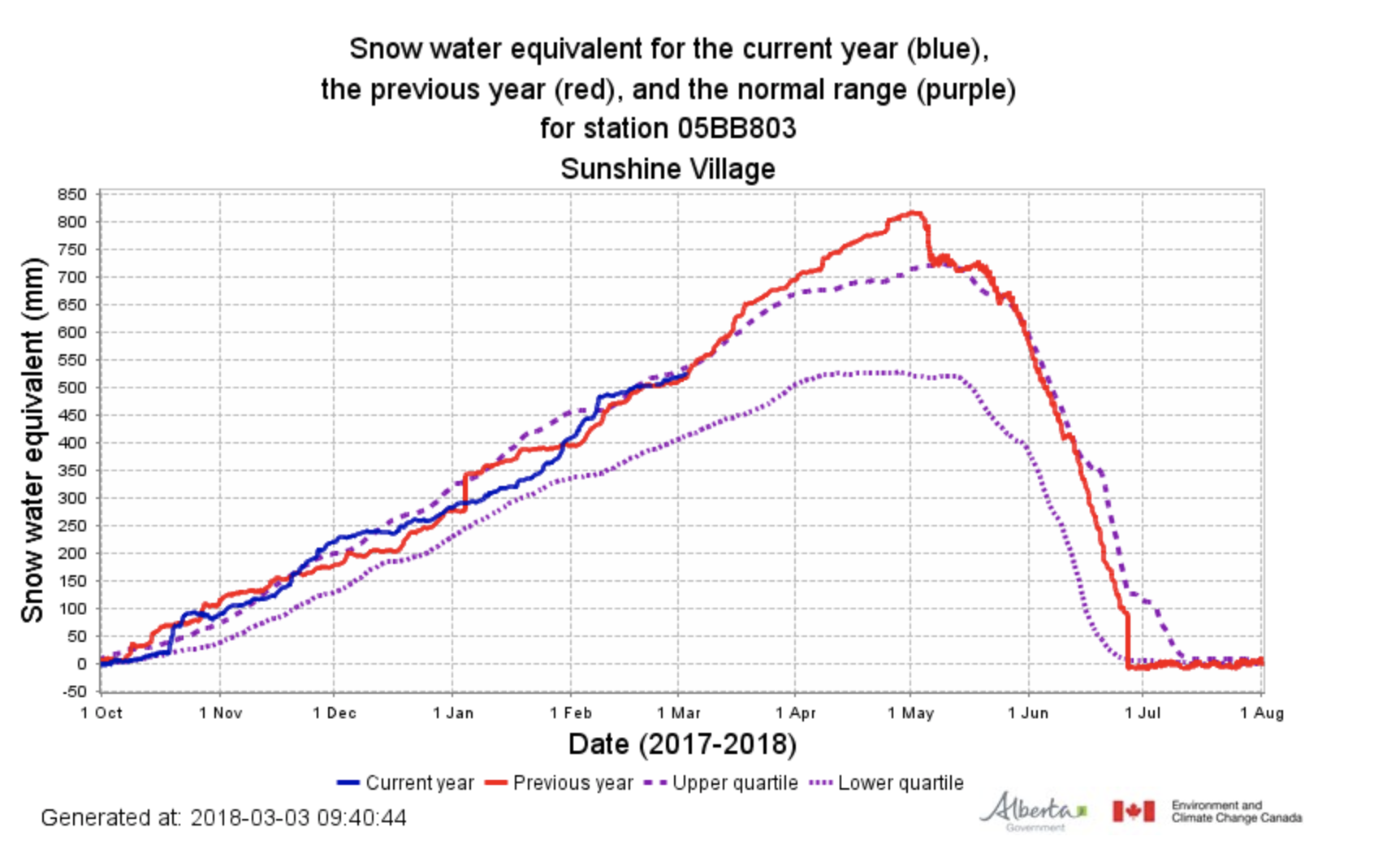 The above graph from Environment Alberta shows the snow water equivalent for Banff Sunshine Village. The solid red line represents last seasons snowfall, the solid blue line depicts snowfall to date, and the thicker purple dotted line represents the top 25% of snowfall accumulation.
As we head into our snowiest month, we at Banff Sunshine Village are hungry for a deep and delicious March filled packed with powder day after powder day. With 24 cm of fresh snow in the past week and more in the forecast, March is looking beautiful for skiing and snowboarding at Sunshine Village.
Hungry for more pow? Cross your fingers and think snow!