Thursday, February 1
Meet Daryl, Our Sunshiner of the Month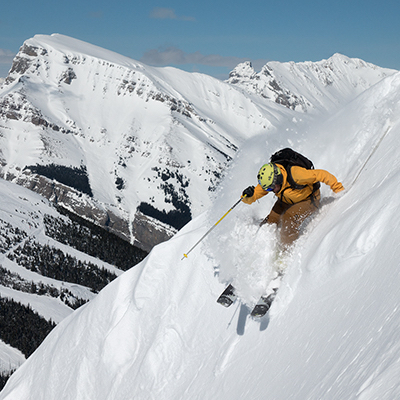 Feb 1, 2018
Meet Daryl, Our Sunshiner of the Month
Meet Daryl Smith, Our Banff Sunshine Employee of the Month for December 2017
The BEST of us!
Each month Banff Sunshine takes the time to honour all the hard working and outstanding individuals that make Sunshine the amazing place that it is with a private dinner at The Lookout Kitchen + Bar. Employees who are nominated either from a guest or another co-worker for employee of the week get to attend. These winners receive a custom trail sign with their name on it as a keepsake for their dedication. From there, one employee of the week is selected to be our employee of the month. The employee of the month represents the best of us and what we strive to embody not only as individual people but as a complete mountain experience.
For the month of December, Daryl Smith is that example. Daryl, originally from England, is a Level 3 Snowboard instructor with 8 seasons under his belt. On top of instructing this seasons, he is also head instructor for training other snowboard instructors hoping to achieve their Level 1 and 2 certifications.
Most recently Daryl was teaching a girl in a lesson that did not have the proper equipment. The girl was riding a 163cm board, which for anyone who rides, knows that that is a massive board even for a guy who might be 6'3" and 200+lbs. Needless to say, knowing how hard it would be for her to progress on this board, Daryl insisted she at the very least ride his board (a 154cm). This made her lesson exponentially more enjoyable and helped progress her riding throughout the day. At the end of the lesson, Daryl spoke with the girl's family explaining the importance of the proper sized equipment. They explained to him that they simply could not afford different equipment and are trying to save money for the girl to go to college but how she really loved learning to snowboard. Daryl understood the family's situation and took it upon himself to surprise the girl with an old board of his on New Year's day. When we asked him why he did it his response was simple," I wanted to help the girl become a snowboarder for life." We sure think you did Daryl and from everyone here at Banff Sunshine Village we want to say thank you, thank for being awesome!
Daryl's Banff Quick Picks:
- Favourite Run: Standish to Creek Run featuring many side hits
- Favourite Drink: A proper flat white at either Whitebark or Little Wild in Banff.
- Favourite Chairlift: Mt. Standish Chairlift. Why? Because it has a bit of everything