Tuesday, April 3
Untracked & Off The Charts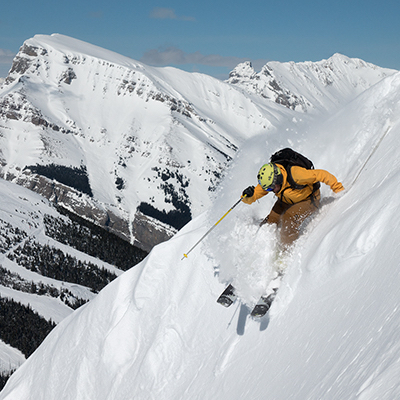 Apr 3, 2018
Untracked & Off The Charts
"And we'll all shine on alright, don't worry even if things end up a bit too snowy, we'll all shine on anyways."
Spring shines at Banff Sunshine, this weekend don't miss the return of our Untracked Concerts Series presented by Coors Light. Saddle up, the one and only Tim Hus will be trotting on to our village stage crooning his signature blend of Country Rock. The Alberta Native is known for his classic country sound and friendly "western charm." He's a favorite of skiers and snowboarders alike. Even if country music isn't really your rodeo, Tim Hus will have you itching to line dance in your ski boots.
"Swing your partner round and round..."
With Tim Hus headlining our weekend concert, we're getting into character. It's Country Powder weekend at Banff Sunshine. So saunter up to the hill in your best wranglers for some of Canada's Best Spring Skiing.
Our Untracked Concert Series will be taking center stage, outside of Trapper's every weekend from April 7th until May 20th. With a different musical genre and guest every weekend, you're not going to want to miss a single show.
The Untracked Line-Up, Presented by Coors Light
April 7th & 8th: Tim Hus
April 14th & 15th: Scenic Route to Alaska
April 21st & 22nd: Darenots
April 28th & 29th: The Static Shift
May 5th & 6th: Middle Coast
May 12th & 13th: Michael Bernard Fitzgerald
May 19th & 20th: Busty and the Bass
As always, all Untracked Concerts are FREE with your Banff Sunshine Pass. Still need one, order your 2018 Sunshine Spring Pass online and enjoy unlimited skiing and snowboarding until Slush Cup Monday (May 21st). At Just $466 for an Adult Spring Pass, spring season passes "ski off" in just 4 uses. Order yours here.