Tuesday, August 27
Become a Ski or Snowboard Instructor!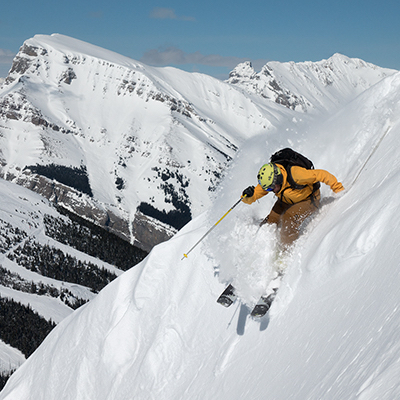 Aug 27, 2019
Become a Ski or Snowboard Instructor!
Do you have a passion for skiing or snowboarding and a desire to introduce new students to winter sports? Train to become a Pro with SnowSkool at Sunshine Village!
Back in 2004, SnowSkool ran their very first ski & snowboard instructor courses here, at Banff Sunshine Village.
Sixteen consecutive season-long courses have passed since then and they now operate courses elsewhere in Canada as well as in Austria, France and New Zealand - but Sunshine Village remains their most popular course!
SnowSkool's graduate Hayley Crowson, from Colchester, UK, is currently working as a ski instructor in Australia. We reached out to her to ask her about her experience at the SnowSkool Sunshine programme and her time working as a ski instructor at Banff Sunshine Village.
1. How did you become a ski instructor?
I joined the SnowSkool ski instructor training program that took place at Sunshine Village over thirteen weeks from January to April 2017. I trained for the whole season and ended up with a bunch of qualifications; CSIA Level 1, CSIA Level 2 and CSCF Level 1 Race Coach.
2. Tell us a little more about your time with SnowSkool in Banff...
It was hands-down the greatest time of my life. SnowSkool offers instructor training programs in France, New Zealand and Banff & Big White in Canada but I was only ever going to choose Banff. For me, it was all to do with the skiing...so many British skiers want to get out to experience the Canadian powder and so that was priority number one. And on top of that, the diversity of the terrain at Sunshine is perfect – for the instructor course, we need lots of mellow slopes to practice some of the drills we use to teach beginners so Strawberry Bowl and Wawa were ideal. But of course, we also need more challenging terrain to improve our skiing and, to be honest, because that is where the fun is at – I really liked Garbage Chutes and the Dive, but my favourite area was the Shoulder.
3. Who did your training?
We had training five days per week by a senior instructor from the Sunshine Village Ski & Snowboard School. There were four main ski trainers – Tom, Mark, Sophie & Kenji - and we had exposure to all of them during the program so that we could learn the same things but in different ways.
4. Did you live in Banff?
Yes, the SnowSkool package includes accommodation at the "HI - Banff Alpine Centre" which was a great place to spend a season. It isn't the most luxurious of all the places to stay in Banff, but it was ideal for the course - there was 64 of us in total and so we were a massive presence within the Lodge! It has an on-site pub too so there was always somewhere to hang out in the evenings.
5. What have you been doing since graduating from the SnowSkool programme?
From June to October 2017, I worked at Mt Hutt in New Zealand, then I was super-stoked to return to work for the Sunshine Village Ski & Snowboard School from November 2017 to April 2018. After that, I went to Fall's Creek in Australia from June to October 2018, and last season (November 2018 to April 2019) I was back at Sunshine Village! I'm now a ski instructor at Mt Hotham. Six winters in three years...it has been a whirlwind, to say the least!
6. What's next?
I will be out in Banff again next winter working at Sunshine Village. I am currently applying for permanent residency in Canada and, in the hope that I get granted this, would like to settle in the Banff area for the foreseeable future. I look forward to hopefully spending next summer in the Bow Valley.
Want to become a ski or snowboard instructor? Visit, SnowSkool.