Wednesday, July 17
Banff's Hut To Hut Experience, a Bucket List Must!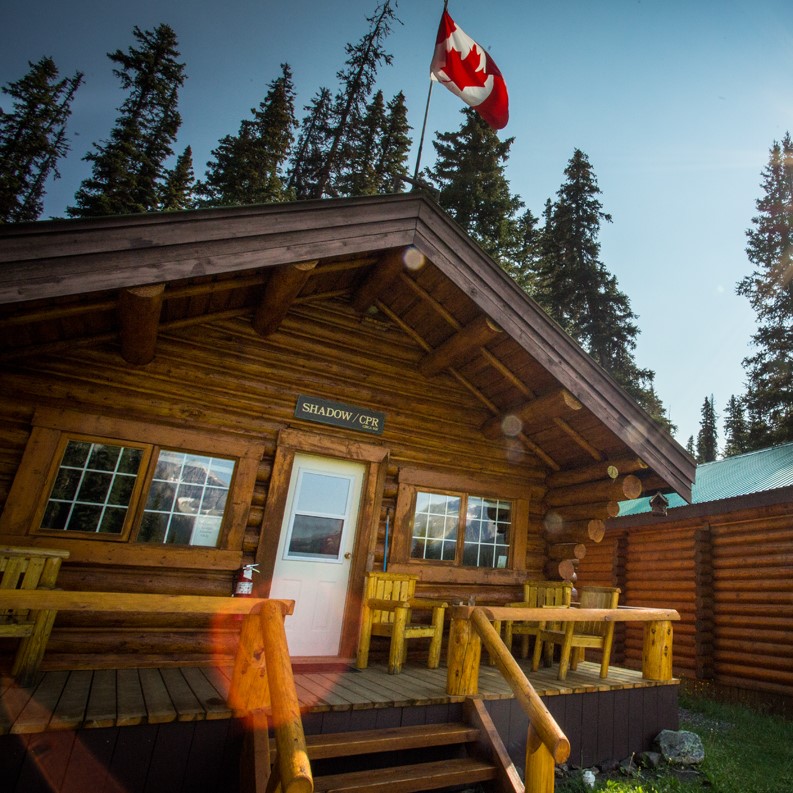 Jul 17, 2019
Banff's Hut To Hut Experience, a Bucket List Must!
Here's what you need to know about this multi-day hiking package.
This summer elevate your backcountry experience with a 'Hut to Hut' package! Hike the path less traveled and escape the crowds with a spectacular "upscale" backcountry experience.
We at Sunshine are thrilled to partner with Shadow Lake Lodge to offer hikers a one of a kind Banff experience. Redefine "glamping" and start your camping experience with a stay at Sunshine Mountain Lodge, before setting out on foot to Shadow Lake Lodge.
What exactly does this package include? Great question, read on to find out more.
DAY 1
Check-in at Sunshine Mountain Lodge in the base area and begin your adventure by taking our Sightseeing Gondola and Standish Chairlift to the top of Mt. Standish.
Make your way to the Standish viewing deck to take in stunning views of the high alpine meadows as you hike around three crystal lakes: Grizzly Lake, Laryx Lake and Rock Isle Lake.
By the end of your hike, go back to the village and enjoy your first night at Banff's only mountain top hotel, Sunshine Mountain Lodge.
Dine in luxury at one of the two restaurants at Sunshine Mountain Lodge. As the sun goes down over the Rockies, don cozy robes and slippers and head for a soak to the outdoor hot tub. Recline in the fragrant heat of the cedar-lined sauna, or perhaps indulge in a restorative massage or facial treatment at the Verde day spa.
DAY 2
The next morning, after a hearty breakfast and with packed lunch in your daypack, begin the exciting journey to Shadow Lake Lodge!
Start your hike by taking Simpson Pass, which was named after Sir George Simpson, one of the area's first surveyors! Then, head to Healy Pass, an open, grassy terrain, thickly strewn with wildflowers and groves of larch trees.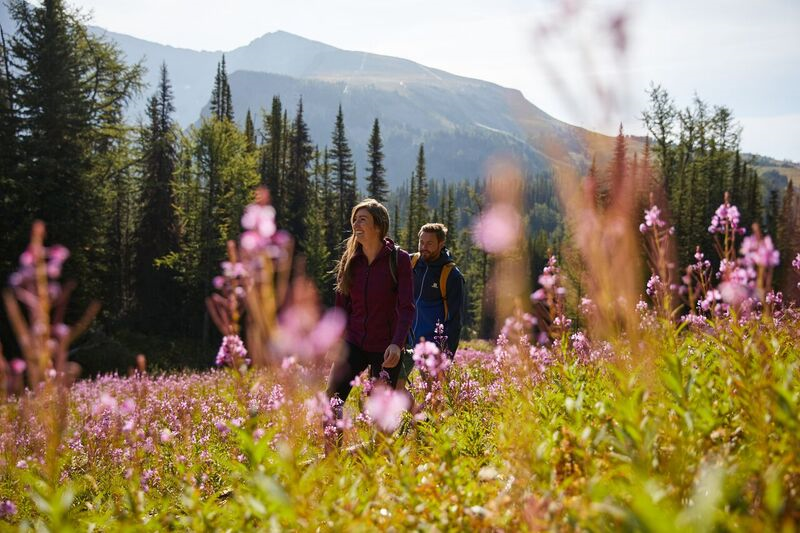 You will witness superb views of Mount Assiniboine, The Monarch and all of the lakes in the Egypt area. From Healy Pass, hike down to Egypt Lake.
Here you will have two route options to continue the journey to Shadow Lake Lodge:
Option #1 Egypt Lake to Pharoah Creek Valley Trail
This shorter (but less scenic) trail descends to a Warden's cabin at the meeting of Shadow Creek and Pharoah Creek. From there take a 2.4km hike to Shadow Lake Lodge.
Total distance: 22.9km.
Option #2 Egypt Lake to Whistling Pass
If time, energy and good weather are on your side, this longer and more challenging hike will reward you with spectacular views.
Take the Whistling Pass from Egypt Lake to enjoy jaw-dropping views of Haiduk, Scarab and Mummy Lakes, as well as Mount Ball in the background. Hike down to Ball Pass junction through meadows of wildflowers down to Shadow Lake and Shadow Lake Lodge.
Total distance: 27.3km.
Check into your private log cabin at the historic Shadow Lake Lodge.
DAY 3
Spend a night or two relaxing in your private log cabin, enjoying warm hospitality and mountain gourmet meals. Or, fill out your day with full and half-day hikes from the lodge.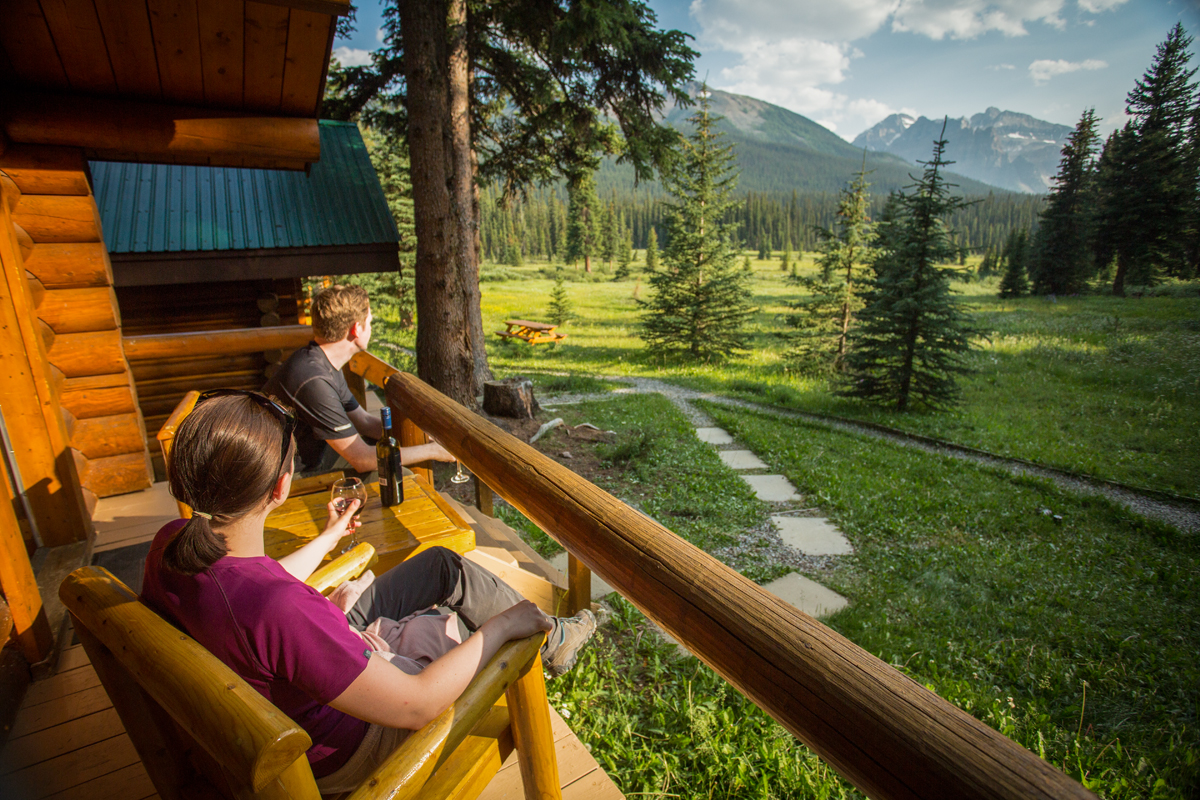 DAY 4
It's check-out day! After you have your breakfast and pack a lunch to take with you, discover more jaw-dropping views on the final leg of your journey. There are two options to hike out from the lodge:
Option #1 Redearth Creek Trail
This moderately rated trail is 13km to the Redearth parking lot located off the Trans-Canada Highway.
Option #2 Gibbon Pass to Twin Lakes/Arnica Lake/Vista Lake
Take in amazing views from Gibbon Pass. You will hike past four gorgeous mountain lakes, ending your trek at the Vista Lake trailhead parking lot on Highway 93 South.
Transportation can be arranged to collect you from the trailhead back to your vehicle.
Hikes are self-guided, we recommend two guests minimum per booking.
This package is valid until September 8th, 2019, and it's subject to blackout dates.
CALL NOW TO BOOK!
1.877.542.2633