Tuesday, September 10
Lots of Snow Predicted for Winter 2019/20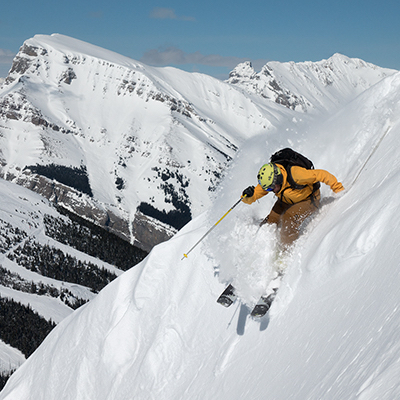 Sep 10, 2019
Lots of Snow Predicted for Winter 2019/20
Let it snow, Let it Snow, Let it Snow!
The Old Farmer's Almanac is Predicting Fields of Powder for the Canadian Rockies
We woke up this morning to a smile on our faces, as a dusting of fresh Canadian Rockies powder concealed our mountain tops. For us skiers and snowboarders, our excitement popped with cheers, as the countdown to winter 2019/20 is officially on.
In two months (give or take a few days) we'll be fastening our boots, and clicking into our skis to score the coveted first turns of the season! In two months, we'll be carving up the slopes and enjoying Canada's Best Snow on the slopes of Banff Sunshine.
Now, are you ready for the good news?? According to the Old Farmer's Almanac the 2019/20 ski and snowboard season is predicted to be one h-e-dubble snowboard of an iknoic winter!
The Old Farmer's Almanac is predicting a mild winter with (slightly) above normal winter temperatures and a well above average amount of precipitation, aka SNOW!! So bust out your best snow dance moves, because winter is coming.
At present, the Environment Canada is predicting a 20% to 40% chance of higher than average snow fall for the Canadian Rockies region. If their predictions are to materialize, we could be seeing up to 40 feet of Mother Nature's finest snow land on our mountainous slopes (It's okay if you're drooling, we are too) during the 2019/20 ski and snowboard season.
As for the snowiest time to ski and ride the Canadian Rockies, Environment Canada's predictions indicate that the snowiest time of the season will be from early November to mid-February, March and April, with flurries to be expected in May. In lamens terms, according to the snow gurus we could see a full season of powder filled and fueled days. (Which we're totally ok with.)
With the snow falling, our team is gearing up for winter! We're looking forward to welcoming you back to the slopes early November. Be ready for winter, and never miss a powder day – order your 2019/20 Banff Sunshine Pass today.
Ski you soon!