Saturday, December 22
Enjoy the Best of the Holidays at Banff Sunshine!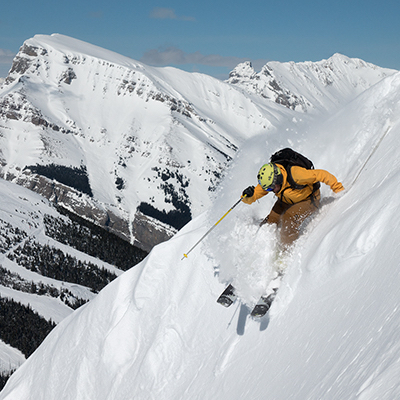 Dec 22, 2018
Enjoy the Best of the Holidays at Banff Sunshine!
6 Tips to Best Enjoy Christmas Holidays at Banff Sunshine
From our Banff Sunshine family to yours, we're wishing you a very merry christams.
At Sunshine, we like to say that the winter holidays "Tis' the season to SKI!" With the kids out of school, the office closed, there really is no place to
be but with the company of those you love; in a place that thrills and delights you. Since you've no place you need to go, let it snow, and enjoy the fresh mountain air at Banff Sunshine Village.
So far, this December, Mother Nature has spoiled us with generous dumpings of Canada's Best Snow. We at Banff Sunshine, want to invite you out to the Canadian Rockies to ski the difference of natural snow, as you take in the breathtaking beauty of a truly white Christmas. With nearly a meter of new snow in the past 10 days, and a solid 55 cm ( 21.7 in) in the past week, the skiing at Sunshine is the best in the Rockies.
With a settled snow base of 138 cm (4'5") our team has been able to open more terrain, including Goat's Eye Express and our Rockstar Terrain Park off of Divide for you and your family to carve up, as you dash through the powder.
As we look ahead to the weather forecast for the Christmas holidays, it looks like our wish for more fresh powder will be answered. The Weather Network is predicting snowfall for Christmas Eve and Christmas Day (hurray!). If you, like us, are dreaming of a white Christmas, here are a few of our tips to enjoy the magic of Christmas at Banff Sunshine!
check out our helpful tips to help you save time and ski more.



1.Ski For Free on Christmas Day!
Want to ski or ride for free on Christams Day (December 25th)? Dress up as Santa Clause and buckle up your boots. As a token of our appreciation for the big guy, we're giving free skiing to all who dress up in a full Santa Costume.
2. Save Time and Money! With our NEW Mobile Lift Tickets!
Get your Sunshine Lift Ticket on your phone. Help us reduce paper waste, as you save time and money. Get $5 off when you download your Banff Sunshine lift ticket to your phone. Learn more here.

3. Park in Banff, and Take a Ride on Sunshine Express, our FREE shuttle bus from Banff!
Our express shuttle will pick you up and drop you off right in front of the gondola station. Here's the schedule.

4. Enjoy a leisurely BRUNCH or late LUNCH!
At Banff Sunshine, if you're a Super Card holderor season pass holder, you'll save on your meal when you fuel up at Goat's Eye Grill, Alpine Grill and Burger Shack before Noon and after 2 PM.

5. Need to rent gear, skip the base rental shop and head straight to the demo tent in the village!
At the Salomon rental tent, you'll find high-performance rentals, as well as sports rentals.

6. Ski Someplace New To You (At Banff Sunshine)!
At Banff Sunshine even on our busiest days you can feel like you have the mountain to yourself. Use the holidays to try a new run off your favorite chair. Pick up a trail map next time you're up for ideas.

And one more bonus tip...If you're still in need of a Christmas gift, share your love of skiing or snowboarding with a Sunshine Super Card.