Thursday, April 4
Ride Canada's Best Spring Conditions!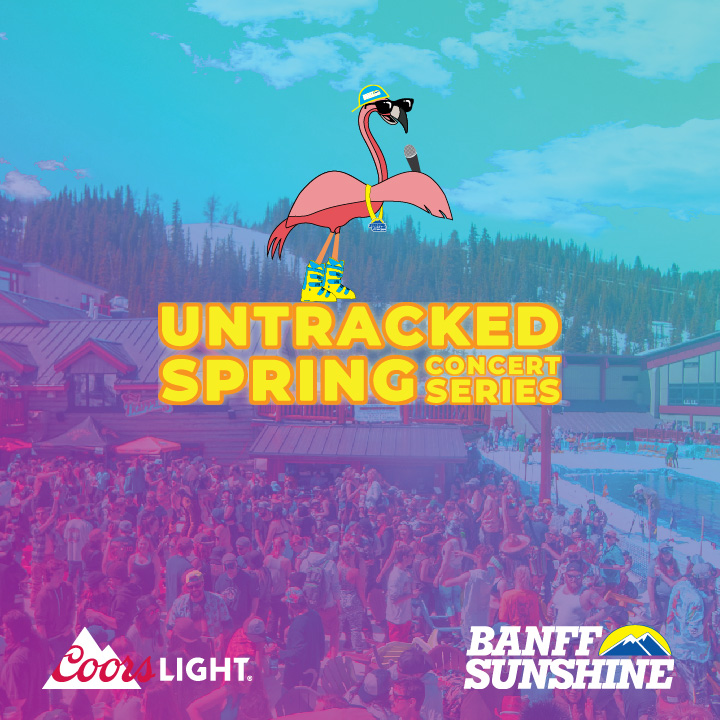 Apr 4, 2019
Ride Canada's Best Spring Conditions!
This weekend hit the slopes of Banff Sunshine and join us for the kick off our 2019 Untracked Concert Series.
With another 40+ days left in our ski and snowboard season to carve up the slopes, it's time to think outside and ski why spring shines so bright at Banff Sunshine.
We got SNOW on the forecast this weekend! So, come catch fresh laps and good times as you take part in our fun events and rock on with the return of our concert series!
Remember to pack sunscreen and to visit our Conditions page for real-time conditions and extended forecast.
What's happening this weekend at Banff Sunshine?
- Mission Hill - Winemaker Dinner: Join us on Friday 5th for a delicious Winemaker Dinner at Sunshine Mountain Lodge. The event will be hosted by the Mission Hill winemaker, Ben Bryant. Call 403-762-7890 ext 1109 to book.
- U16 Provincial Alpine Ski Race: This weekend (April 5th-7th), the Sunshine Ski Club is hosting their U16 alpine ski races. Come to Scapegoat, off of the Goat's Eye Express Quad to cheer on the Sunshine Speeders.
- Pro Bowl Riding Session: This ski-only event returns to Sunshine Village this weekend (April 5th-7th)! Our SSV Park Crew is working on a unique park focused on transfers and rails scattered around a bowl style set up. Register in front of Trappers.
- ShredAbility 2019: On Saturday 6th, enjoy a great day out with family & friends and help raise money for Rocky Mountain Adaptive. This annual treasure hunt includes 'adaptive challenges' and prizes for the best costume!
- Untracked Concert Series ft. The Dudes: On Saturday 6th and Sunday 7th, grab a seat in the Coors Light beer garden at the Mad Trapper's Saloon to enjoy live music from 'The Dudes'.
- Elleboard Ride Days: On Sunday 7th, join a 1-day all girls snowboard camp. Ride, jump and jib all day long with new tips and tricks from the coaches. Click here to register.
- Bourgeau Base Camp: On Saturday and Sunday, stop at the base area from 2:30 PM - 5:30 PM for FREE beer samples from Molson. Plus, enjoy a BBQ as you relax in our Beer Garden or by the bonfire.
- Skier's Church: Every Sunday, join us, from 10:00 AM to 10:30 AM, for a Christian non-denominational service at the top of Strawberry Chair.
As always, you Sunshine Spring Pass is your all-access pass to the Rockies Coolest Events. Don't have one, get yours here.
We are wide open 'til May 20th. To see all our upcoming events, click here.