Tuesday, February 1
Sunshiners to Know: Kiki Alexander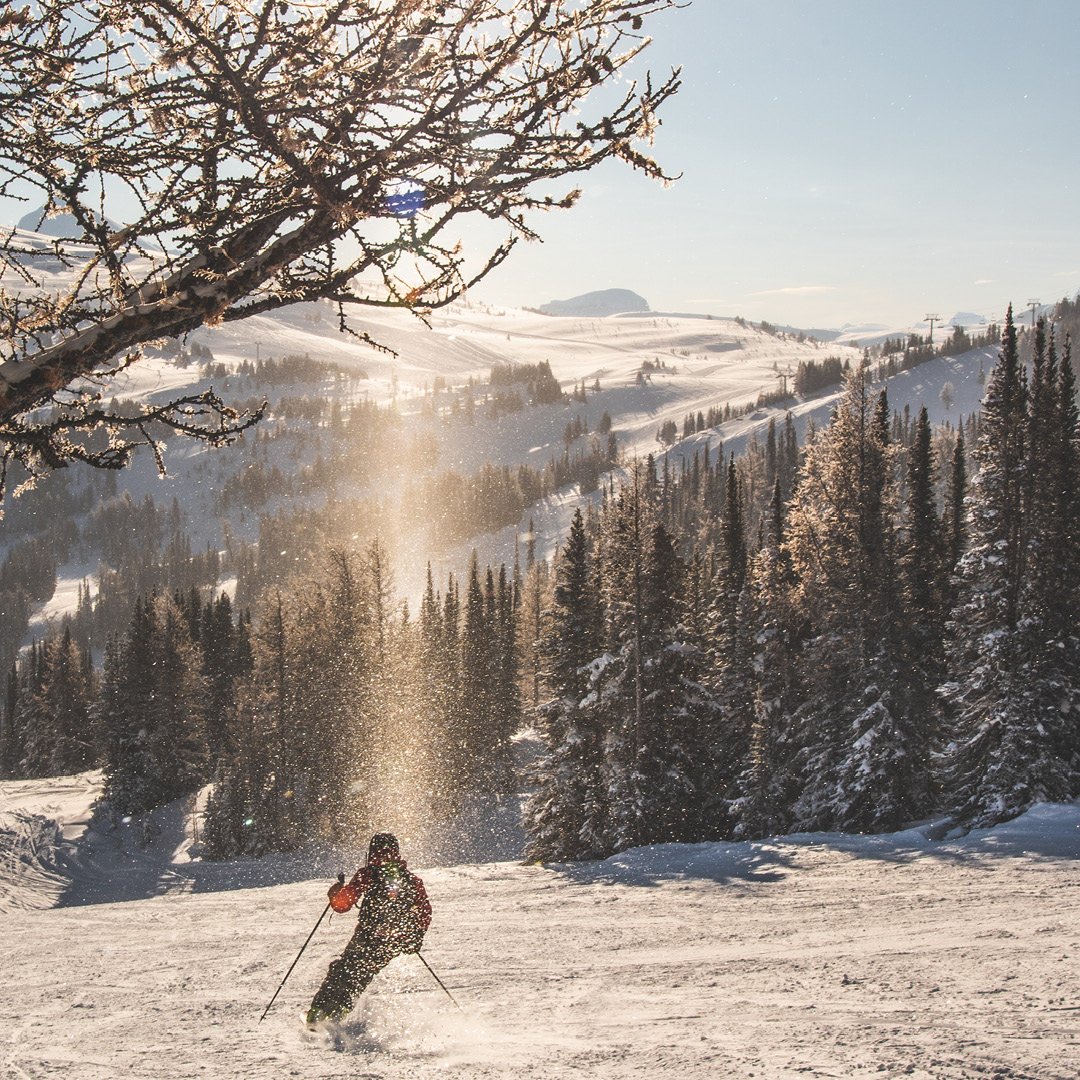 Feb 1, 2022
Sunshiners to Know: Kiki Alexander
Slalom, Giant-Slalom, Super-G and Downhill, new Sunshine ambassador Kiara Alexander does it all! This season the 20-year-old will proudly be wearing the Banff Sunshine Village logo on the world stage competing in North American Cups (NORAMS). Kiki is currently in Europe to race Europa Cups and FIS.
Kiara (or as everyone calls her, Kiki) had a quick introduction to the ski racing world, when she first set foot on skis at the age of 6 and started weaving through race gates all in the same year. At an early age she profoundly realized that to succeed in a field you must truly love what you do. Kiki's first slide down the slopes had her smitten. Sunshine Village had her fall truly in love with the sport as she says "Sunshine has played the largest positive role in my ski career."
Changing conditions are a standard in winter sport, most athletes see this as a hurtle. Kiki thrives in the outdoors, as she sees the excitement in variable conditions which gets her firing on all cylinders. The love of speed, outdoors and new experiences stokes the passion for this young athlete. This has lead her to a victory at this years NorAm Slalom at Copper Mountain, a current Giant Slalom national Championship at Panorama and being in the worlds top 85 female slalom racers.
Kiki's passion, drive and persistence is nothing less than inspiring. The well-rounded athlete can be seen ripping down Virgin Chutes or carving GS turns down Bye Bye Bowl. Proudly wearing the logo of the Village that lead her to the world stage. Never forgetting her roots and still enjoying the mountain she once trained as she dreamt of her, now successful, career in ski racing.
We're all cheering for you Kiki!
A conversation with Kiki:
SV: You're age, your discipline, your racing background, where you're from?
KA: My name is Kiara Alexander, but everyone calls me Kiki. I am a 20-year-old ski racer who skis on the Alberta Women's Ski Team. I started skiing and racing at the same time, when my parent put us in to a racing programs to teach me and my sibling how to ski. I was six-year-old when I first set foot on to skis and I fell in love instantly. I spent my early days learning to ski at Nakiska but really fell in love with the sport when I moved to Sunshine.
In the world of ski racing there is 4 main disciplines, this includes Slalom (SL), Giant-Slalom (GS), Super-G (SG) and Downhill (DH). SL and GS are technical events, this means there is more turns and higher tempo of skiing. SL is the smallest radius turns with the single gate, GS is a larger turns with panels. SG and DH are our speed events, these events you reach very fast speeds and there are less turns than SL and GS. Lucky for me I chose to race all the events.
SV: What have been career highlights for you?
AK: My career highlights are this year's NorAm SL win at Copper, being the current GS national Champion at Panorama, and being in the top 85 in the World in SL.
SV: What got you into skiing?
My family got into skiing because we needed a sport to occupy our winter. Our family friends suggested skiing because it was a great family activity, we could all do on the weekend.
SV: How old were you when you started skiing?
KA: I started skiing the same time I started racing when I was six years old.
SV: Where did you learn to ski?
KA: I learned to ski at Sunshine and Nakiska.
SV: What you loved most about skiing as a kid and what you love most now?
KA: The speed and being outdoors. The one amazing thing about this sport is no run will be the same. The conditions on the mountain are always changing from run to run and day to day and I think it makes the sport very exciting.
SV: Do you have a favorite run at Sunshine?
KA: It is hard for me to pick a favorite run at Sunshine. But for training, I love GS on Bye Bye Bowl (especially in the springtime), and free skiing Virgin Chutes, you'll see the Sunshine race team spends a lot of time there!
SV: What are you ski goals?
KA: My ski goals are to represent Canada on the World Cup circuit and the Olympics
SV: What does it mean to be a global ambassador for Banff Sunshine?
KA: It's such an honor to be representing my home mountain on the world stage. The culture at Banff Sunshine Village is like no other. Everyone is so positive, and you can feel the good vibes. I am so blessed to be able to represent Sunshine and spread the passion we share for skiing.
SV: What is it like travelling the world as a ski racer?
KA: Ski racing has taken me to some very unreal places. Being able to ski in foreign countries, you meet so many new people and make a lot of friends. Travelling because of ski racing is a very awesome experience. You travel to some beautiful places with your best friends and you get to do what you love to do. It has taught me many skills that I will take away and use the rest of my life.
SV: Where will you be racing this season?
KA: This season I will be spending most of my time skiing in North America racing North American Cups (NORAMS). This means the USA and across Canada. Fortunately, in the New Year I will be travelling to Europe to race some Europa Cups and FIS races for the month of January.
SV: What advice would you give to younger skiers and snowboarders hoping to earn a spot on a traveling team?
KA: Don't let anyone tell you, you can't do something. If you work hard and put your mind to it you can achieve anything. When things get tough, grind through it, because in the end you will become stronger, and with more experience nothing will be able to shake your mentality. In my opinion this is the most important, always keep it fun, remember why you love doing what you do!
SV: How has Sunshine played a role in your ski career, and your racing success?
KA: When I was younger, I went through a rough time and forgot why I love this sport so much. I went on a ski trip with the Sunshine Team and they fully changed my mindset of skiing. I was surrounded by peers who loved to ski. It wasn't just about racing for them, it was about having fun, loving the sport and skiing fast. It made me realize that you must love what you are doing in order to really thrive. Sunshine has played the largest positive role in my ski career. The mountain and the race club helped me remember why I loved skiing so much and has been a huge reason for all my successes and future successes.
SV: Anything you'd like to add?
KA: All I would like to add is a big thank you to Banff Sunshine Village for all the support you've already given to me and my career! I will always be honored to represent you and sunshine alpine racer as my home!