Monday, February 6
Banff Sunshine Village, as a Canvas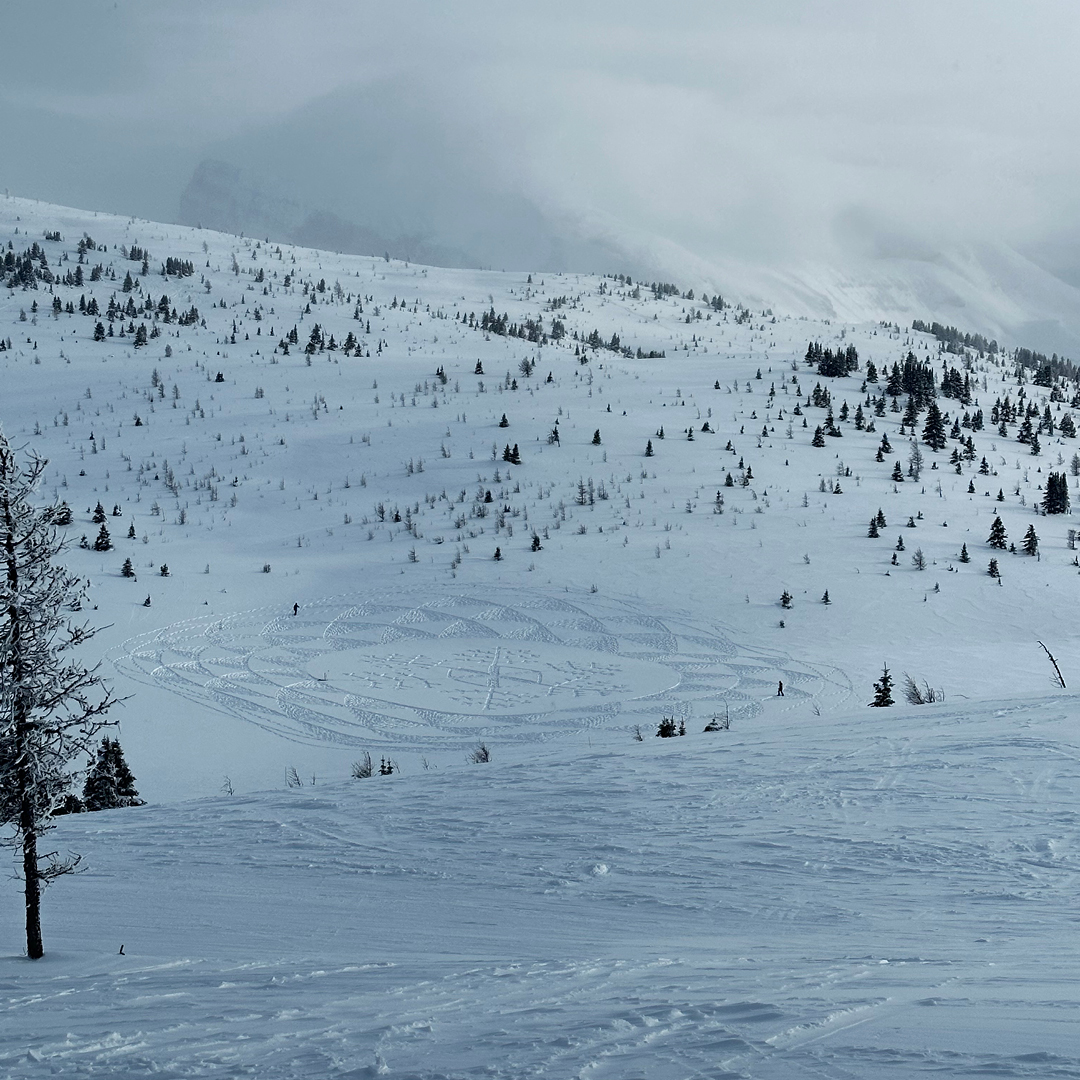 Feb 6, 2023
Banff Sunshine Village, as a Canvas
Kim Asmussen stomps up Canada's Best Snow in the Sunshine Meadows.
Artist, Kim Asmussen, works with Mother Nature to bring the beauty of winter to life, one step at a time.
Born and raised in the mysterious land of the great white North called Canada, Kim combines art with nature, leaving his mark in his snowshoes.
Kim, also known as, "Snowshoe Art Guy," is a retired school principal and former ice sculpture.
Creativity is his nature. What once began as a creative way to spend time in retirement, is now a recognizable hobby, snowshoe art.
On February 1st, it was a whole family affair for Kim, his son and nephews. Kim grew up ski racing in Saskatchewan and has visited Banff Sunshine Village a handful of times over the years.
Now residing in Ontario, Kim's son moved to Alberta 6 years ago. Kim spent the day close with the ones he loves most.
But with his new career transition into retirement, this was the first time Kim has created art in Banff National Park.
Mother Nature dictates, while Snowshoe Art Guy Kim, provides.

Kim Asmussen, left his imprint at Banff Sunshine Village, as Kim uses the Sunshine Meadows as his canvas.

Take the Strawberry chair to see his snowshoe art on Canada's Best Snow.
Banff Sunshine Village is a family friendly resort. Since Kim's first turns on the slopes of Banff Sunshine Village, the mountain is a staple memory for him and his family.
As the Snowshoe art family grows larger, Kim explores being a new grandparent and retiree. Stay tuned as Snowshoe Art guy grows his creative portfolio, as he uses Banff Sunshine Village as his canvas.
With Mother Nature being a little difficult during the work day, Kim had to improvise, and recalculate a few details of his design.
At the end of a hard working day on the rollers of the Sunshine Meadows,
the whole gang unclipped their snowshoes and clipped into their skis, and rode the ski-out into the sunset.