Friday, January 28
Diamonds, Circles, and Squares – OH MY!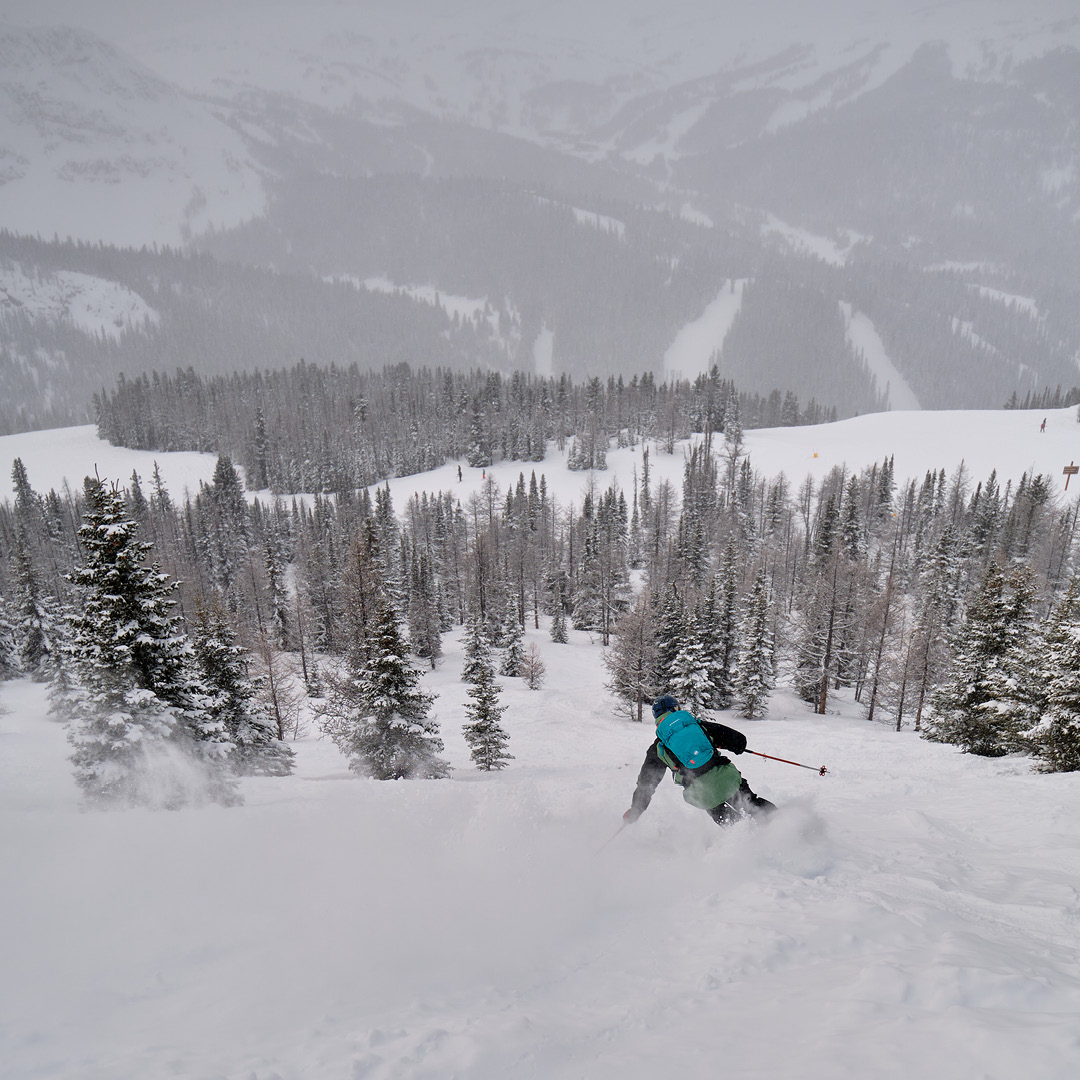 Jan 28, 2022
Diamonds, Circles, and Squares – OH MY!
Across North America, ski resorts like us at Banff Sunshine use a series of well-recognized symbols to convey the difficulty of a designated run to skiers and snowboarders. Traditionally only piste runs are assigned a colour symbol of difficulty. The ski world defines "piste terrain" as a ski run where the resort's operations team has conducted some sort of work to maintain the run.
The symbols that we as snow enthusiasts have come to know and love in North America (yes, they are different in Europe and Asia) were introduced to the ski industry in the 1960s by none other than the one and only Disney Corporation. At the time, Disney was looking to develop a resort in California's Sequoia Park. After lengthy research, Disney concluded that beginners' markings needed to be soft, welcoming, and warm, thus the friendly Green Circle. Intermediate terrain needed to be bold and visible hence the cheerful Blue Square. It was decided that expert terrain needed something more ominous to scare off beginners, which gave birth to the tempting Black Diamond.
At Banff Sunshine Village, our high location on the Continental Divide is a blessing for snow and terrain. Thanks to our unique location, we can brag about being home to the most diverse terrain in the Canadian Rockies. In addition to being home to Canada's Best Snow as we are a magnet for the all-natural white stuff (curtesy of Mother Nature herself). As a resort, we are fortunate to have a wide variety of terrain for skiers and snowboards of all abilities – from gentle greens to the frighteningly extreme.
At Banff Sunshine we have 139 runs. Of the 139 trails, about 25% are greens (beginner), 25% are blues (intermediate), 45% are blacks (advanced) and 5% are double blacks or extreme free ride zones.
*When it comes to run classifications, slope grade is based on percentage;100% equaling 45-degree slope.
Green Circles: New to skiing or snowboarding, make friends with the "friendly Green Circle." Green run's mark the easiest route down a chair. For a run to be classified as a green, the slope cannot exceed a 25% grade pitch. Most greens range from a steepness of 6% to 18%. The shorter the run, the steeper the green can be. However, cruisy greens (like long ski-ways) need to have a slope under 18%. All green runs at Sunshine must be wide enough to be groomed and are groomed nightly. As a result, non-cat track green runs like Rock Isle Road off Strawberry Express or Angel's Green Run tend to be wider than your average run. The friendly Green Circle is perfect for beginners.
Blue Squares: At any resort, most of the trails will boast the cheerful Blue Square, and at Banff Sunshine we are no exception. As the symbol for intermediate terrain, Blue Squares mark the majority of skiable terrain and the most popular trails – including Sunshine Coast and South Divide. The average slope of a blue varies from 18% to 40%. Runs like Rollercoaster, with a pitch less than 20%, are counted as blue if a cat is unable to get through to groom out the bumps. The longer the blue, the more consistent the pitch needs to be. The shorter the blue (think Jackrabbit's Short and Sweet), the steeper the run can be. At Sunshine we work to groom many of our blue runs daily.

Black Diamonds: If diamonds are a girl's best friend, then Black Diamonds are a skier's BFF. Traditionally Black Diamonds have a pitch greater than 40%, undulating terrain, and unmarked hazards. Due to the steeper pitch, unlike greens and blues, a winch cat may be required if a black diamond wants to rock corduroy. At Sunshine, it is not possible to get a cat on all our black diamond runs – if you are looking to ski some Black Diamonds be prepared for moguls, bumps and unmarked hazards.
Double Black Diamonds: AKA Experts Only. The newest of the ski symbols, the intimidating yet always daring Double Black Diamonds mark our most challenging (non-freeride) terrain. Introduced in the 1980's Double Black Diamonds represent piste terrain that is too steep and hazardous for groomers. True Double Black Diamonds are only found on mountain resorts, like Banff Sunshine. If you are looking to ski the these runs hit up Goat's Eye Express. If you are skiing Double Black Diamonds at Sunshine – be on the hunt for POWDER. Our best snow often hides on double blacks like Hell's Kitchen.

Extreme Freeride Zones – At Banff Sunshine we have two extreme freeride zones, Delirium Dive and The Wild West. Both zones are technically off-piste, which is why we require all guests to wear a transceiver, ski with a buddy, carry a shovel and a probe and have some knowledge of avalanche safety. The terrain in our extreme freeride zones is steep, deep, and contains unmarked hazards. To ride either The Wild West or Delirium Dive, we recommend that you are comfortable on all our ouble black terrain.
Now tell us, what is your favorite green, blue or black run at Banff Sunshine Village?