Friday, March 10
Snow Your Stuff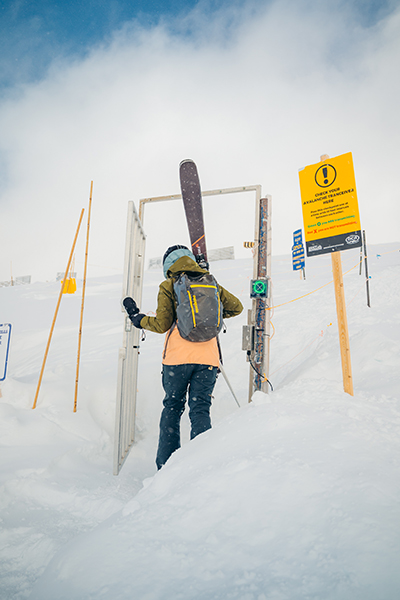 Mar 10, 2023
Snow Your Stuff
A beginners guide to snow safety.
POWDER, aka White Gold, it's the stuff skiers and snowboarders round the world go CRAZY for.
At Banff Sunshine, we're home to Canada's Best Snow, thanks to our location high in the Canadian Rockies on the continental divide. What makes our snow sooooo good, is how light and smoke dry it is. Each year we welcome thousands of skiers from around the globe to ski the difference of our all-natural snow.
With over 3,358 acres of skiable terrain to explore, and two wild free-ride zones at Banff Sunshine, there's always stashes of powder to be found.
The Delirium Dive and The Wild West are amongst some of the world's most advanced and spectacular inbounds, free-ride zones. To ride them, snow knowledge, a buddy and the proper gear, is a must. To enter either of our free-ride zones you need to have an avalanche pack stocked with following, along with he knowledge of how to use them properly:
Probe - A metal rod used to poke through packed snow to measure snow depth of the snow.
Beacon - A radio transceiver, operating at 457 kHz used to put yourself and others on the map.
Shovel – A packable shovel used to move snow for snow stability tests.
At Banff Sunshine, our snow safety team actively mitigates in-bound hazards, including avalanche risk. This is not so for areas outside our ski area boundary, including near backcountry terrain. Conditions can change day to day, and minute to minute in the mountains.
This 2022/23 season, we are seeing a persistent weak layer in this years snow pack caused by cold weather from the beginning of winter. Experts are recommending skiing in-bound terrain this season. Lucky for you, you can enjoy big mountain thrill in Delirium Dive.
When skiing or riding extreme terrain, make a plan, choose a buddy and research where you'll ride and stick to the game plan.
Let someone who's not skiing with you know where you're going, and what your plan is for the day.
Check conditions! Do your homework, and pay attention as you ride. When on the mountain it's important to always ride within your ability.
At Sunshine, we believe in snow education. If you want to ride our free-ride zones or are considering venturing further, we recommend signing up for an Avalanche Safety Training course.
To start your snow education visit avalanche.ca and follow us for your Sunshine Village snow safety!