Monday, April 6
Covid 19 Sunshine Credit Policy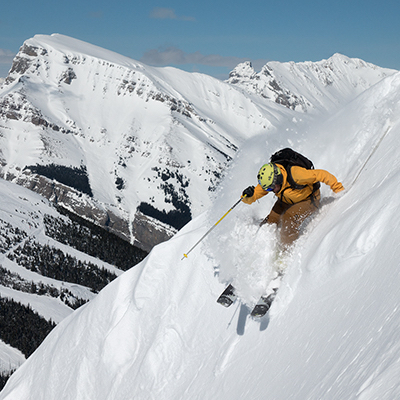 Apr 6, 2020
Covid 19 Sunshine Credit Policy
From our family to yours we apologize for any inconvenience our temporary closure has caused.The decision to pause the ski season, came as an order from the governing body of passenger lift ways in Alberta. We hope that through our community effort we can slow the spread of Covid-19, and allow for our health care infrastructure to best manage the worldwide pandemic.
We know it's disappointing to not be able to enjoy fresh mountain air and Canada's Best Spring Skiing on the slopes of Banff Sunshine. We too are missing the thrill of carving down our Rocky Mountain slopes.
Have an unused Sunshine Product, here's what we're doing to be able to offer you credit for a future date at Banff Sunshine.
Have a 2019/2020 Sunshine Super Card?
We at Banff Sunshine are offering exchanges for all unused 2019/20 Sunshine Super Cards. If you've never used your 2019/20 Sunshine Super Card, exchange it at our ticket window, guest services, or Calgary Snow Central Office for a 2020/21 Sunshine Super Card. We will begin accepting exchanges as of October 31st, 2020.
If you have used your Sunshine Super Card 3 or 6 times, you can redeem your 4th or 7th day free up until December 24, 2020 at Banff Sunshine Village.

To best serve you, we ask you please register your Sunshine Super Card, you can do so here:
https://www.skibanff.com/SunshineSuperCard-Registration
Have a 2019/2020 Banff Sunshine Lift Ticket?
Do you have an unused 2019/20 Day Lift Ticket for Sunshine Village form Costco, AMA, recreation clubs, or from your place of work?If so, these tickets can be exchanged, and will be valid until December 24th, 2020, at our Calgary Snow Central Office, at any Sunshine Ticket Window, or at Guest Services.
We will be able to process ticket exchanges after October 31st, 2020.
If you have a lift ticket that you purchased through our mobile app or e-store, and have not picked it up, please email us at ecommerce@skibanff.com for an exchange.
Have a Season Pass?
We at Banff Sunshine are currently reviewing our Season Pass refund policy. We will be providing an update in the coming weeks, and we thank you for your patience.
In light of this pandemic, now's the time for us all to stay home and do our part to flatten the curve of infection.
From our family to yours we hope you're staying healthy in this unprecedented time.
We look forward to welcoming you back to Banff Sunshine Village once it is safe to do so.