Getting Ready for Winter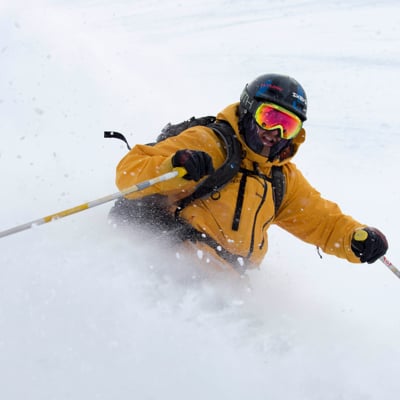 TBA
Getting Ready for Winter
While opening is just a few weeks away, the recent snow flying up on the mountain has the village a buzz with the excitement of the return of winter. All our departments are have snow on the brain and have are prepping the mountain for skiers and boarders.
Our Trail Crew team weren't afraid of the dropping temperatures and hitched a chairlift ride up into the alpine to pound some steal. By pounding t-steal into the mountain rock now, the Trail Crew staff can set up snow fences to start collecting the white stuff and create a base for the runs. This technique is called snow farming and is critical for our snowpack. Snow farming is also a great alternative to snowmaking and doesn't use any water resources (except to keep the boys and girls of Trail Crew hydrated).
Our Gondola Maintenance is busy at work getting the lift back into winter mode to take skiers and boards up to the village. Freshly painted cabins will be put back on to the line and the speed with be cranked up from our sightseeing 3.8 metres per second up to a whopping 5 metres per second. Soon, once the ski-out is back to being covered with snow, it will be the only way up the mountain.
Park Crew has been busy all summer getting our Terrain Park features nice and shiny after the 202 days of abuse during the 2016/17 season. The boys have been painting, buffing and replacing siding on most of our boxes and rails. They have even been getting a little creative in the cat shop and have a few new custom features to show our visitors. Be sure to check out our Shred SSV Instagram and Facebook pages for some updates and photos.