Tuesday, August 2
Introducing your 2022 Miss Slush Cup: Kate!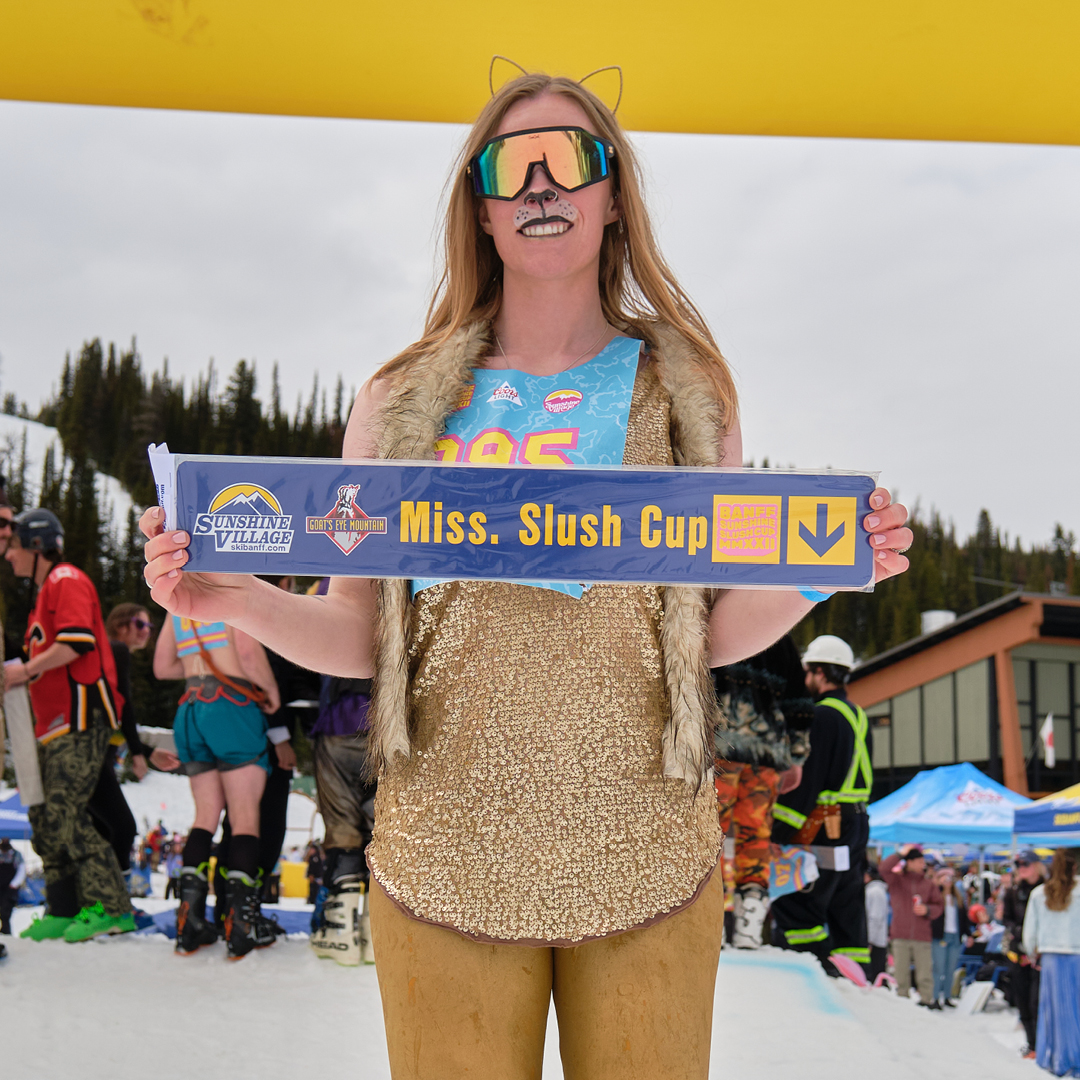 Aug 2, 2022
Introducing your 2022 Miss Slush Cup: Kate!
After a three-year forced hiatus, we at Banff Sunshine Village were thrilled to welcome back our legendary end-of-season "slushtival" Slush Cup Long Weekend. Before the pandemic, our Slush Cup event was world famous for being the longest-running pond skimming event in the world. Conceived initially as a dare back in 1928, Slush Cup has grown from a campy end-of-season staff party to Travel Alberta's Event of the Year.
With the official return of our legendary Slush Cup Event, held May 23rd, 2022, we as a team concluded that we needed to make the Return of Slush Cup – EXTRA! Hence a theme was born. This year, our Slush Cup Pool was longer, the water was colder, the jump was poppier, and the crowd was on fire. Complying with the theme, our panelist of celebrity judges, including Olympians Rachel Kracker, Brendan MacKay, and Max Moffatt, were instructed to score high for everything EXTRA.
Introducing our 2022 Ms. Slush Cup, Kate (Target) Wilson. Kate, an Alberta raised Freeskier who calls the slopes of Banff Sunshine home, wowed our panellist of celebrity judges with her water ski technique and freestyle flair at our 92nd Slush Cup event. To say Kate made her Slush Cup return "EXTRA" would be an understatement. Dressed purrrfectly in head-to-toe glitter and gold, Kate, the skiing kitty, put on a heck of a show for the Slush Cup crowd.
On both jumps, Kate silenced the crowd as she brought an element of drama, fighting for her landings as she slapped her back on the water only to get the crowd cheering as she miraculously rose to ride out.
We caught up with our 2022 Miss Slush Cup to learn how she prepped for the big event to chat about skiing, slush cup, and her hype for the upcoming winter season.
Banff Sunshine Village (BSV): Congrats on winning SLUSH CUP; what does winning Slush Cup mean to you?
Kate Wilson: Winning Ms. Slush Cup is huge to me. It means a lot more to me than just the title. The entire Slush Cup Day was such a great experience. What I love about Slush Cup is being able to reconnect with old friends while meeting new friends. Everyone who competes in the event is there because they love winter. It's rare to find an event with so much camaraderie between competitors. As a participant, Slush Cup is just a fun event to participate in.
BSV: A Successful Slush Cup run is quite a feat! As an athlete, how do you train for Slush Cup?
KW: To successfully ride out of Slush Cup, you must know how to compress a jump and how to land in variable conditions. To get Slush Cup ready, I hit up Standish Express for hot laps.
BSV: What do you love about Slush Cup?
KW: Slush Cup is the best end to the season. It's a way to celebrate winter with the entire ski and snowboard community. As a participant, I love the Slush Cup vibe, energy, and wholesome good times.
BSV: At Slush Cup, costumes are a must! To win Slush Cup, a solid costume is a necessity. What's your approach to costumes for Slush Cup?
KW: For Slush Cup's return, the theme was EXTRA. So, I decided to go with that. To be EXTRA, I went all out with gold everything! Spray paint may or may not have been involved.
BSV: Obviously, winning Slush Cup has been a goal of yours. With the competition heating up, how did you differentiate yourself?
KW: You're right; I wanted my name on that trophy. To win, I needed to take a chance. My advice - Go fast, take chances...and do a trick at the end if you make it across. This year Backslap or bust was my move.
BSV: With ski season not set to return until November, do you have plans for Summer?
KW: When I'm not skiing, I work as a fisheries biologist, devoting my time to protecting fish and fish habitats in western Canada. Outside of skiing and work, I am an avid flyfisher (wo)man, spending any extra time I have in pursuit of big fish and wild adventures. I hope to get up to Sunshine Meadows this summer to watch the fish jump in Grizzly Lake.
BSV: With Slush Cup set to return on May 22nd, 2023. Will you be back to defend your crown?
KW: You bet! I've got my goals set on a Slush Cup repeat.
If you see Kate, our reigning Miss Slush Cup around the mountain say hi and give her a high 5. In addition to the cash prize for winning Slush Cup both Mr & Miss Slush Cup also won a 2022/23 Sunshine Season Pass.