Thursday, June 1
Introducing Sam Carter, Ms. Slush Cup 93!!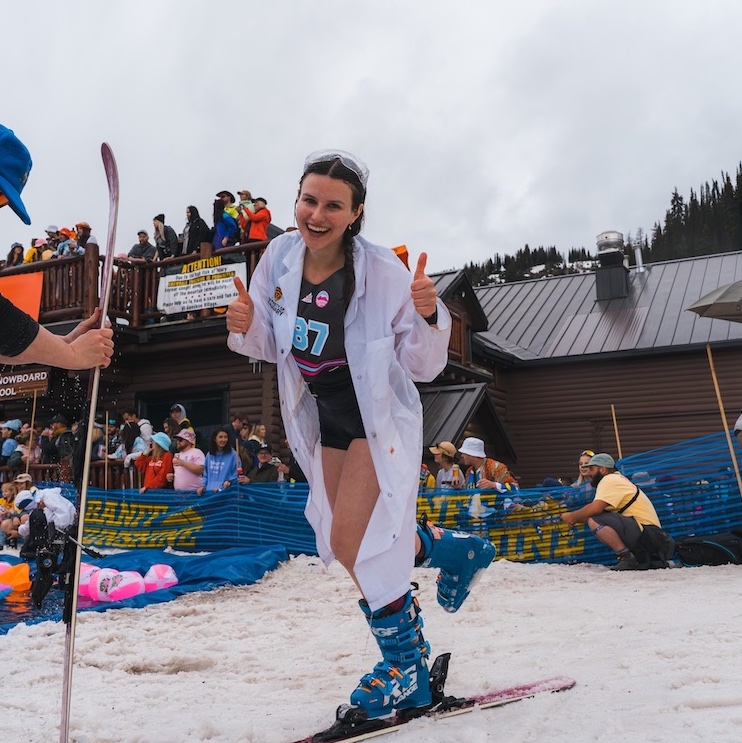 Jun 1, 2023
Introducing Sam Carter, Ms. Slush Cup 93!!
You saw her show off her Master's in Slushology, as she dodged pool toys to skim across the 110 ft ice-cold slush cup pool at our 93rd Slush Cup. Now, get to know just how impressive 22-year-old Sam Carter is.
Slush Cup 93 marked Sam's second-ever Slush Cup attempt. While somewhat of a novice to pond skimming, Sam Carter, a 22-year-old Calgary native, clenched the coveted title with ease at the 2023 Sunshine Slush Cup.
To quote Sam, "My first love was skiing. I started skiing at the age of six and instantly knew this was the sport for me."
At nine, Sam's undeniable love of skiing was stoked by joining a race club. It was in her race program that Sam proclaimed to herself that she would one day win the title of Ms. Slush Cup. As an athlete, she ski raced across North America and Europe. When Sam's not on the slopes training for Slush Cup, you can find her in a Chem lab at the University of Calgary, where she's studying to earn her Bachelor's in Chemistry.
"Being Ms. Slush Cup is a dream come true!!!" exclaimed Sam. "After making the finals at Slush Cup 92, I wanted nothing more than to win that Ms. Slush Cup trail sign, which I've already hung above my door."
With her heart set on winning Slush Cup, Sam's determination was calm, cool, and collected. She gave it her all, skating with might for extra speed as she made her descent down Slush Cup Hill. Centred over her skis, she flew onto the water, smoothly wowed the crowd, and impressed the judges as she skimmed her way to victory.
"This year was definitely tougher than last year," emphasized Sam. Due to tropical-like May weather in the Canadian Rockies, snow conditions were sticky and slow." This year at Slush Cup, I had to fight for my life to get to the end of that pond."
Sam's Slush Cup success is a testament to her winning combination of speed, balance and unwavering composure on the slopes. To any aspiring future Ms. Slush Cups, Sam (the reigning champion,) advises you to get as much speed as possible, find center over your skies, keep calm and quiet the nerves.
With over 15 years of experience on her side, Sam's passion for skiing extends far beyond the thrill of competition. For her, the tight-knit community makes this sport truly special. Even with this season's Slush Cup being warmer than usual, Sam coined this year's event as, "the best day of the season." "It's the people and crowd. Everyone is so supportive, and it was so nice," said Sam.
"The bragging rights are pretty awesome," states Sam. "As awesome as the bragging rights are, the prize money and Sporting Life gift card will allow me to upgrade my ski gear, ease the burden of tuition fees, and allow me to enjoy skiing next winter at Sunshine. It really is a dream come true."
When asked if she'll defend her title or judge at Slush Cup 94, (scheduled for May 20, 2024,) she said she's not sure yet. While the opportunity to be a judge in next year's Slush Cup seems tempting to Sam, she's unsure if she could see herself going a year without competing.
If you spot Sam on the slopes this Winter, give her a high-five and cheer as loud as you can, as you ski by the reigning Ms. Slush Cup.