Wednesday, May 13
2020 Virtual Slush Cup Party!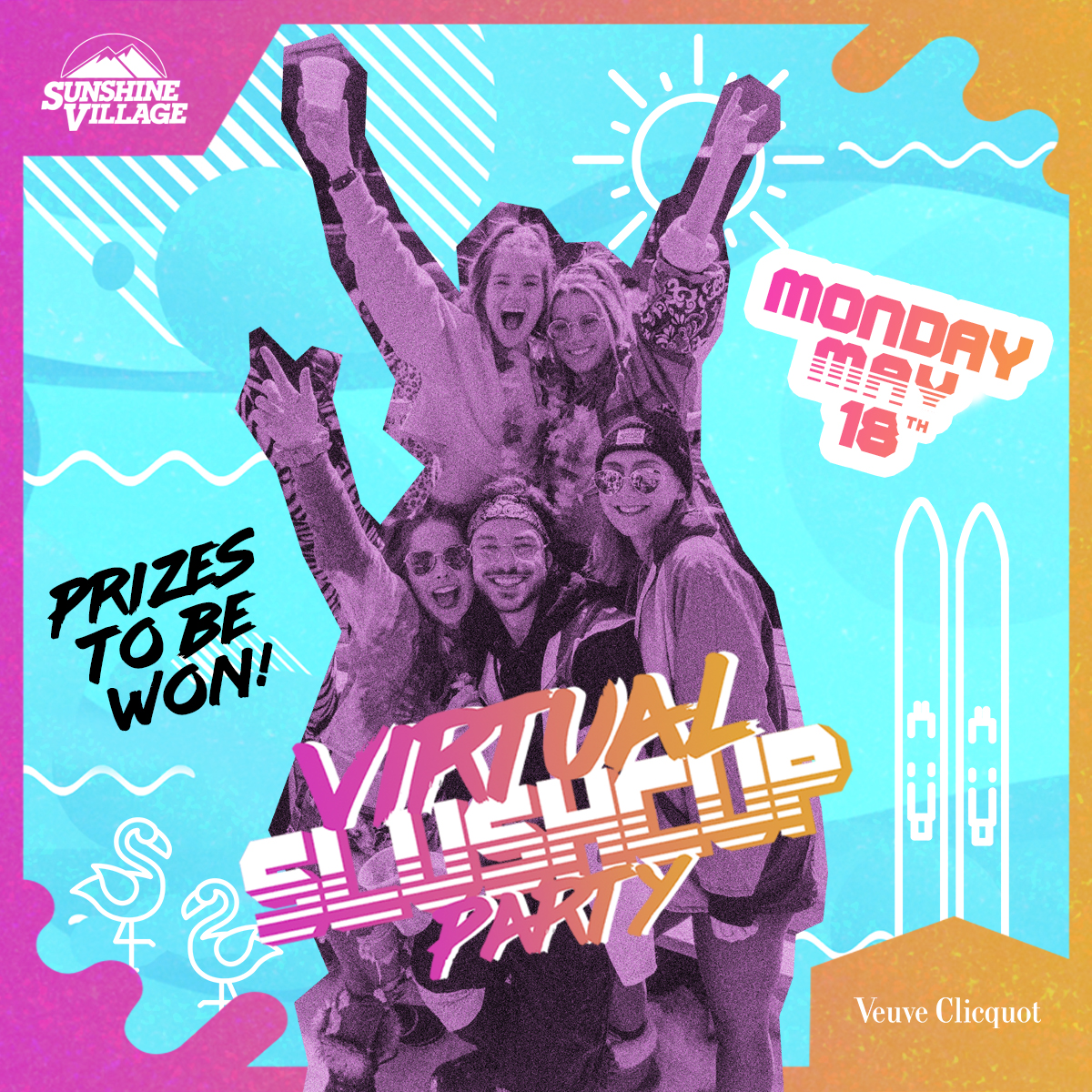 May 13, 2020
2020 Virtual Slush Cup Party!
Mark your calendars, we are celebrating Slush Cup online!
Since 1928, we have not missed a Slush Cup, each May Long Weekend we have celebrated winter's last hurrah with a dare to ski on water. Recognized by Travel Alberta as the 2019 Event of the Year, each year, Slush Cup attracts thousands of skiers, snowboarders, and winter enthusiasts to the town of Banff for the biggest end of winter celebration.
For us at Banff Sunshine, Slush Cup is the final splash of the ski and snowboard season. Although our 2019/20 season was cut short due to circumstances beyond our control, we want to give winter a proper goodbye as we celebrate the memories made on the slopes and the powder days we were spoiled with.
While Slush Cup 92 will be postponed until May 2021, this year we are excited to bring the thrill of Slush Cup online with our 2020 Virtual Slush Cup party!
You're invited!
Join us on Monday, May 18th for our Virtual Slush Cup Party. Dance at home to beats played by our live DJ, snap photos of yourself "Living la Vida Sunshine," for a chance to win Sunshine Prizes, learn how to make some tasty cocktails, and show us how you celebrate Slush Cup from home to get featured in the stream via Zoom!
How to Watch
https://www.twitch.tv/banffsunshine
Time
Monday, May 18th, 2020 at:
3-5pm (PDT) (Vancouver/Los Angeles)
4-6pm (MDT) (Edmonton/Calgary/Denver)
5-7pm (CDT) (Winnipeg/Chicago)
6-8pm (EDT) (Toronto/New York)
7-9pm (ADT) (Halifax)
Join us on Zoom to get featured in the Live Stream
https://zoom.us/j/91939031076?pwd=UEs1SGNaRTg1bUdDWTA1OFRXN0VpUT09
Zoom Meeting ID: 919 3903 1076
Zoom Meeting Password: 073484

Zoom Backgrounds
To add a little Sunshine to your zoom account, download our Banff Sunshine and new Slush Cup backgrounds! We promise they will make you feel like you are at the top of the mountains.
Need help? Check out our blog on how to upload them.

Prize Categories
1. Spirit of Slush Cup
2. Best Slush Cup Costume
3. Best Pond Skim Attempt - yes a slip and slide counts
4. Best At Home Slush Cup Vibe
5. Best Dance Moves


How to Win
To win, post a photo or video showing us your home Slush Cup party! Use the hashtag #VirtualSlushCup and tag @sunshinevillage on Instagram or Facebook. The best posts or stories will win a Banff Sunshine Surprise Pack.
Aiming for the "Best Pond Skim Attempt"? Share your video in advance to be featured on our live stream!
Bring the thrill of the mountains home
Ready to party? On Monday 18th make sure to get a taste of Sunshine at home with our recipes:
Drinks Eats
- Veuve Clicquot Cocktails - French Fried Chicken
- Caesar with Maple Bacon Jerky - Truffle Popcorn
- Sunshine Margarita - Deep Fried Pickles