Wednesday, February 10
The Best Sunshine Runs, From Greens to Blacks, To Ride With Your Family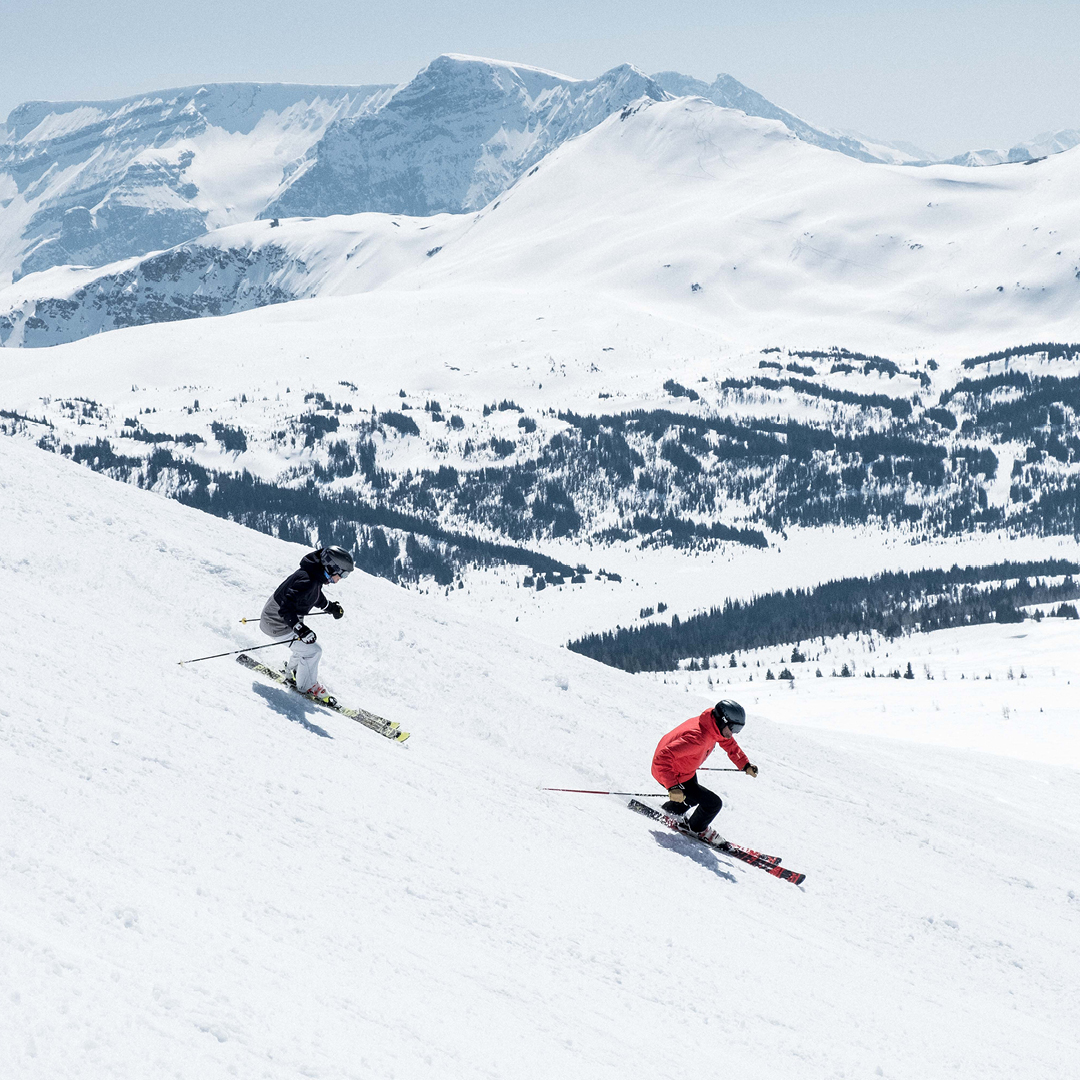 Feb 10, 2021
The Best Sunshine Runs, From Greens to Blacks, To Ride With Your Family
At Banff Sunshine Village skiing and snowboarding tops our list of favorite family activities. (We know, we know – we're biased). This winter, hitting the slopes has been a blessing for many of us. Especially those of us with kids. As avid skiers and snowboarders, we find it special to share our love of carving up Canada's Best Snow with those we love most.
While we're all doing our part to bend the curve – by staying closer to home, and spending more time with our immediate family we wanted to share a few of our family favorite ski runs with you.
From greens to blacks, we've put together 12 of our favorite runs to ski and ride with our families.
Looking for an easy green to introduce your kids to skiing or snowboarding? Try these:
Kids Play (green) – Accessed from the top of Jack Rabbit Quad or Wolverine Express, Kids Play is a gentle green that's perfect for building confidence on the slopes. If your family is looking for a little adrenaline, ride our Kids Play (beginner), Terrain Park. With small ride-on features and tiny jumps, our Kids Play Park is the perfect place to introduce your little ones to the fun of terrain parks.
Rock Isle Road (green) – Located to the left when off-loading Strawberry Express, Rock Isle Road might just be our best beginner's runs at Banff Sunshine Village. If you're looking to introduce your little ones to skiing or snowboarding at Banff Sunshine, we recommend starting on Rock Isle Road.
The Dell Valley (green) – Perhaps our most famous green run, for its natural halfpipe shape, the Dell Valley stationed at the top of Strawberry Express is the ideal run for you, and your little ones to practice big S turns safely. The gentle walls of the Dell Valley will help your tiny tigers control their speed while mastering their "french-fries."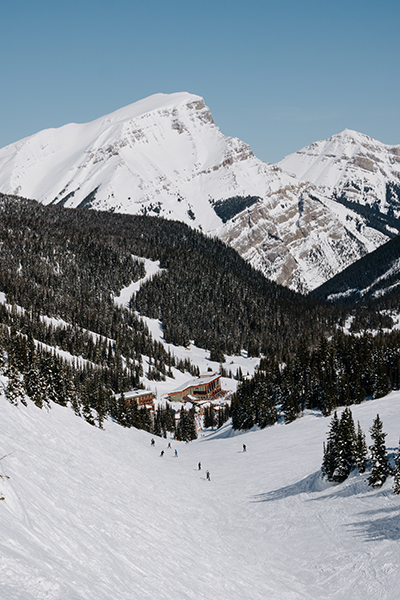 If Blues are your thing, Try these blue runs with your family:
Little Bunkers – Once you and your family are ready to carve up some blue runs, we recommend starting with a gentle blue like Little Bunkers, located off of Standish Express. For the most part, Little Bunkers is a fun run with lots of side jumps and tree for your little ones to ski. The run has one steep pitch, perfect for building confidence and prepping your kids for more challenging terrain.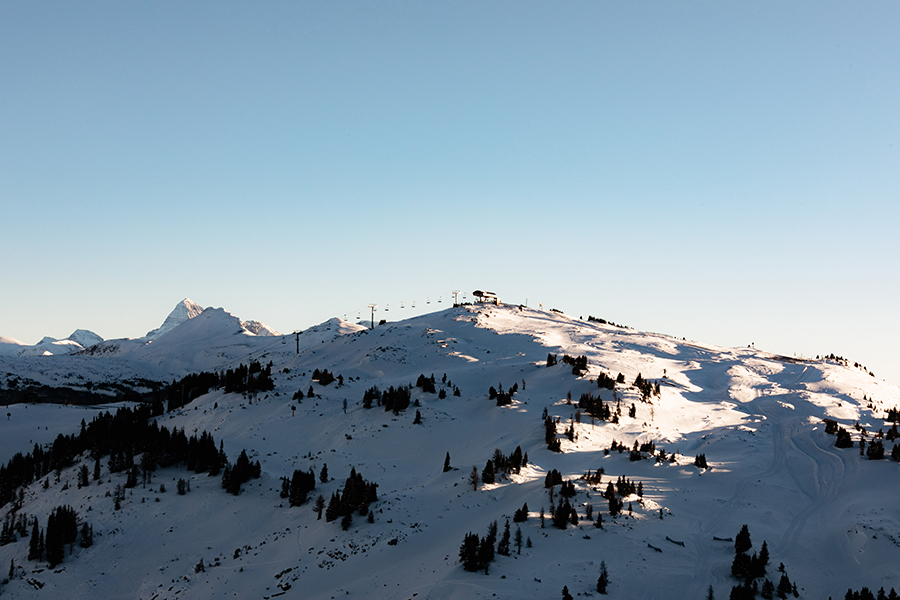 Strawberry Surprise – Hoping to share your love of powder with your kids, then take them to Strawberry Surprise. This gentle blue run, accessed from Strawberry Express, is a hidden gem at Banff Sunshine. The run is seldom skied, so there are usually fresh turns to be found.
Bluebell – Looking for some steeper terrain for your kids to get comfortable with? Head to Blue Bell, found off of Wolverine Express. Bluebell offers skiers and snowboarders a wide cut run with a consistent pitch and great view of Goat's Eye.
Wolverine – located off of Wolverine Express, Wolverine, is a fun run with lots of natural terrain variation for your family to enjoy. The run funnels back to Wolverine Express, which is perfect for an easy run repeat.
Rollercoaster (blue) – Accessed via Wolverine or Jack Rabbit and hidden in the trees off of Banff Avenue, Rollercoaster is a favorite with kids of all ages. The hidden tree run is full of bumps and jumps that will make your little ones squeal with delight as they ride through.
If you're thinking, "Black Diamonds for my family please," then try these family Friendly Black Runs:
Star Trek – As a family, are you looking for an out of this world ride through a galaxy of trees? If so, then Star Trek is the run for you. This fun tree run is located off of Wawa Quad, to the skiers' right of Birdcage.
Tin Can Trees – Tin Can Alley might be a Sunshine Favourite, but the trees to the right of the run hardly get skied. If you're in the market for a new tree run, take our suggestion and try the fun glades of Tin Can Trees.
Eagle Creek – Found off of Goat's Eye, Eagle Creek (sometimes referred to as "Evil Creek" is a kid's paradise. The run ebbs through a frozen-over creek bed. As you ride the creek, you'll flow through bumps, jumps, and trees. Our advice, take it slow- especially as you approach the mid-run cliff.
Waterfall – Accessible off of both Standish Express and Wawa, Waterfall is another kid favorite run. As the name suggests, the run Waterfall is a frozen waterfall ( the run can be seen from the waterfall rooms of our Sunshine Mountain Lodge). As a kid, riding down Waterfall comes with major bragging rights. If you're new to blacks, take your time as Waterfall is a steep and sometimes icy run.