Thursday, April 29
Service Excellence Award Winners February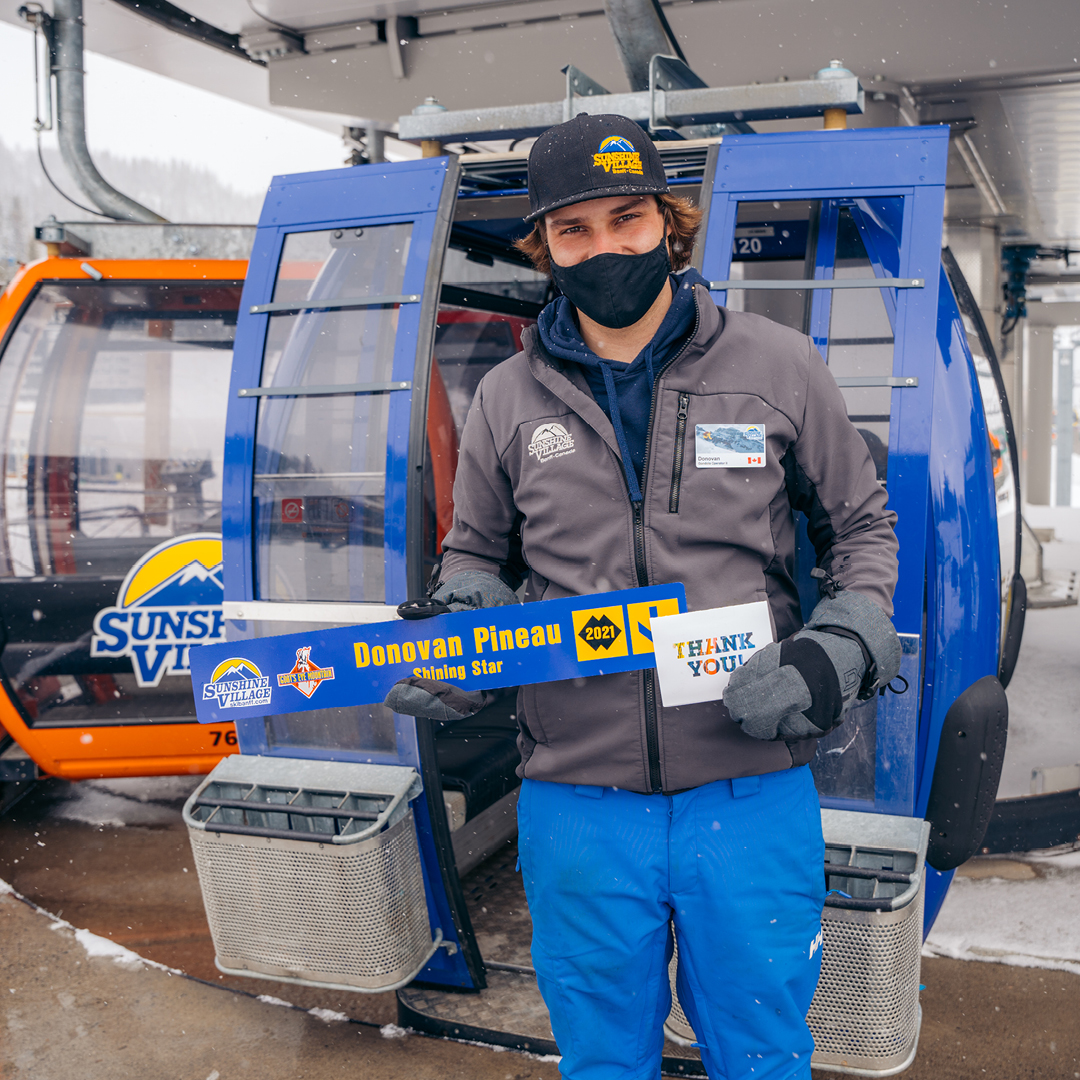 Apr 29, 2021
Service Excellence Award Winners February
At Banff Sunshine, it is our team members who bring the magic of our resort to life. Each season we employ nearly 800 team members, and each of them plays an important role in helping us deliver our goal of turning every guest into a raving fan of the Canadian Rockies and Banff Sunshine.
In a typical year, we like to honor our team members who go above and beyond at our monthly Service Excellence Awards Dinner. Like many things, due to Covid this year, we have had to adjust the way we show appreciation for the Sunshine Team Members who regularly go above and beyond to deliver exceptional service.
We might not be able to gather, but we can share our appreciation for our team members who brighten the slopes of Banff Sunshine Village!
Meet our Front-line Shining Stars for February 2021:
Employee of the Month:
Sean Wiens, Trail Crew
Sean joined Trail Crew later in the year than most of the crew, in early December. Since joining the team, he has stood out as a strong worker, with a great attitude and team spirit. He consistently displays attention to detail and works meticulously to keep our snow farming operations at it's prime. He is often seen providing a helping hand. Sean can be trusted to do any job and we are lucky to have him on our team! Sean recently initiated helping a guest and received a positive web comment for helping.
Shining Star of the Month:
Donovan Pineau, Gondola Operations
We would like to thank Donovan officially for helping to go above and beyond for a guest. We had a guest that had lost their brand-new iPhone and with some back and forth we were able to track down the location. Donovan then ran over to Standish to collect the phone himself and ensured that we were able to get it back to the guest! It is staff like Donovan that help guests to have a sunshine day every time they visit the resort.
Employee of the Month:
Nathan Vis, Lift Operations
Nathan is one of our lift operators, who you may know as the Banff Sunshine resident DJ at the base of Teepee Town Chairlift. Also knows as "the DJ dancing machine", he is always looking for new ways to brighten up everyone's day. We really appreciate the positivity that Nathan radiates each day.
Employee of the Month:
Lukas Duckworth, Lift Operations
Lukas is one of our lift operators at our Jackrabbit Chairlift. Lukas was skillfully holding the chair back so skiers could comfortably get onto the chair. As more snow started to fall, he went above and beyond, before loading the chair Lukas would lift the seat up and down again to clear snow from the seat of the chair. Lukas knows how to read a situation and can suggest to guests that he can slow down the char to allow children and new skiers to load easier. We appreciate everything that Lukas has done as a lift operator.
Employee of the Month:
Scott Wallace, Ski & Snowboard School
Scott is one of the instructors at our Snow School. We have had more than a handful of guests write in to compliment him on how great he is as an instructor. Some of the compliments he has received commend how he structures his lessons, how patient he is when teaching, and how funny he is. We are so very lucky to have Scott as one of our instructors.
Employee of the Month:
Fraser Miller, Trappers – Front of House
Firstly, we would like to thank Fraser for the positive attitude he brings to each role that Trappers throws his way, and there is a lot of them. Fraser can be known to expedite food, help guests find a seat, clearing and sanitizing tables, and more. All our Trappers and Beer Garden servers give him a 10/10 for helping with cleaning tables and that he is such a great role model for new staff. Always looking for ways to help, ensuring they never miss the little things like straitening the chairs and having the sanitize cards placed nicely. Guests love him due to his outgoing and honest interaction with them and there is nothing he won't do to make their experience memorable. Those who nominated Fraser said, "I could go on and on, honestly I believe he is an absolute asset to the team and the whole of Trappers agrees".
Employee of the Month:
Hailey Nixon, Alpine Café - Back of House
Hailey is one of the most reliable and consistent employees in the Centennial Day Lodge. She is a supportive teammate to everyone and delivers quality products to our guests. She is a soft-spoken individual who is very helpful, and her guests' interactions are flourishing because of it! We would like to recognize Hailey and say thank you to her!
Safety Hero:
Jessica Humphreys, Guest Services
Jessie is an amazing member of our team in Tickets and Guest Services. She has a way with words, and many members of our team have noted this. She explains every situation with guests clearly and concisely, so they understand exactly what they need. Her bright and cheery attitude with guests, even in difficult situations, always shines through. She has also shown willingness to learn and grow in this role, and with this company, while also helping our accounting team. She has stayed later than necessary multiple times to help other members of the team when they need it. She is all around a phenomenal employee and deserves recognition!
Employee of the Month:
Emma Wick, Housekeeping
Emma Wick started as a Room Attendant, her rooms were always great, and she is always willing to help others. Emma then moved to a Houseperson position and excelled in this role. Emma is independent, works well alone and in a team. She also works well with minimal supervision. Since Emma has worked as both Room Attendant and Houseperson she sees the big picture and goal in keeping the Sunshine Mountain Lodge safe and clean. Emma offers help to Room Attendants when she is all caught on her duties, she excels at time management. Emma keeps the team updated on information like when linen is arriving or guest requests and maintenance issues. She is a great listener and attentive to guests' needs. Emma was a big help during the cold snap when the resort shut down for a few days by helping to get the hotel ready for when we opened again. Emma often offers help before we even ask her. She has been a great support to the Hotel team.
Employee of the Month:
Alasdair Duncan-Atkinson, Sales & Marketing
Alasdair has been with Banff Sunshine Sales & Marketing Team for 4 seasons and has crafted his skills to meet and exceed the expectations of his sales clients. This season is no different. Alasdair has brought a personalized approach to each of his client's sales orders, regardless of if it is a large retail partner order or a small corporate client order of Sunshine products. Alasdair has made best efforts to work with his clients throughout the pandemic taking their situations into account and included offering mobile lift ticket products as an option. He has also been flexible on product pick-up and drop-offs to ensure the clients have a safe environment and feel like they are getting his absolute attention during times of increased restrictions. Thank you, Alasdair, for being adaptable to change and finding unique opportunities for Banff Sunshine sales in the 2020-21 ski season.
Sunshine Ambassador:
David Arney, Ski & Snowboard School
David is one of our ski and snowboard instructors. He is more than happy to help with other departments and has a positive attitude that rubs off on others. He goes above and beyond the scope of his duties. David has been a vital asset to the sales and marketing team, while wearing many other hats. He is very willing to fill in with other departments as needed. While working in other departments he takes the opportunity to help get content for our social media pages, and he has excelled at content creation.
Leader of the Month:
Terran Kostiuk, Trail Crew
Terran is currently a foreman on the Trail Crew team. He is one of the main reasons that Trail Crew has been able to get through the rough patches that this season has brought. He constantly brings enthusiasm and positivity to monotonous jobs or difficult COVID-related situations. He is a constant source of positivity and a lot of people have leaned on to him when they have endured hard times this season. His radiance and positivity pour into other departments as well. He always makes sure to check in with other staff and make sure that they are doing ok. We have watched him go out of his way this year to make sure staff and guests are feeling welcome and appreciated.
Customer Excellence Leader of the Month:
Jake Fell, Rentals
We received a particularly glowing review from a guest regarding repair work done by Jake. We can vouch that this is not a one-off experience. Jake consistently strives to go above and beyond to give the best possible guest experience while often leading the floor as Assistant Supervisor. The guest's positive comment reflects what Jake does each day.
Leader of the Month:
Camila Carballo, Goat's Eye Supervisor
Camila is our Goat's Eye supervisor, she started with us at the beginning of the season and showed off her larger-than-life personality. She has been flexible and accommodating through all the changes that we have had to make this season. She works hard to ensure that all her guests, not just visitors but staff as well, receive a personalized experience! Getting to know customers by name and checking in to see how their week is going. Camila has shown growth in her role, taking on more responsibilities being in a more remote location. We would like to recognize her hard work and dedication!
Supervisor of the Month:
Sara Laing, Snowhost Supervisor
If you have been to the resort on a weekend and have been in the lineup for the gondola, you have probably seen Sara. Sara is our always positive Snowhost Supervisor and she and her team have been a pillar of our operations this season. It doesn't matter if you are a seasoned veteran or your first time visiting the resort, this season was full of new restrictions and changes. Sara has been able to ease the transition of the changes for our guests and make sure that they are able to get to where they are going and have the right information.
Make the Mountain Run:
Thomas Cozens, Bourgeau Assistant Supervisor
Thomas, or Tombob, as he is lovingly known at the resort, can be seen working away at our Base Area parking cars, clearing snow, and general maintenance. This year, with our cutting parking on the access road, Tombob has been especially instrumental in making sure that all the snow is cleared so that we can get every possible car in the lot. If you have ever had a vehicle issue like a dead battery, no gas, or flat tire, Tombob has been there to give a helping hand.