Thursday, April 29
Service Excellence Award Winners March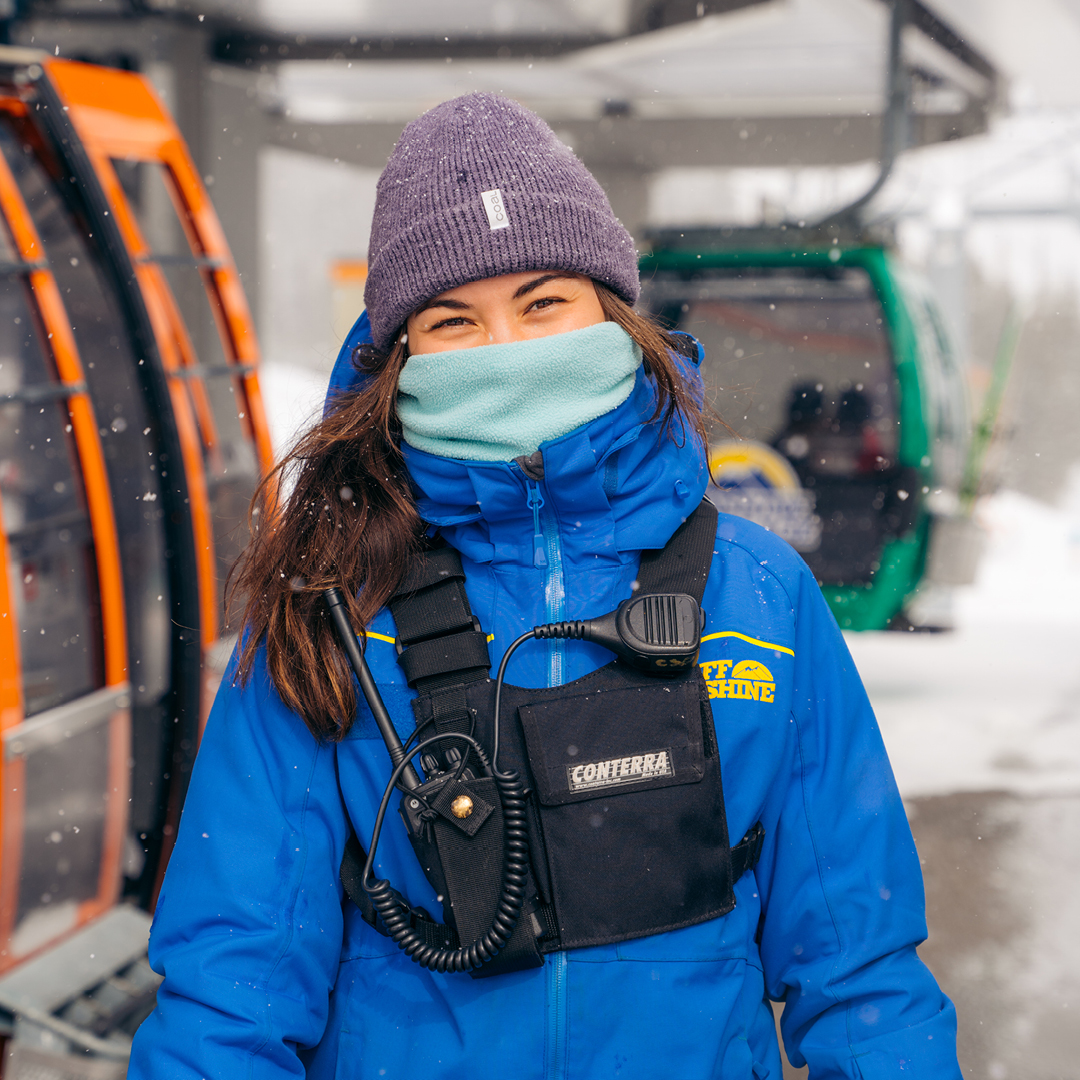 Apr 29, 2021
Service Excellence Award Winners March
At Banff Sunshine, it is our team members who bring the magic of our resort to life. Each season we employ nearly 800 team members, and each of them plays an important role in helping us deliver our goal of turning every guest into a raving fan of the Canadian Rockies and Banff Sunshine.
In a typical year, we like to honor our team members who go above and beyond at our monthly Service Excellence Awards Dinner. Like many things, due to Covid this year, we have had to adjust the way we show appreciation for the Sunshine Team Members who regularly go above and beyond to deliver exceptional service.
We might not be able to gather, but we can share our appreciation for our team members who brighten the slopes of Banff Sunshine Village!
Meet our Front-line Shining Stars for March 2021:
Employee of the Month:
Joshua Kilby, Security
Over the last couple of months, Josh has been a valuable asset to our team at Banff Sunshine. Always willing to lend a hand and going above and beyond to assist not only the Security team but other departments such as Guest Services, IT, and accounting receivable/ payable. Josh has been selected as an employee of the month for March because he demonstrates a valuable work ethic and commitment to help Sunshine Village.
Employee of the Month:
Sarah Robinson, Gondola Operations
While I was at the top Gondola station, I observed Sarah help a very distressed guest. Without needing direction Sarah approached a guest to offer assistance. When Sarah saw this guest, they had just been knocked over by another guest who didn't stop to see if they were ok. From her conversation with this guest, Sarah determined that the collision with the other guest had possibly reinjured her newly reheeled knee. Sarah found a chair for the woman to sit in, contacted patrol, and comforted her until patrol arrived. We are so glad to have employees like Sarah that are willing to take action when they see a guest in need.
Sunshine Ambassador:
Robert Carter, Ski & Snowboard School
We appreciate that Robert takes the time to positively comment on our social media posts. He even goes above and beyond to reply to guests who have posted questions or guests who may have been misinformed about situations. Robert is very willing to assist with other departments when ski instructors are needed and having them where they need to be. He is an all-around great person to have working on the mountain.
Employee of the Month:
Joseph Carter, Staff Café
Joseph's hard work and positive attitude help make the staff café a welcoming environment. You will always find Joseph keeping himself busy, whether that is ensuring the Daycare and Staff Café are clean for our staff, to helping out in Alpine when we are busy. He is always willing to jump in anywhere and help the team. Joseph has taken the recent spike in COVID cases seriously and today was strictly enforcing the 6ft spacing of the staff members in the staff Cafeteria. He was asking the team to stand on the designated dots. Even though this is normal practice for us in the Staff Café, having Joseph and the team enforce this a little harder is helping us stay COVID Safe at Sunshine.
Employee of the Month:
Braedan Robins, Powder Crew
We would like to thank Braedan for being a fantastic team player on the Powder Crew this season. His jolly personality and his willingness to help guests with any problems that may arise is admirable. After our second-in-charge fell injured earlier this year, Braeden has shown great initiative and leadership by being a good role model for the younger boys in the team and doing his best to boost team moral wherever he can!
Shining Star of the Month:
Dominique Cantin, Transportation
Dominique has been a pivotal part of our operation throughout the pandemic. Each of our bus hosts have taken on added responsibilities with added pressures to make sure that the rules are followed to maintain and protect the health of the resort. Dom does so with professionalism and in a way that is very relatable with guests. In her opinion "we are fighting a pandemic, not each other" and she is able to control the flow and create a positive environment for our visitors. Dominique is well-deserving of this recognition and would be proud of the spotlight on her work.
Employee of the Month:
Katie O'Shea, Sunshine Mountain Lodge Front Desk
Katie was our only returner on the front desk from last year. Not only was she invaluable in helping train the new team she sets a great example with her professionalism. She is always happy to use her experience and knowledge to help guide other team members. Katie has made the most of a difficult season with an outstanding positive attitude which rubs off on the rest of the team. Katie is very willing to step up and learn new skills to help other departments. A few of our regular guests have also reached out to praise Katie as a welcoming face as they really appreciate their patronage being recognized week after week. We will be extremely sad to see Katie leave when her visa is up at the beginning of May but with her assistance, we have built a really strong front desk team that should be able to carry on her legacy!
Employee of the Month:
Lewis Cosier, Borgeau Services
This season has brought us certain challenges that present in the carpark every day and Lewis has been known to build up morale. Whether he boosts morale with a quick chat, funny joke, or a story, it always takes the edge off and puts the team all at ease. Always willing to come in early or stay late to help with snow removal or any project, we can count on Lewis to do an excellent job and have fun doing it. This positive approach to our daily routine really boosts morale and is noticed and felt by staff and guests each day he works.
Safety Hero:
Jordyn Olafson, Staff Lodging
Jordyn has been with us since the start of the season and has consistently been a reliable, polite, faultless employee. I don't even know how we would have survived this season without her constant vigilance for safety. She has a diligent approach to cleanliness and is always willing to go above and beyond to ensure the staff lodges are a safe, comfortable, and clean place to live and work. Jordyn never hesitates to go headfirst into her work and treats every day as though her duties prevent an outbreak at the resort thus defending the season for everyone. She really is our safety hero.
Leader of the Month:
Sam Steenhorst, Terrain Park
Let us be the first to say thank you for your quick response to all tasks and for stepping up to ensure that all guests are safe on the mountain. He is nimble when it comes to helping guests with whatever they may need. The actions we see Sam take each and every day have undoubtedly made the mountain a safer place to ski and snowboard. We would like to thank you for your strong work ethic!
Leader of the Month:
Lucy Congreve, Ski & Snowboard School
Lucy has taken on the role of an assistant supervisor after our sales supervisor had to leave unexpectedly for a family emergency and our Assistant Supervisor had to leave due to visas being rejected. Lucy was thrown into this role with little notice and has stepped up beyond the job description. Lucy has had several guests comment on her helpfulness. We have seen firsthand how she has taken on the many facets of the desk to ensure our guests are booked correctly, informed of our protocols and that all accounts are being taken care of. She is underrated due to her humbleness but she should be recognized for all her hard work to keep things going at the desk in this challenging season.
Supervisor of the Month:
Ben Hutton, Staff Lodging Assistant Supervisor
This is Ben's first season working at Banff Sunshine. Not only has he excelled at all the core capabilities of the Staff Lodges Asst. Supervisor role, he's even implemented new strategies. Ben spearheads the on-mountain events calendar and has run the most prolific calendar we've ever had, in spite of COVID restrictions. Bens' events are both thoroughly thought out, to support COVID protocols, and engaging for everyone participating. They help us support a safe, and fun, mountain environment. He's built strong relationships with internal and external stakeholders to support the smooth running of all 3 locations and provide a valuable resource to those enquiring about staff housing. Ben's team respects and admires him and knows that he's never too busy to clean a toilet!
Leader of the Month:
Kelly Mack, Sign Shop
Kelly has been with the Sunshine Sign Shop since February 2015. Although you may not see Kelly, his work touches almost every department on the mountain! Kelly always brings a "can do" attitude to every project and sign shop request and the 2020-21 ski season has been no different. Kelly always finds ways to accommodate almost every sign request that comes in, sometimes last minute. He always provides positive feedback on how we can produce better quality and more durable signs; he even finds new ways to save or merge costs for materials. Operating a ski resort during a worldwide pandemic, we are very fortunate to have Kelly's hard work, expertise, and enthusiasm for the Sunshine Sign Shop to help "get us open and stay open"!
Leader of the Month:
Dave Armstrong, Utilities Maintenance
We have so many nice words to describe Dave, he is hard-working, compassionate, appreciative, and humble. He has been very nimble when it came to coordinating the fire crew. He is not afraid to take charge of situations and ensure that our fire crew is fully aware of any new covid protocols that have been introduced. We are so thankful to have Dave as one of the supervisors on the Sunshine team.