Saturday, April 18
ShredAbility 2020 (April 18)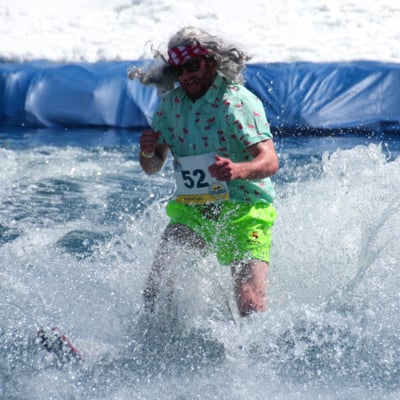 Apr 18, 2020
ShredAbility 2020 (April 18)
Join us at the 6th Annual ShredAbility on Saturday, April 18, 2020.
ShredAbility is an all mountain treasure hunt and fundraising, which includes 'adaptive challenges' spread over much of the mountain. Your race starts when you are given the first clue. Follow each clue, and complete the adaptive challenges to finish the race.

There are tons of prizes to be won, for many categories, including Fastest Team, Slowest Team, Biggest Fundraiser, Best Costume (did we mention its a costume event?!), and more. Every participant receives an awesome swag bag.

We welcome any level and ability of skier, snowboarder and sit skier. The race is available at 3 levels: Green, Blue or Black Runner. The event runs all day and includes breakfast, lunch, treasure hunt, silent auction, prize giving, and a swag bag, oh and your lift ticket to Sunshine Village. All of this is included in the cost of your entry.

Teams of 2 join up to tackle this adventure. Each team member needs to raise $200 to join. Don't worry, getting sponsorship for this event is easy, using our online sponsorship system. Send everyone a link to our personalized page in order to gain sponsorship.

About Rocky Mountain Adaptive:
Rocky Mountain Adaptive (RMA) is a Canmore based charity whose primary aim is to provide individuals with disabilities the chance to participate, learn and excel at the many mountain sport and recreational activities available in the Canadian Rockies. RMAwelcomeschildren and adults with any physical, intellectual, cognitive or developmental impairments to its programs and activities, and is a true believer that there are no limits to what can be achieved.