Teen Lessons & Programs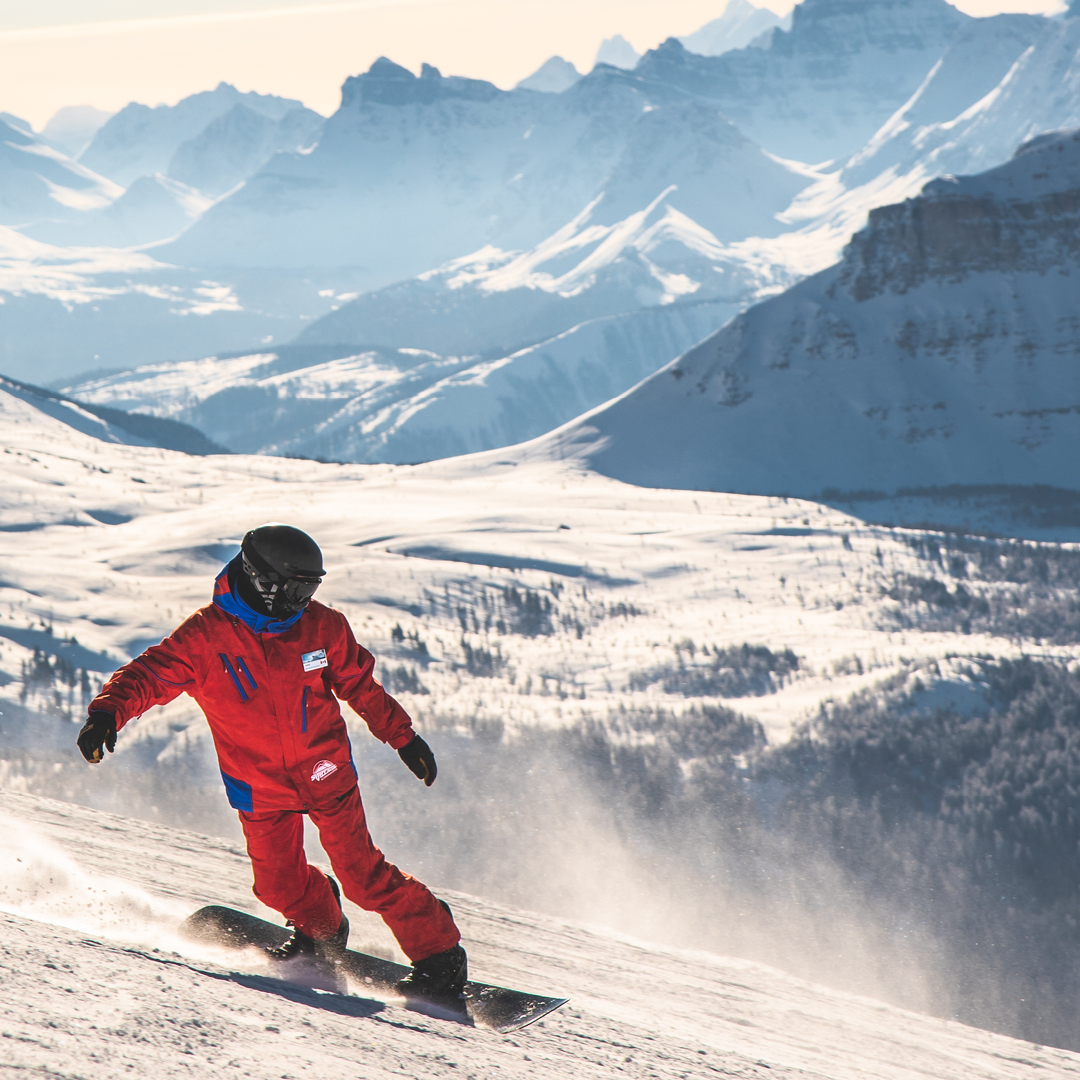 WORLD-CLASS INSTRUCTORS.
Our group lessons will have your teen go from basics to basically unstoppable faster than you can say Delirium Dive.
NEED ASSISTANCE?
Our friendly staff is simply a phone call or email away! Not sure of your ability? Our ability chart is at located the bottom of this page.
CALL 1.403.762.6560
PROGRAMS
Call our sales desk 403-762-6560 between the hours of 8:00am – 4:30pm for programs and availability.
Additional Information
What's Your Ability Level?
New to Snow
Where to Meet
Instructor Training
What's Your Ability Level?
BEGINNER LEVEL 1: NEVER EVER
You have never Skied or Snowboarded before. You're a bit nervous but want to learn how it's done. You want to start at the very beginning with a user-friendly, step-by-step progression.
BEGINNER LEVEL 2: ONCE OR TWICE
You have been out once or twice before but you still consider yourself to be a beginner and are still be a bit nervous. You might have trouble turning in both directions and controlling your speed, you may also need a refresher on how to get on the lift. You think it might be nice to start your lesson in the beginner area.
BEGINNER LEVEL 3: GREEN RUNNER
You have been up the lift before and you are becoming comfortable making turns on runs designated with a Green Circle. You are happy to start the lesson going straight up a chair lift. You would like to be able to try some easy blue runs but need to improve your skill level first.
INTERMEDIATE LEVEL 4: BLUE RUNNER
You can usually make controlled turns on runs designated with a blue square but you avoid moguls. You need to learn the skills required to be able to challenge some of the black diamond runs and maybe learn a bit about moguls.
EXPERT LEVEL 5: BLACK DIAMOND RUNNER
You look for runs designated with a black diamond but want to be able to do them with more style. You can get down the bumps and the steeps but need to learn how to keep your rhythm and speed under control.
EXPERT LEVEL 6: DOUBLE BLACK DIAMOND RUNNER*
You're very comfortable on your skis or snowboard and are looking for new ways to challenge yourself. You have room for some improvement in your technical skills but also need an introduction to some new lines on the mountain and some new tactics to help you "rip it up". *Double Black Diamond Runner can only be booked as a private lesson.
New to Snow
DEVELOP YOUR SKILLS AND DISCOVER THE BEST OF WINTER AT SUNSHINE
You don't have to be a kid to learn how to ski and snowboard and you can learn at every level of athletic ability. You want to make those first few trips to Sunshine Village memorable and fun-filled. Here's what you need to know:
CLOTHING & EQUIPMENT
In order to ensure your personal safety during the current pandemic Banff Sunshine has discontinued clothing rental for the foreseeable future. If you are not comfortable - too cold or too warm - you won't be having fun. It's best to rent equipment before you buy and we have an excellent line of entry-level Salomon skis, snowboards, poles, boots and clothing. You can also be fitted by a number of rental shops in Banff, Canmore and Calgary. Beginner skis tend to be flexible, putting the emphasis on ease rather than performance. Choose boots that provide a relaxed, comfortable fit.
THE SNOW SCHOOL
The quickest and safest way to get comfortable on the slopes is with Sunshine's award-winning, certified instructors. Group lessons are the least expensive, and you'll be grouped with new skiers and snowboarders, just like you.
START ON GENTLE RUNS

Green runs are a gentle way to build confidence and skill. If you are brand new, it's best to take a few practice runs on the Mighty Might carpet lift. Ride the Strawberry Express chair and try out our most popular beginner runs, Dell Valley and Rock Isle Road. When you're ready for longer green runs, head to nearby Standish, WaWa or Angel chairs, which are all accessible from the heart of the Village. There are also great beginner (green) runs off of the JackRabbit and Wolverine chairs. Remember to take it easy, and stop for the occasional rest. Most injuries occur near the end of the day, when skiers and boarders are getting fatigued.
BE SAFE!
A few common-sense rules to ensure you have a great time during your visit to Banff Sunshine
-Go at your own pace. Don't try challenging runs until you are ready
-Always wear a helmet and other protective gear
-If you're tired, take a break
-Get lessons; You'll learn faster and enjoy your visit more!
-Follow the Alpine Responsibility Code
Where to Meet
GROUP & PRIVATE LESSONS
All of our group and private lessons (excluding Tiny Tigers) meet out front of Mad Trappers Bar & Grill. You'll see signs that tell you which group to join, and your instructor will confirm that you're in the right spot. From there, you'll be off to the part of the mountain that is right for your skill level and learning objectives. It's also where you'll return to at the end of your lesson, so parents and friends can plan to meet up with you there. Please arrive 15 minutes in advance of your lesson so that we can get underway as quickly as possible and make the most of your time with our certified instructors.
TINY TIGERS
Tiny Tigers lessons meet at the fenced area next to the Village gondola station. It's a special area that is designed with the enjoyment and safety of our smallest guests in mind. Parents should allow a bit of extra time to get from the Snow School office to the Tiny Tigers area. Please arrive 15 minutes in advance of your lesson so that we can get underway as quickly as possible and make the most of your time with our certified instructors.
SNOW SCHOOL OFFICE
The main office for the Snow School is located at the entrance of Mad Trappers Bar & Grill. Registration and payment, as well as questions, comments and special requests, can be made in-person at this location. Please arrive 15 minutes in advance of your lesson so that we can get underway as quickly as possible and make the most of your time with our certified instructors.
Instructor Training
INSTRUCTOR TRAINING
Learn from the very best. Sunshine Village Ski & Snowboard School offers one of the strongest and most recognized programs in North America. The resort's highly qualified instructors, who are also examiners, offer industry leading programs, designed to empower you with the training to become a certified instructor. Through the school's most successful 11 and 12 week intensive training programs, you can obtain the high level skills required to work in the ski/snowboard industry as a teaching pro.
The program provides the training necessary to achieve your Level 2 instructor certification. Sunshine Ski & Snowboard School have been running these industry respected and renowned programs for nearly a dozen years, with an impressive 90 percent pass rate. Further certifications include terrain park instructor and race coach training.
Check out one of these programs at the following links:
Snow Skool: www.snowskool.com/ski-instructor-courses/banff/12-...
Interested in just an instructor course? Use the following links to find out what is involved in the level 1/entry level course/ costs and dates.
Canadian Ski Instructors Alliance: www.snowpro.com
Canadian Association Of Snowboard Instructors: www.casi-acms.com
Canadian Ski Coach Federation: www.canskicoach.org
Currency
Calculator
See how far your dollar goes! How many loonies will a dollar get you?