The Chimney Corner - Dinner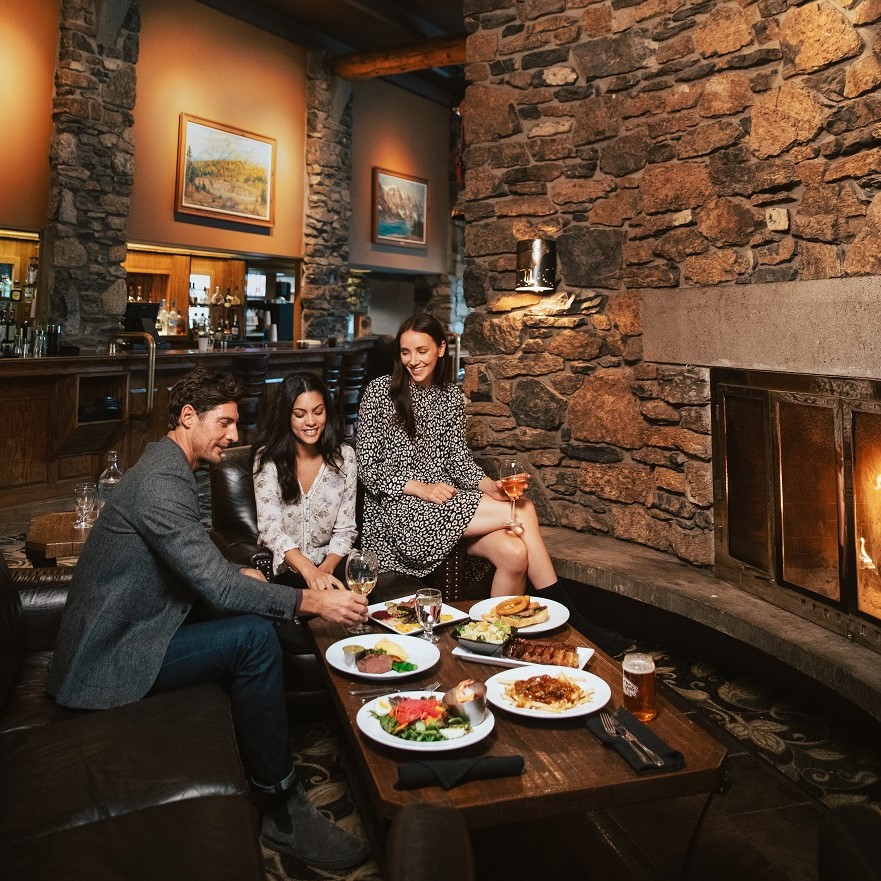 Available from 5PM-10PM.
Ask about our gluten friendly substitutions.
(V) - Vegetarian
STARTERS
Beef Tartare
Korean Style Beef, Garlic, Green Onion, Pear, Soy Sauce, Sesame Seed and Pine Nut
$23
Vegan Tartare
Marzano Tomato, Avocado, Red Onion, Dijon Mustard, Parsley, Caper and Baguettes
$21
Sunshine Valley Caesar Salad
Hearts of Romaine, Classic Garlic Parmesan Dressing, Double Smoked Bacon, House Made Focaccia Croutons
$16
Cranberry Walnut Salad
Artisan Greens, Cherry Tomato, Cranberry, Walnuts, Shredded Carrot and Apples with Maple Vinaigrette
$17
Prawn Cocktail
Jumbo Tail Chilled Prawn, Horseradish Cocktail Sauce
$23
Sea Scallops
Pan Seared Ocean Wise Scallops, Mango Puree
$32
Charcuterie Board
Locally Sourced Cured Meat and Cheese served with Chutney, Pickles and Crackers
$39
ENTREES
Grill Alberta Cuts
Alberta Cuts Served with Yukon Gold Mash, Seasonal Vegetables
Choice of sauce: Madagascar Green Peppercorn, Port Demi, Horseradish Jus
6 oz. Alberta Beef Tenderloin
$60
10 oz. Alberta Beef Ribeye
$65
8 oz. Alberta Angus NY Steak
$49
………………………………………………………………..
Creamy Pumpkin Pasta (V, can be GF)
Cavatappi, Roasted Pumpkin, Garlic, Onion, Sage Sauce with Chopped Cashew and Parmesan Cheese
$30
Add Jumbo Prawns or Chicken Breast $10
Chicken Supreme
Corn Fed Chicken Supreme, Wild Mushroom Cream, Fingerling Potato and Roasted Root Vegetables
$42
Rack of Lamb
Grilled Rack of Lamb, Garlic, Herb, Oven Roasted Potato and Salsa Verde
$49
Truffle Parmesan Risotto
Arborio Rice, Wild Mushrooms, Black Truffle and Grana Padano
$35
Kuterra Salmon
Ocean Wise BC Land Raised, Pan Seared served with Asian Vegetables and soy/ginger reduction
$45
DESSERTS
Salted Caramel Cheesecake
$14
Warm Vegan Brownie with Strawberry Sorbet
$14
(GFA) - Gluten friendly available, (GF) - gluten friendly, (V) - Vegetarian, (VG) - Vegan, (VGA) - vegan available
Subject to availability