The Chimney Corner - Dinner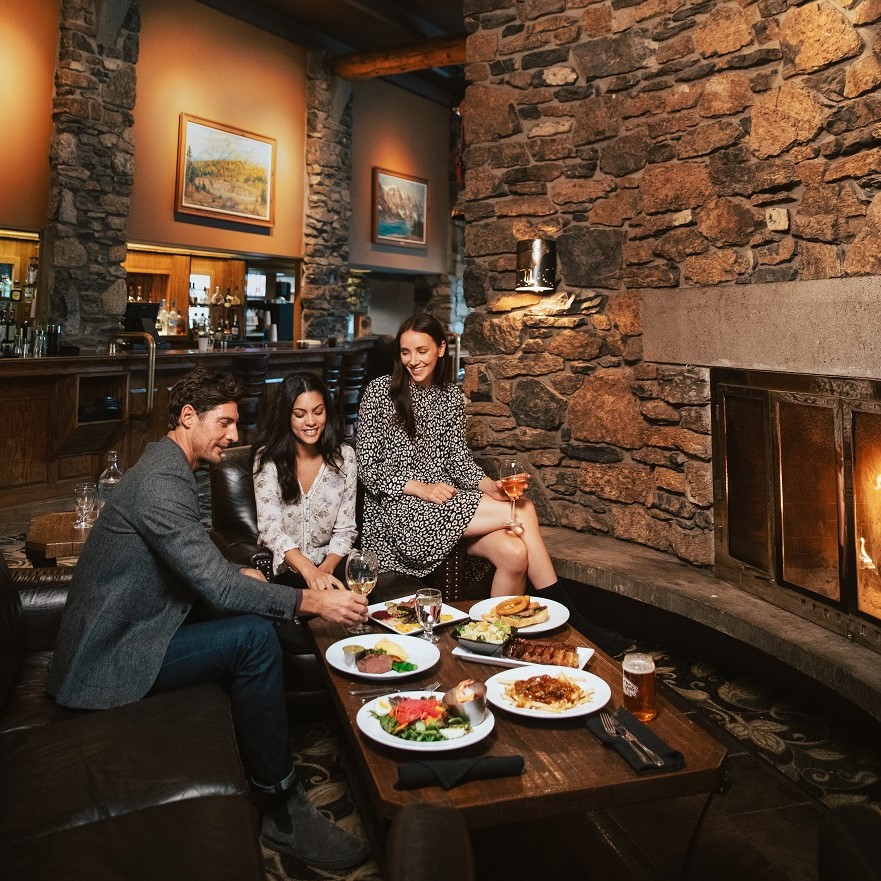 Available from 5pm – 9:30pm
STARTERS
Caesar Salad • 18 • GFA
romaine hearts, garlic dressing, shaved parmesan cheese and house made croutons
Mountain Top Greens • 18 • GF, V, VG
roasted beets, cherry tomato, cucumber,
apple cider vinaigrette
Caprese Salad • 24 • GF, V
vine ripe tomato, sweet red onion, fresh mozzarella, basil, white balsamic glaze
SMALL PLATES
House Made Naan Chips • 18 • V
fire roasted tomato jam and garlic confit
Cold Smoked Salmon • 24
shaved red onion, crispy capers, citrus aioli, crostini
Beef Carpaccio • 29 • GF, DF
herb marinated beef, crispy capers, truffle-horseradish aioli. Whole roasted garlic and pickled red onion
Prawn Cocktail • 27 GF, DF
chilled prawns with a house made cocktail sauce,
charred lemon
Tuna Tosa-Mi • 24
fire set albacore tuna, citrus soy, shave jalapeno, garlic chips
Cheese Plate For 2 • 35
artisanal Canadian cheeses, house made apricot jam,
sliced bread, crackers
ENTREES
Butcher's Block
grilled Alberta beef cuts served with Yukon gold mashed potatoes and seasonal vegetables.
6 Oz. Alberta beef tenderloin • 59
8 oz. Alberta angus striploin steak • 53
10 oz. Alberta beef rib eye • 65
choice of sauce
green peppercorn • red wine demi • chimichurri
add prawns • 12
Duck Breast • 52 • DF
soy, chili and thyme duck breast, crisp rice cake, seasonal vegetables, plum demi
Oven Roasted Chicken Breast • 46 • GF
sundried tomato & confit shallot, potato risotto, seasonal vegetables
Pan Seared Sockeye Salmon • 48 • GF
roasted garlic & coconut risotto, seasonal veg, cilantro lime marinated white shrimp
Roasted Vegetable & Quinoa Strudel • 38 • V
market vegetables, tomato hummus, citrus salad
Bison Lasagna • 31
house made Bison Bolognese, pasta sheet, whipped ricotta, sauce rose
4 Cheese & Spinach Ravioli • 31
roasted garlic cream reduction, shaved parmesan,
pesto oil, crispy basil
DESSERT
Red Velvet Cake • 10
Chantilly cream, fresh berries
Salted Caramel Cheesecake • 10
Fresh berries
Ice Cream • 10
Assorted flavours
(V) – Vegetarian (VA) - Vegetarian Available (VG) - Vegan (DF) – Dairy Free (GF) – Gluten Free (GFA) – Gluten Free Available
Subject to availability
Please inform your server of any dietary restriction or allergies.