Our Sponsors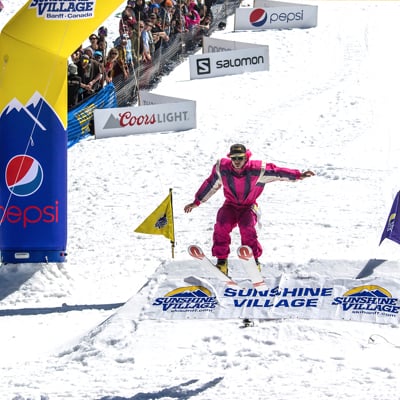 Sunshine Village Sponsors.
Working together every step of the way.
SALOMON
Welcome to the future of freeskiing and snowboarding. From park and pipe to big mountain, Salomon's progression continues faster than ever. Collaborating with the world's best athletes allows us to continually evolve and constantly expand what is possible on snow.
MOLSON COORS
Molson Coors Light remains one of Canada's fastest growing beer brands due to its ice cold, easy drinking, Rocky Mountain taste. The Silver Bullet is also a major sponsor of adrenaline sports in Canada, and is proud to support Sunshine Village. The members of the Coors Light Brewing Company hope that you enjoy the season and remind you to "Come for the mountain and stay for the party!"
PEPSI
The Pepsi Bottling Group, or PBG, generates nearly $14 billion in annual sales. It operates in the United States, Canada, Greece, Mexico, Russia, Spain and Turkey, accounting for more than one-half of the Pepsi-Cola beverages sold in North America, and about 40 percent of the Pepsi-Cola system volume worldwide.
The PBG sales force of more than 30,000 customer representatives sells and delivers nearly 200 million eight-ounce servings of Pepsi-Cola beverages per day.
PBG Canada is headquartered in Mississauga, Ontario with our Western Regional office located in Calgary, Alberta.
ROCKSTAR
ROCKSTAR is the world's most powerful energy drink. Enhanced with the potent herbal blend of Guarana, Ginkgo, Ginseng and Milk Thistle, ROCKSTAR is formulated to provide an incredible energy boost for those who lead active and exhausting lifestyles - from athletes to rock stars.
ROCKSTAR ENERGY DRINK is available at Sunshine Village and are proud sponsors of the Great Divide Terrain Park. Constantly pushing the limits, let us show you what it's like to PARTY LIKE A ROCKSTAR!
SAFEWAY & SOBEYS
Proudly serving our communities has been a long standing Safeway and Sobeys tradition!
We are pleased to provide fresh and healthy food to Canadians from coast to coast, and encourage an active lifestyle through participation in sports including our partnership of the Sunshine Village Free Rider program.
BACKCOUNTRY ACCESS
Backcountry Access (BCA) is North America's leading manufacturer of snow safety equipment, including Tracker transceivers, Float airbags, shovels, probes, and BC Link radios. BCA's mission is to save lives, not just sell products. BCA has always considered education to be just as important as the gear it makes. That's why BCA supports avalanche education programs and forecast centers--and why the company backs up all its products with consumer education and knowledgeable customer service.
KIND
KIND believes that kindness can change the world. That's why they're on a mission to make the world a little kinder, one act and one snack at a time.
ALPINE CANADA ALPIN
Sunshine Village supports the development of current and future Olympic, World Cup and world championship athletes through programming and events aimed at producing the best alpine, para-alpine and ski cross athletes in the world. We hope that you will consider support of Alpine Canada, and your important contribution will assist Alpine Canada athletes by making it possible for each of them to achieve their goal of being the best athlete in the world! Sunshine Village and Alpine Canada are committed to getting Canadian youth active and healthy in winter! Your support of Alpine Canada will assist in getting more kids involved in skiing programs this winter. Thank you for your support of ski programming in Canada!
Sunshine Promotions
BOOK EARLY & SAVE!
Save 35% off room rates for the 20/21 Winter Ski Season.
BOOK NOW
20/21 SEASON PASSES ON SALE NOW.
Passes are now available for the 20/21 Season.
BUY NOW
SKI & SNOWBOARD SCHOOL

Adult 4-week programs starting at $197 CAD.
BOOK NOW