Creekside Bar + Grill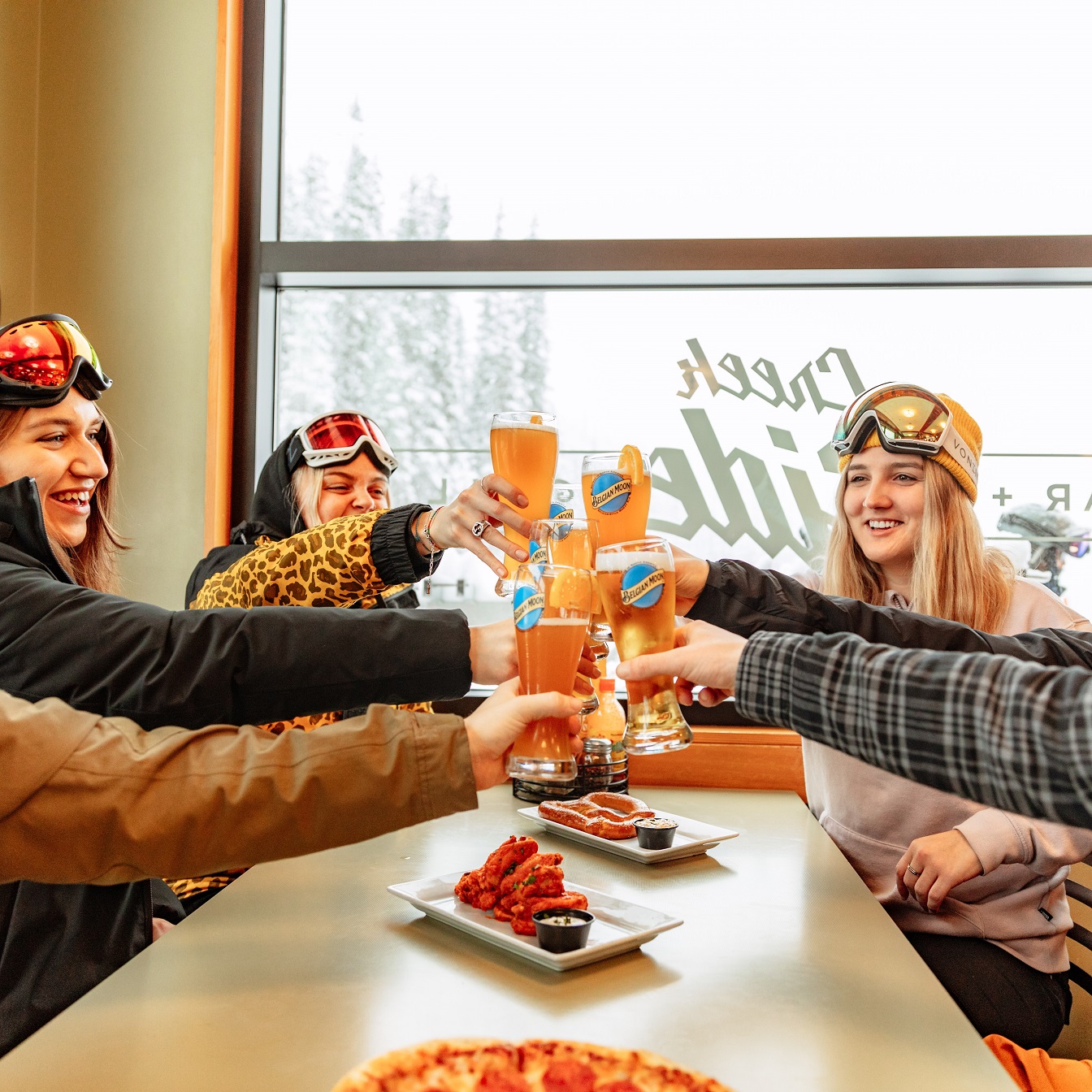 Breakfast
Creekside Pancakes (VGA)
with Syrup, Breakfast Sausage or Bacon and Fruit $17
Breakfast Plate
Two eggs (Scrambled, Fried, Sunny Side Up or Over Easy) with Hashbrowns, choice of Breakfast Sausages or Bacon and Whole Grain or White Toast $19 AVAILABLE ALL DAY
Cheddar and Scallion Biscuits (VGA)
covered in Minced Sausage Gravy topped with Scrambled Eggs $18
Crispy Waffles (VGA)
with Ricotta Cheese Whip, Berry Sauce and Bacon $17
Country Omelette
Three Local Egg Omelette: choice of 3 fillings - Onion, Tomato, Spinach, Cheddar, green peppers, smoked ham, bacon, sausage served with Hash Browns and Whole Grain or
White Toast $22 AVAILABLE ALL DAY
*Vegan egg and vegan sausage available
Lunch (Served from 11am till 5pm daily)
Bowls
Soup of the Day
served with fresh baked roll $11
Vegan Chili
with Mixed Cheeses, Green Onions and dinner roll $17
Bison Chili
with Mixed Cheeses, Green Onions and dinner roll $20
Add Grilled Cheese Sandwich for $7
Salads
Crisp Romaine Caesar (VGA)
with Padano, Crouton and Pancetta Crisp $17
Organic Kale Salad (VGA)
with Pumpkin Seeds, Goat Cheese Crumble and Dried Cranberry, drizzled with Champagne Vinaigrette $18
Caprese Salad (V)
of Roma Tomato and Fresh Mozzarella with Arugula. Balsamic Syrup & Extra Virgin Olive Oil (Vegetarian) $19
Add Chicken $9 or Tofu $5
MAINS (available 11AM to 4PM):​​​​​​
Served with choice of crispy fries, green or Caesar salad
Upgrade to Sweet Potato Fries for $4
Italian Club
Served with house baked Rosemary Turkey, Crisp Pancetta and Roma Tomato on Country Italian Loaf with Pesto Mayo $23
2 Fresh Certified Angus Beef Patties, Smashed on the Griddle with American Cheese on Toasted Brioche Bun with Lettuce, Tomato, Pickle, Red Onion and Home-Made Burger Sauce $25
Sunshine Smash Whiskey Burger
2 Fresh Certified Angus Beef Patties, Smashed on the Griddle with Smoked Cheddar on Toasted Brioche Bun with Maple Bacon Jam, a Heap of Crispy Onions, and Bourbon Barbecue Sauce $27
Crispy Chicken Burger
Served with Mozzarella and Radicchio, Roma Tomato, Onion with Balsamic glaze on Focaccia $23
Boneless Tenders
with choice of BBQ, S&P, or Hot sauce served with Crudites and Blue Cheese Dip $19
Veggie Burger
Served with Vegan Cheese, Vegan Aioli and Pickled Banana Ring Peppers on Ancient Grain Bun (Vegan) $20
TLT (VG)
Smoked Tofu Crisp, Lettuce and Roma Tomato on Gluten Free Loaf with Vegan Mayo $21
Cannelloni
Spinach and Ricotta Filled Pasta with Housemade Marinara and Shaved Parmesan served with Green or Caesar Salad $19
Après (available from 11AM to 4PM)
Wings
with choice of, BBQ, S&P, Honey Garlic or Hot served with Blue Cheese Dip and Crudité $18
Dry Ribs
Crispy with Coarse Salt and Pepper $17
Nachos
with Mixed Cheeses, Salsa, Sour Cream, Diced Tomato, Green Onion and Pickled Jalapenos $27 Half Size $17 add chili or Chicken $9, add Guacamole $3
Poutine
Shoestring Fries topped with Cheese Curds and Gravy (Vegetarian) $17
Crispy Shoestring Fries (VG) $10
Chili Cheese Fries
Bison or Veg Chili with Mixed Cheeses and Scallions Over Fries $23, add Gravy (Vegan) $4
Thin Crust Pizza
Margherita (V)
Bocconcini, Marinated Roma and Torn Basil $20.50
Salsiccia
Hot Italian Sausage with Bell Peppers Caramel Onion Mozza and Provolone Cheeses $21
Roast Vegetable (V)
with Zucchini Bell Pepper Red Onion Artichoke and Crumbled Goat Cheese $19
Pepperoni
Classic Dry Cured with Mozza Cheese Blend $20
Vegan (VG)
Cauliflower Crust, Marinara, Roast Vegetable and Plant Based Cheese $21
(GFA) - Gluten friendly available, (GF) - gluten friendly, (V) - Vegetarian, (VG) - Vegan, (VGA) - vegan available
Kids All Day
Kids Pizza $12 (V)
Tomato Sauce, & Mozzarella Blend on 7-inch dough
Pasta with Tomato Sauce $12 (V)
Spaghetti with classic marinara sauce
The options below have a choice of Veggie Sticks, Fresh Fruit, or Fries as a side
Chicken Finger $12
3pc Chicken Fingers, Plum Sauce & Ketchup
Kids Cheeseburger $12
Alberta Chuck Burger, Cheddar Cheese and Ketchup on Brioche Bun
Grilled Cheese $12 (V)
Melted Canadian Cheddar on white toast
DRINKS
BEER
DRAFT 20oz
Blue Moon
20oz - $12.50 JUG - $34.50
Coors Light
20oz - $11.25 JUG - $30.75
Molson Canadian
20oz - $11.25 JUG - $30.75
Hop Valley Bubble Stash IPA
20oz - $12.75 JUG - $35.25
CANS
Pilsner - $9.00
Coors Original - $11.50
Heineken - $12.50
Heineken 0.0% - $7.00
Sol - $11.00
Granville Lions Winter Ale - $11.25
Murphys Irish Stout - $11.50
New Castle Brown Ale - $12.00
OTHER CANS
Strongbow - Original Dry - $11.00
Strongbow - Dark Fruit - $11.00
Vizzy - Blueberry Pomegranate - $11.00
Vizzy - Pineapple Mango - $11.50
Arizona Hard Peach Iced Tea - $11.00
House Wines
RED
11th Hour Cab Sauv
Look for dominating aromas of prune and smoky oak with floral, licorice and cassis notes. On the palate expect resonating plus flavors with soft texture all the way through the finish.
5oz $15
8oz $22
Bottle price $65

Manos Negras Red Soil Pinot Noir
The autumn berry aromas are earthy with flavours of bramble, chocolate and plum with some earthy spice
5oz $15
8oz 22
Bottle price $65
WHITE
11th Hour Sauv Blanc
Lime zest, elderflower and notes of guava come together to form an expressive nose. It has a textural, slightly saline and crunchy, zesty lime sorbet finishes on the palate.
5oz $15
8oz $22
Bottle price $65

Cline Chardonnay
Orange Blossom, citrus and pineapple aromas and flavors. The palate is lush with a creamy texture and integrated oak and vanilla on the finish.
5oz $15
8oz $22
Bottle price $65
ROSE
La Vie En Rose
Pale rose wine with fresh red berries and fruit drops on the nose. Full and refreshing on the palate, with the acidity and richness bringing out the very pleasant aromatic range, reinforcing the first impression on the nose.
5oz $15
8oz $20
Bottle price $60
PROSECCO
Botter Conegliano Val DOCG
The prosecco is light and lemony with green apple floral characters.
5oz $15
Bottle Price $65
WARM CLASSICS
$9.00 (1oz)
HOT CHOCOLATE
Baileys

COFFEE
Baileys
IRISH COFFEE
1oz Whisky, Coffee, Whip Cream
HOT TODDY
1oz Whisky, Hot water, Honey, Lemon juice
REINDEER GAMES
½ oz Spiced Rum, ½ oz Butterscotch Liquor,
Hot Chocolate

CREEKSIDE COCKTAILS
WILD LIFE CAESAR
1oz Wild Life Vodka, Clamato, Tabasco, Worcestershire
$8.50
SHAFT
1/3oz Kahlua, 1/3oz Baileys,
1/3oz Wild Life Vodka, Espresso
$10.00
WILD LIFE MULE
1oz Wild Life Vodka, Ginger Beer, Lime
$9.50
APEROL SPRITZ
3oz Aperol, 3oz Prosecco, Soda
$10.00
SHOOTERS
B52
1/3oz Kahlua, 1/3oz Baileys,
1/3oz Grand Marnier
$7.25
BURT REYNOLDS
½ oz Butter Ripple, ½ oz Spiced Rum
$7.25
AFTER EIGHT
1/3oz Coffee Liqueur, 1/3oz Crème de Menthe,
1/3oz Baileys
$8.25
ALABAMA SLAMMER
1/3oz Gin, 1/3oz Amaretto, 1/3oz Southern Comfort
$8.25

TEA & COFFEE
Coffee - $4.75
Tea - $4.50
Hot Chocolate - $6.25
Americano - $5.75
Cappuccino - $6.25
Latte - $6.25
Mocha - $6.25
Apple Cider - $4.25
Chai Latte - $6.25
Subject to availability