Eagle's Nest Canadian Bistro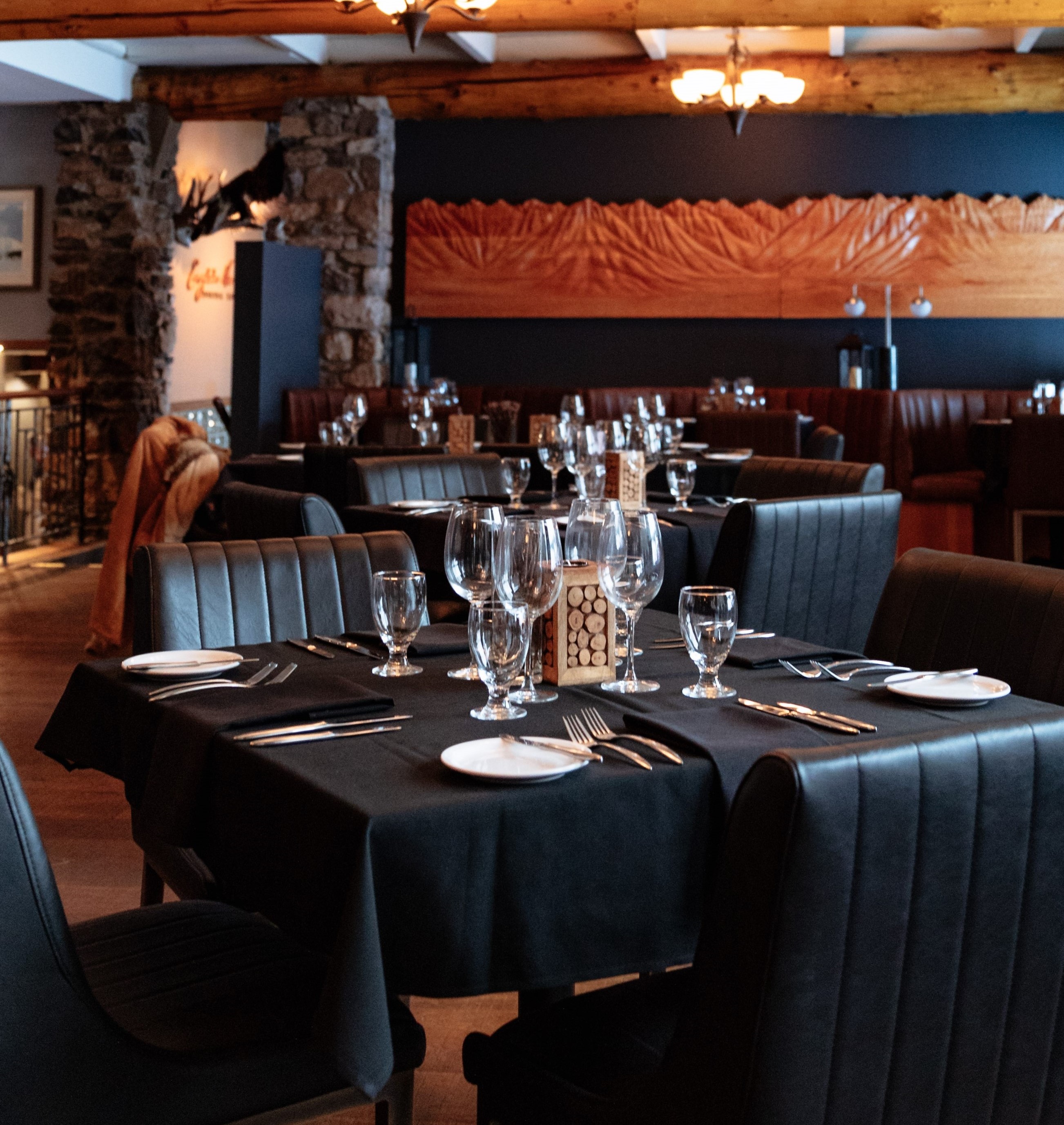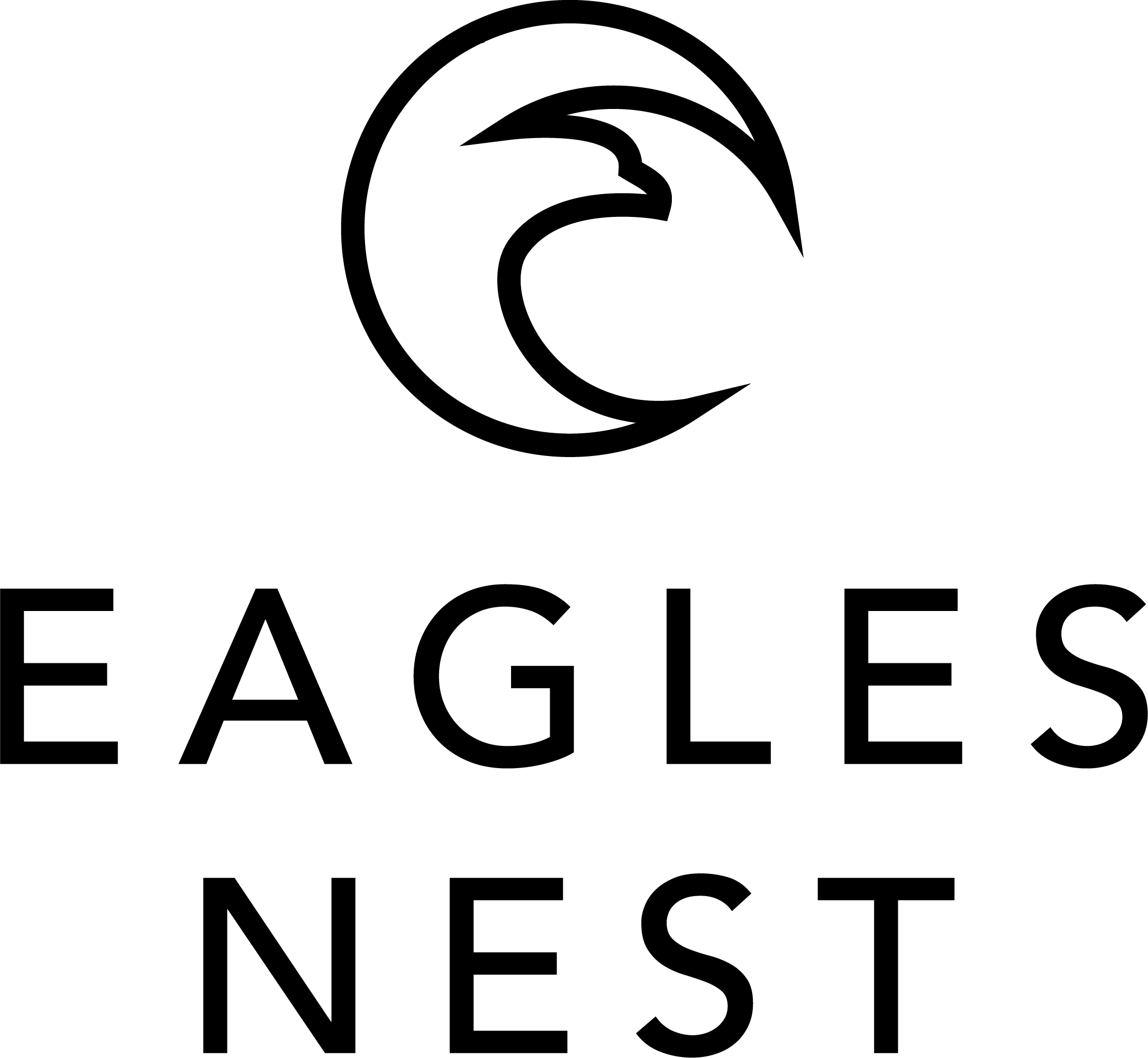 Available from 5PM-10PM.
STARTERS
Beef Tartare (GF, DF)
Korean Style Beef with Garlic, Green Onion, Pear, Soy Sauce, Sesame Seeds & Baguette.
$23
Vegan Tartare (VG, GF, DF)
San Marzano Tomato, Fresh Avocado, Red Onion, Dijon Mustard, Parsley, Capers & Baguette.
$21
Prawn Cocktail (GF, DF)
Chilled Prawns with House Made Horseradish Cocktail Sauce.
$23
Sea Scallops (GF, DF)
Pan Seared Scallops with Mango Purée.
$32
Charcuterie Board For Two (GF)
Valbella Cured Meats & Pâté, Chef's Selection of Artisan Cheeses, Chutney, Pickles & an Assortment of Crackers and Crostini.
~Please ask your server for todays selection~
$49
Roasted Beet Salad (V, GF, DF)
Candy, Golden and Red Beets, Crumbled Feta, Candied Pecans & Arugula with a House Made Maple Balsamic Vinaigrette.
Add Salt & Pepper Tofu $8, Grilled Chicken Breast $9 or Prawns $10.
$17
MAINS
Grilled Alberta Cuts (GF)
Served with Yukon Gold Mashed Potatoes & Seasonal Sautéed Vegetables.
Choice of Sauce: Madagascar Green Peppercorn, Port Demi or Horseradish Jus.
6 oz. Alberta Beef Tenderloin
$57
10 oz. Alberta Beef Rib Eye
$65
8 oz. Alberta Angus NY Steak
$49
………………………………………………………………..
Pork Tenderloin (GF)
Garlic And Herb Seasoned Pork Tenderloin with Roasted Sweet Potato, Sautéed Mushrooms & Spinach. Served with Homestyle Warm Spiced Apple Sauce.
$41
Chicken Supreme (GF)
Oven Roasted Chicken Supreme With Roasted Fingerling Potatoes, Honey Butter Roasted Carrots & Green Beans. Served With Creamy Wild Mushroom Sauce.
$47
Rack of Lamb (GF, DF)
Valbella Rack of Lamb Marinated with Garlic & Herbs. Served with Roasted Fingerling Potatoes, Seasonal Sautéed Vegetables and Chimichurri.
$53
Atlantic Canadian Salmon (GF, DF)
Crispy Grilled Ocean Wise Salmon with Parboiled White Rice and Green Beans. Served with a Grilled Pineapple, Jalapeño & Blueberry Salsa.
$45
Cauliflower Steak (GF, V, DF, VG)
Charred Cauliflower Steak with Roasted Beet Hummus and Quinoa. Served with a Lemon, Walnut & Caper Salsa.
$35
Pappardelle Alfredo
Canmore Pasta Co Fresh Pappardelle Pasta, Creamy Alfredo Sauce, Double Smoked Bacon, Black Pepper & Grana Padano.
Add Grilled Chicken Breast $9 or Prawns $10.
$29
Butternut Squash Ravioli (V)
Canmore Pasta Co Fresh Butternut Squash Ravioli. Served with Cashew & Sage Infused Béchamel Sauce and Shaved Grana Padano.
$27
Bison Ravioli (DF)
Canmore Pasta Co Fresh Bison Ravioli. Served with Pomodoro, Basil & Garlic Sauce and Shaved Grana Padano.
$28
Truffle Parmesan Risotto (V, GF)
Arborio Rice, Wild Mushrooms, Black Truffle, Parsley & Grana Padano.
$35
(DF) - Dairy Free Available (VG) - Vegan Option Available (GF) - Gluten Friendly Available (V) - Vegetarian
Subject to availability.
Please inform your server of any dietary restrictions or allergies.