Friday, March 6
Girls, We Run the Hill!
Mar 6, 2020
Girls, We Run the Hill!
Historically, in the ski industry, both patrons and team members have been historically male. In Canada, it was the arrival of Swiss Mountain Guides in the early 1900s who put the Canadian Rockies on the map. At the time, the Rockies were the wild west.
As skiing gained in popularity, more women took to the slopes carving new trails and opportunities in the sport. In 1942, Canadian twin sister Rhona and Rhoda Wurtele put women's ski racing on the map. From 1942 to 1948, the sister went on to win virtually every ski race they entered. Their success on the world stage inspired generations of ski racers, including a young Nancy Green (who went on to inspire thousands of young girls to fall in love with the sport of skiing).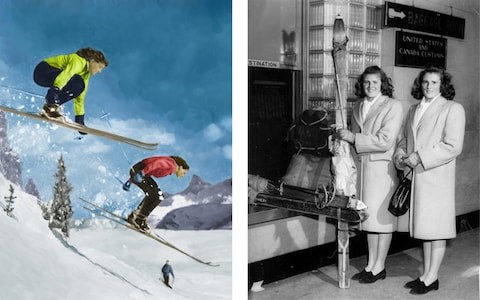 Left: A painting of Rhona and Rhoda for a 1946 magazine cover.
Right: Making their first trip out west for the 1945 Alta Cup in Colorado
Today at Banff Sunshine, we're proud to see a closer gender parity with respect to both our guests and our team members. Of our nearly 800 team members, 40% are women; and that ratio holds true with our leadership team.
From snow safety to lift operations, marketing to guest services, carpentry to legal counsel; it's women behind the scenes with a passion for the mountains that are running the hill and bringing the magic of Banff Sunshine to life.
We'd like to introduce you to a few of the strong women breaking trail at Banff Sunshine
Becki, Gondola Operations Supervisor
"Working outside is something I've always dreamt of. Now, as the Supervisor, I still can enjoy working outside and working with new and excited team members each season. It's powerful to watch as my new team falls in love with our playground that we happen to call work. It makes me realize how lucky I am to work here."
Originally from London, England, Becki has been a member of the Banff Sunshine Gondola operations team for six years. During her first four years at Sunshine, Becki realized that she wanted to have a lifelong career in the ski industry. In her fifth year at Banff Sunshine, Becky was accepted to the Ski Resorts Operation and Management Program at Selkirk College.
Back at School, Becki was top of her class. Going into her final year, Becky won the Banff Sunshine scholarship for the top student in her class.
As women on the operations side of ski resort management, Becki loves the diversity in our workforce. For her, its strong women across our resort who inspire her. As a woman, Becki believes we can lead with kindness while pulling our weight just as much as our male counterparts in roles traditionally held by men.
Chloe, Assistant Hotel Manager
"As with the nature we are surrounded by, everything works better in balance. Women can bring different perspectives and insights to the industry and I think Sunshine benefits from the input of the strong females we have in all areas around the mountain."
Originally from the UK, Chloe joined our Banff Sunshine Mountain Lodge team in the summer of 2017. At Sunshine, the summer of 2017 is an essential date in our history, in celebration of Canada's 150th birthday; our team made the decision to open our resort for summer operations. Chloe joined as one of our inaugural summer front desk agents.
As a front desk agent, Chloe excelled. Her dedication to guest service excellence made her a natural leader amongst her peers. When the role of assistant hotel manager opened up, Chloe was a natural choice. Luckily for Sunshine, Chloe is a dual resident of both Canada and the UK.
For Chloe, the Canadian Rockies are her happy places. Chloe feels privileged to have the mountains of Banff Sunshine as her backdrop for her workweek, and as her playground on her days off. As assistant manager at Sunshine Mountain Lodge, Chloe loves welcoming guests from around the world to what she calls our "mountain paradise."
Diana, Communications & Marketing
"In a traditionally male-dominated industry, it's awesome to see women shine. We need more women in power to shape the future of the industry. Having more diversity will only allow us to innovate and grow!"
Originally from Lima, Peru, Diana joined the Banff Sunshine team in 2018 as communication and brand coordinator. Her strong organizational skill and unique perspective on how to make the ski industry more appealing for Latinos has allowed Sunshine to reach new markets and inspire communities of non-skiers to fall in love with winter sports.
Diana is responsible for all our Spanish marketing, communications, and content. Like many Latinos, when Diana first arrived in Canada, winter was new to her. In 2018, when Diana first started at Sunshine, she had never skied or snowboarded before. Today Diana is cruising down black runs and is determined to ski a double black by the end of the ski season. Her unique experience of learning to ski as an adult, allows our team to accurately communicate the joys (while addressing fears) of learning to ski or snowboard.
Fiona, Ski Patrol
"I believe the ski industry needs more women because women bring a different perspective and a different skill set to problem solving."
Fiona first joined our Banff Sunshine team four years ago. As a teen, Fiona knew she wanted to work in an industry that she was passionate about. Fiona knew she wanted a career where she would be active outside- and not stuck behind a desk.
After graduating from high school, Fiona packed up her car and made the move from Winnipeg, MB, with hopes of making it on to our Sunshine Trail Crew. Thanks to her hard work ethic and her can-do attitude, Fiona excelled In her role and was quickly recruited by ski patrol. Today she is one of our youngest patrollers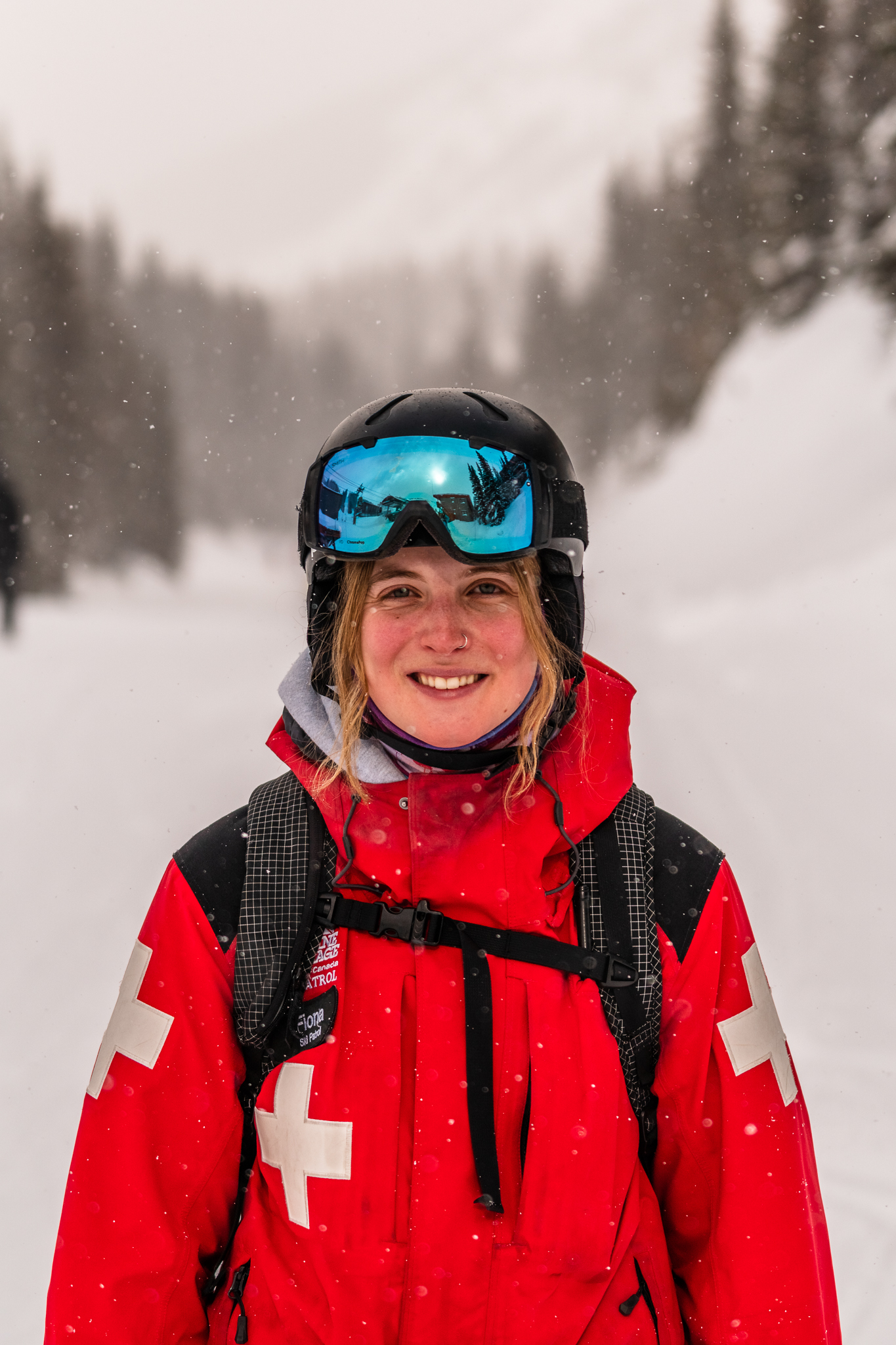 Gia, Guest Services Supervisor
"The Canadian Rocky Mountains are my favorite place in the world, anyone that is fortunate enough to have memories here will agree that the Mountains will forever hold a special place in their heart."
Originally from Perth Australia, Gia moved to Canada in 2012 for what she initially thought would be a one or two-year working holiday. Gia joined Sunshine in 2015 and was quickly promoted to Guest Service Supervisor. In her role, Gia oversees a team of 20 in both guest services and our ticket windows.
Gia has found and made her home in the Canadian Rockies. Sharing her knowledge of Sunshine and Banff National Park with both her team members and guests who visit from around the world is what she loves most about her current role. Professionally, Gia strives to be a relationship-focused leader. As women leaders, we have the power to make the ski industry stronger by building a community with our teams while supporting our departments to continually strive for excellence.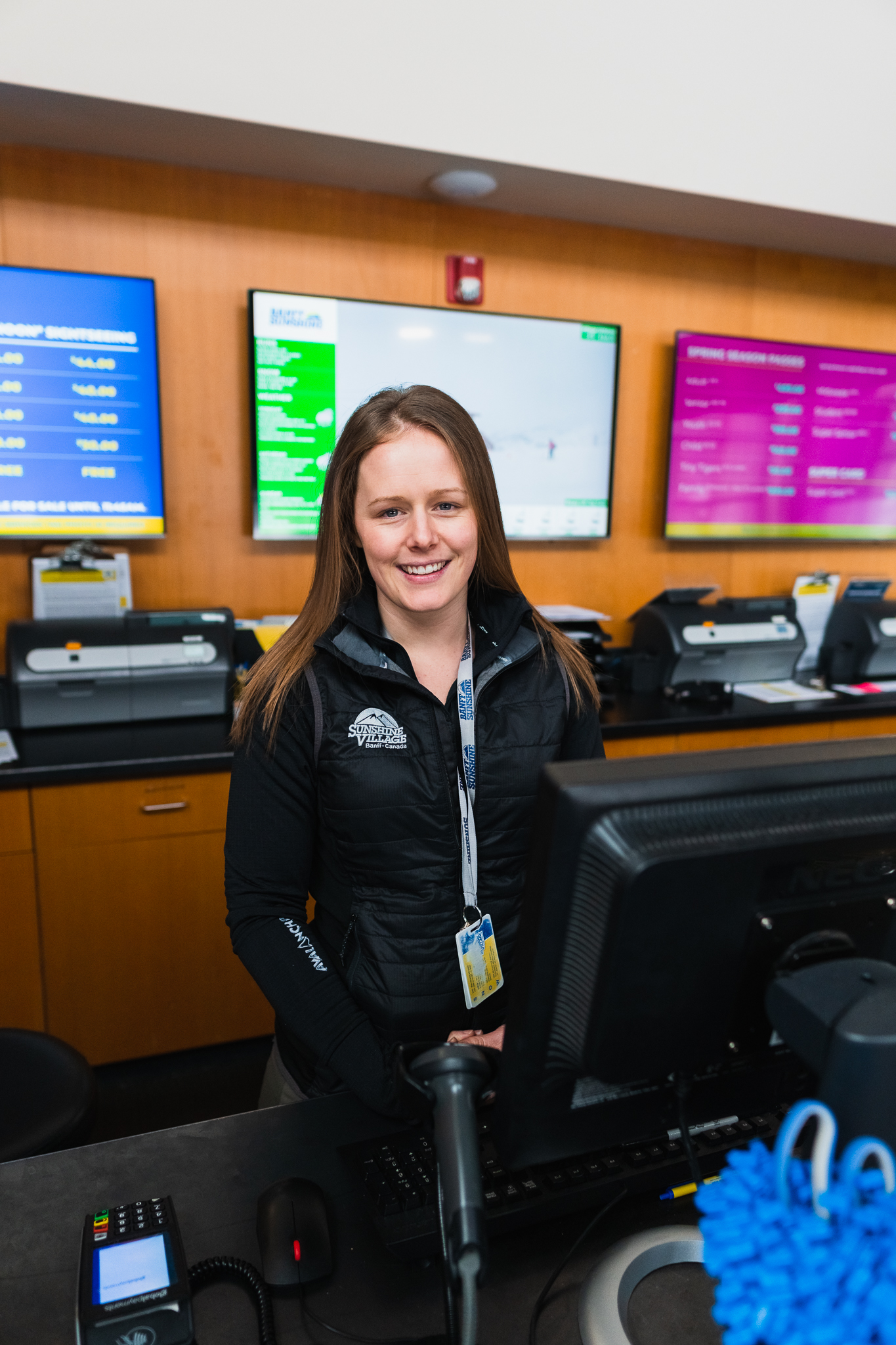 Jen, Level 4 Ski Instructor & Head Trainer
"The ski industry has always been very male dominate, many women start in the industry, but then leave for various reasons. Our clientele has a strong amount of women and children taking lessons and it would be great to have more women role models."
Born and raised in Edmonton, AB, Jen grew up learning to ski at Sunshine as a kid with her sister (who is also a leader at Banff Sunshine). As the younger sister, growing up, Jen wanted to be just like her big sis. In Canada, you can take your level one ski instructor course at 16 – and that's just what Jen did for her 16th birthday.
26 winters ago, at age 18, Jen followed in her big sister's footsteps and made the move to Banff. Over the past 26 winters, Jen has invested in her skill set. In ski instructing their four-level of certification. One being the entry point, four being the most coveted. When Jen took and passed her level 4, she was the first woman in our ski school to achieve the prestigious rank.
As a ski instructor, Jen is our head trainer at Banff Sunshine and is one of our most requested ski pros. Her passion is in teaching skiers of all levels and especially beginners how to ski. For Jen, success is inspiring new to the sport participants to fall in love with winter sports and the beauty of the Canadian Rockies.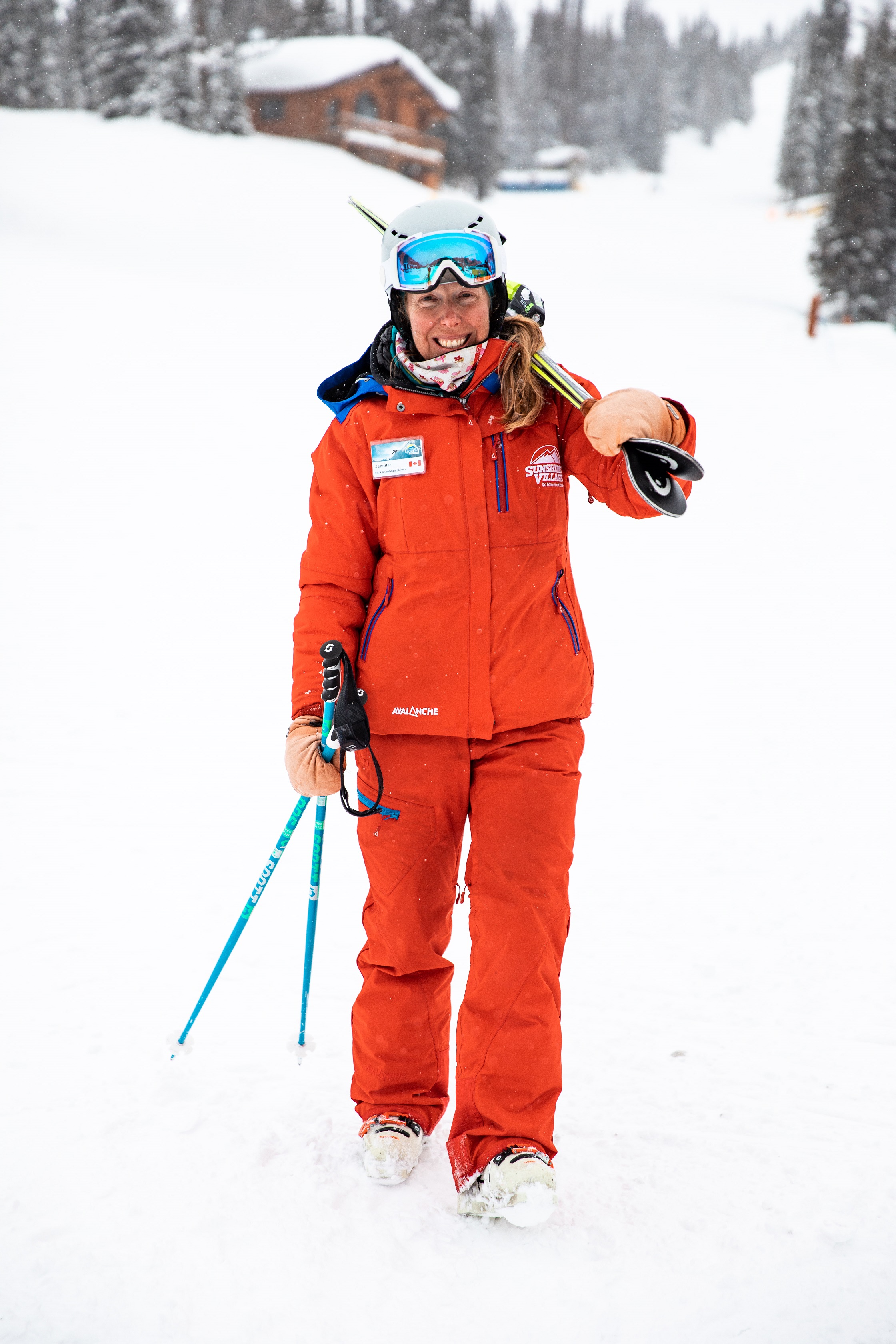 Johnna, Parts Supervisor
"Best-laid plans can only be made with equal representation. If half of riders are men and half are women, half are skiers and half are snowboarders, the industry should reflect that. We're ready, willing and able."
An Alberta native, Johnna grew up in the small town of Drayton Valley. Eight years ago, Johnna responded to a job posting for a parts supervisor in our maintenance department. When Johnna started at Sunshine, she was the only female in our maintenance department. Today we're proud to have other women working within our resort maintenance.
Growing up with two brothers in the oil patch, Johnna has always felt at home in the garage with the boys. Working with the boys, there's always an abundance of jokes. At Sunshine, with the variety of machines, we use to run our resort – from lifts to snowcats, sleds to busses, each day has new surprises to adapt to. Professionally, Johnna has grown as she's learned about the ski industry. Primarily what goes on behind the scene to bring the mountain to life.
When we asked Johnna what she loves about working in the Canadian Rockies, she replied, "Watching Split Lip walk past me on my commute home last night about sums it up. Driving a sled to my office, breathing clean mountain air, and those pink sunsets help too."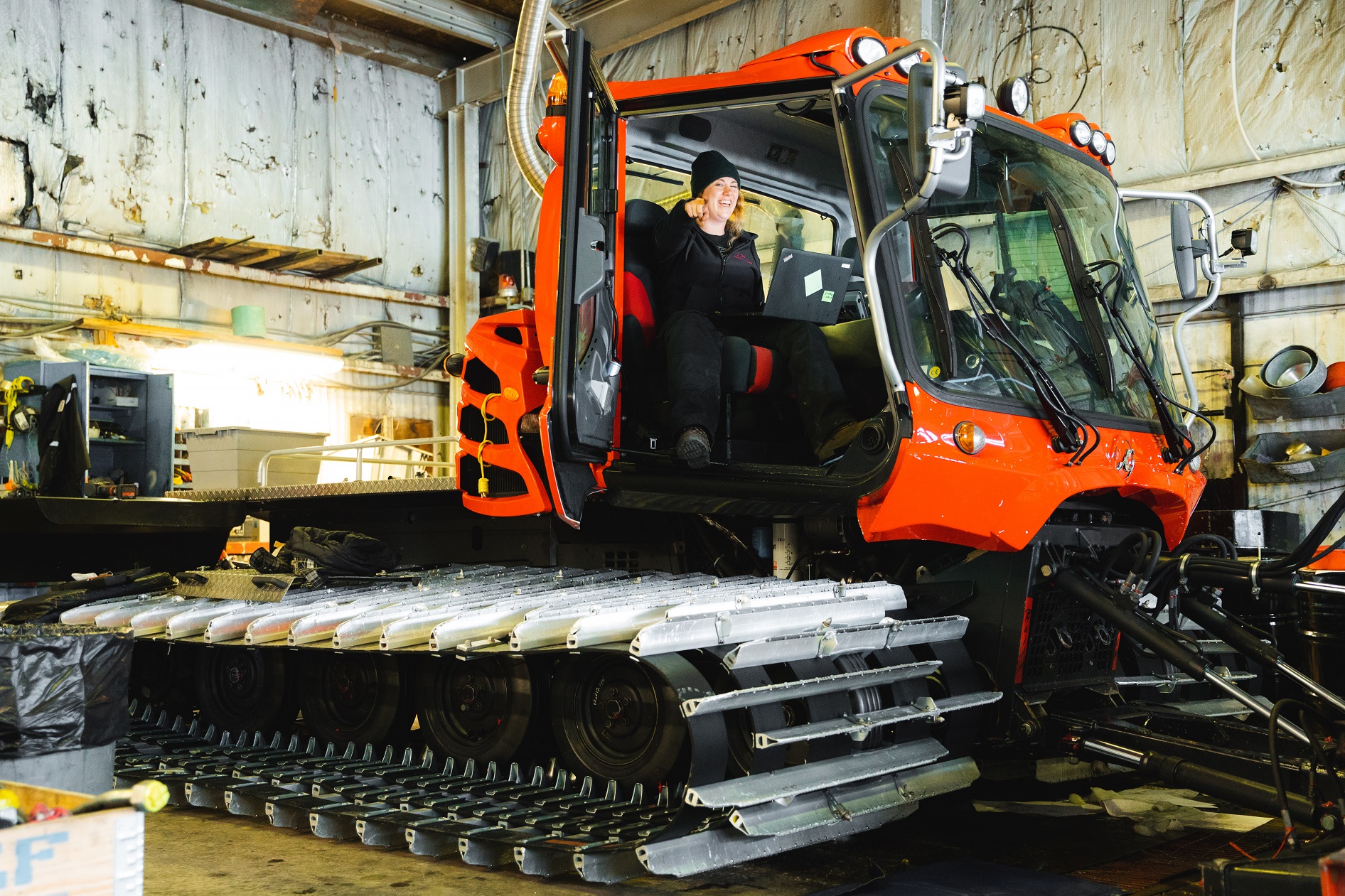 Marley, Rentals Supervisor
"Nature keeps you humble. The commute to work is unlike any other. Having the Rockies as a back-drop is mind-blowing and never loses its novelty. Snowsports have played a huge role in my life, so having the ultimate playground also be my workspace is a dream come true."
Marley joined Sunshine in 2015 as a ski and snowboard technician. Hailing from the eastern townships of Quebec, snowboarding was a big part of Marley's life growing up. As a kid, Marley dreamed of living, working, and playing in the Canadian Rockies.
Marley, and her team, run our Bourgeau Rental Shop, our Salomon Demo Tent, and our ski and snowboard tuning shop. She loves being able to lead a team of hardworking, talented individuals who share a passion for winter sports. Marley and her team work to share their knowledge of Banff Sunshine with guests while making skiing and snowboarding accessible for all who want to experience it.
When she's not in the office, you can catch Marley on the mountain – either winning rail jams or freeriding like a boss. Marley hopes to inspire more girls to get out on the slopes – and to compete in ski and snowboard events.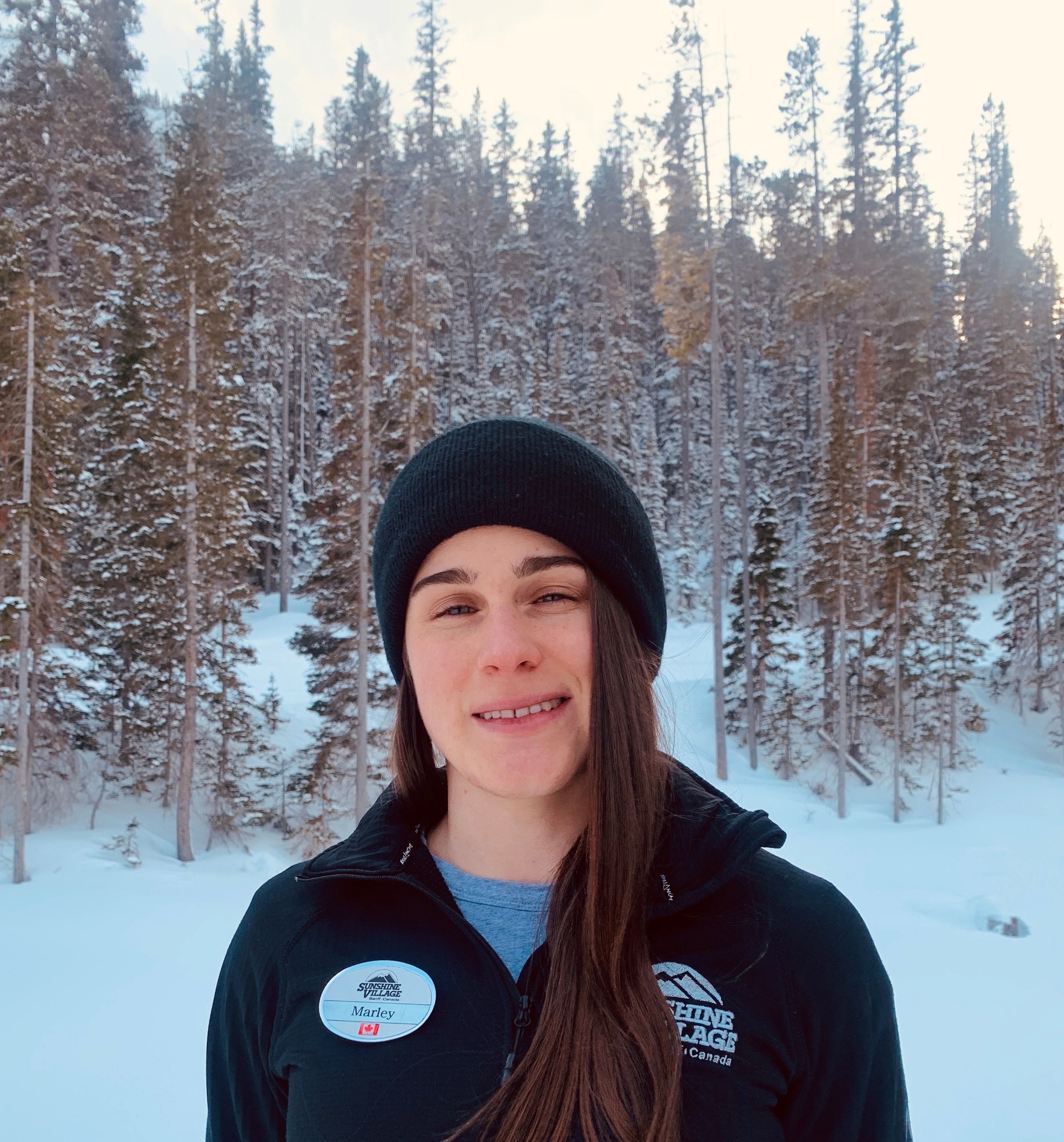 Olivia, Purchasing
"I consider myself hugely fortunate to have had some incredible female role models to look up to, not least of all my mom, Liz. Growing up, she made sure to instil an unshakeable sense of empowerment and poise within us, for which I will always be thankful. Quite frankly, the world could use a little more of this in my opinion, and the ski industry seems like the perfect place to start!"
Olivia first fell in love with Banff and Sunshine Village as a child, during a family vacation from Jersey in the Channel Islands. On subsequent visits to Banff and Sunshine, passion for the Canadian Rockies grew. Finding herself in awe of Sunshine's vast and varied terrain and the friendliness of Banff locals, Olivia told herself that one day she would live and work in the Canadian Rockies.
When Olivia first moved to Banff, she did so as a ski instructor with Ski Big 3. Olivia officially joined the Banff Sunshine Team three years ago as a guest service agent. With her attention to detail and friendly nature, Olivia excelled in her role. With her strengths in mind and Sunshine's growing e-commerce, Oliva founded our e-commerce coordinator role. A position that works closely with guest services, marketing, and accounting departments. Growth focused, Oliva has now moved up to lead purchasing within our accounting department.
For Olivia, it's the mountains that drew her to Banff. Olivia sees Sunshine Village as a playground of wonder – that is both unparalleled adrenaline and complete serenity, all at once.
But it's the support of her (at times fanatical) team and the warmth of the entire Sunshine family that keeps her in Banff. To use Olivia's words, "When I started working here, I couldn't have imagined the growth and personal development I've experienced within my role."