Wednesday, January 20
7 Reasons to Sign up for a Ski or Snowboard Lesson.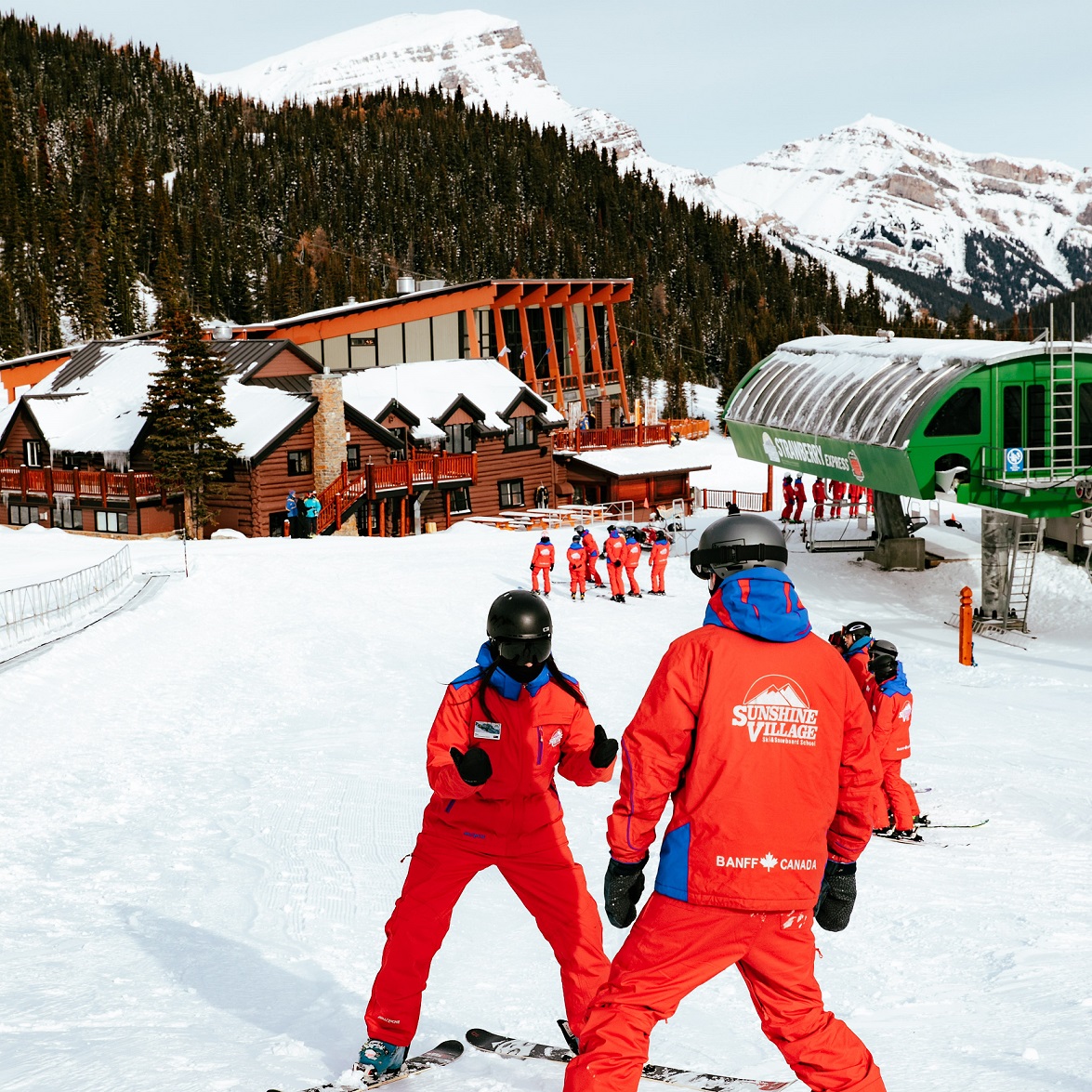 Jan 20, 2021
7 Reasons to Sign up for a Ski or Snowboard Lesson.
Thinking about learning or improving your ski or snowboard skills?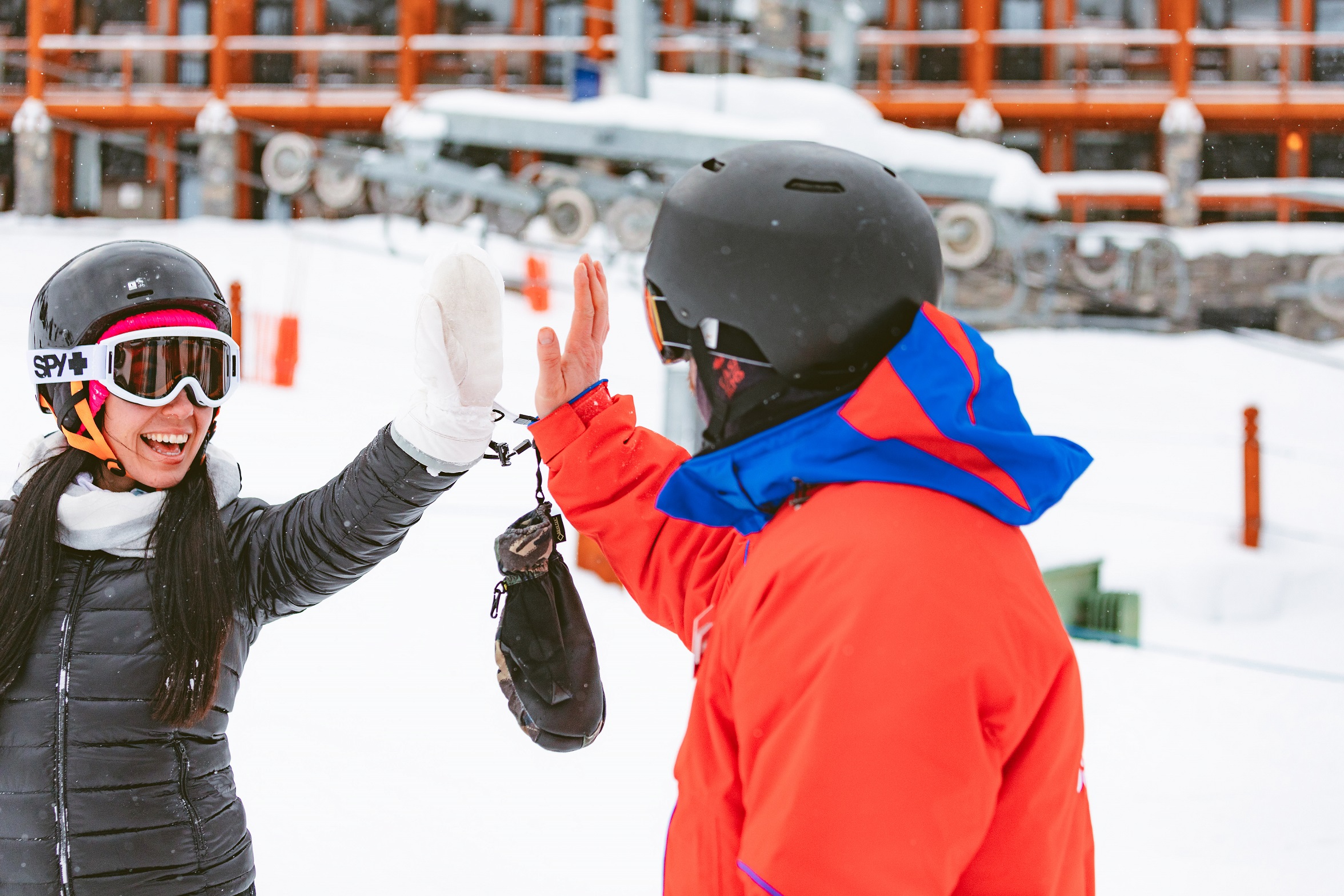 This season, be the skier you have always dreamt of being and master new runs with coaching from our Snow School pros.
With a lesson, you will learn new skills that will allow you to navigate all the terrain Banff Sunshine has to offer. And oh boy, it sooooooo much fun!
This season, we launched our new "Bubble Private" lessons, which have been designed to allow you and your bubble to enjoy coaching from one of our world-class instructors.
Now, just in case you need an extra push to sign up for a lesson, we have rounded up 7 reasons that will have you saying, "Heck yeah, let's do this!".
1. Learning to ski or snowboard at Sunshine is so much fun
Yes, you guessed it! This is the reason #1. What makes it so great? The contagious enthusiasm of our instructors! Our team of pros will inspire you to learn new skills as you become a master of the slopes. You pick the theme and set the pace and your instructor will deliver a day of fun and adventure.
2. All ages and abilities are welcome
At Banff Sunshine, our instructors tailor your lesson according to your own specific needs and goals. We offer innovative beginner lessons for those new to the sport. For the more experienced skier or snowboarder, our private sessions will help you fine-tune your technique.
3. Achieve your season goals faster
Is it your goal to ski a double black diamond? Or is it to feel more confident on moguls? Are you dreaming of Diving into Delirium this season? Whatever your goal for the season is, working with a coach will ensure you achieve it faster and efficiently.
4. Discover new runs
We are all creatures of habit, and we all have our go-to chairlifts and runs. One of the best parts of riding with a pro is that you get to explore different areas of the mountain and new (to you) runs. Who knows, Rolling Thunder could be your next new favorite run.
5. Reduce the risk of injuries
Injuries are more common in new skiers and boarders, and once bad habits are made, they are very tough to correct. Take a lesson to minimize the risk and you won't be as much of a hazard to yourself and/or others.
6. Skip the chairlift lines
Need we say more? With a Sunshine pro, you will get to use the Ski School lift line and enjoy quick access to the top of the mountains. Every. Single. Time.
7. Great for the body, mind and soul
When you sign up for a lesson, you invest in your overall wellbeing. Learning to ski or snowboard will not only bring you immeasurable joy during the winter months, but it will also help you stay physically and mentally healthy.
Skiing and snowboarding provide great full-body exercise. You could burn 300-600 calories per hour. In fact, you will have so much fun you won't even realize you are working out. Studies have also shown that just 15 minutes outside in nature can significantly reduce levels of cortisol, the stress hormone. Just imagine the benefits you can gain from an entire day outside in the beautiful Canadian Rockies.
Now that you are convinced, let's do this! Take advantage of our 2021 Private Lessons pricing and sign up for a lesson today.