Tuesday, March 23
Meet our Service Excellence Winners for January 2021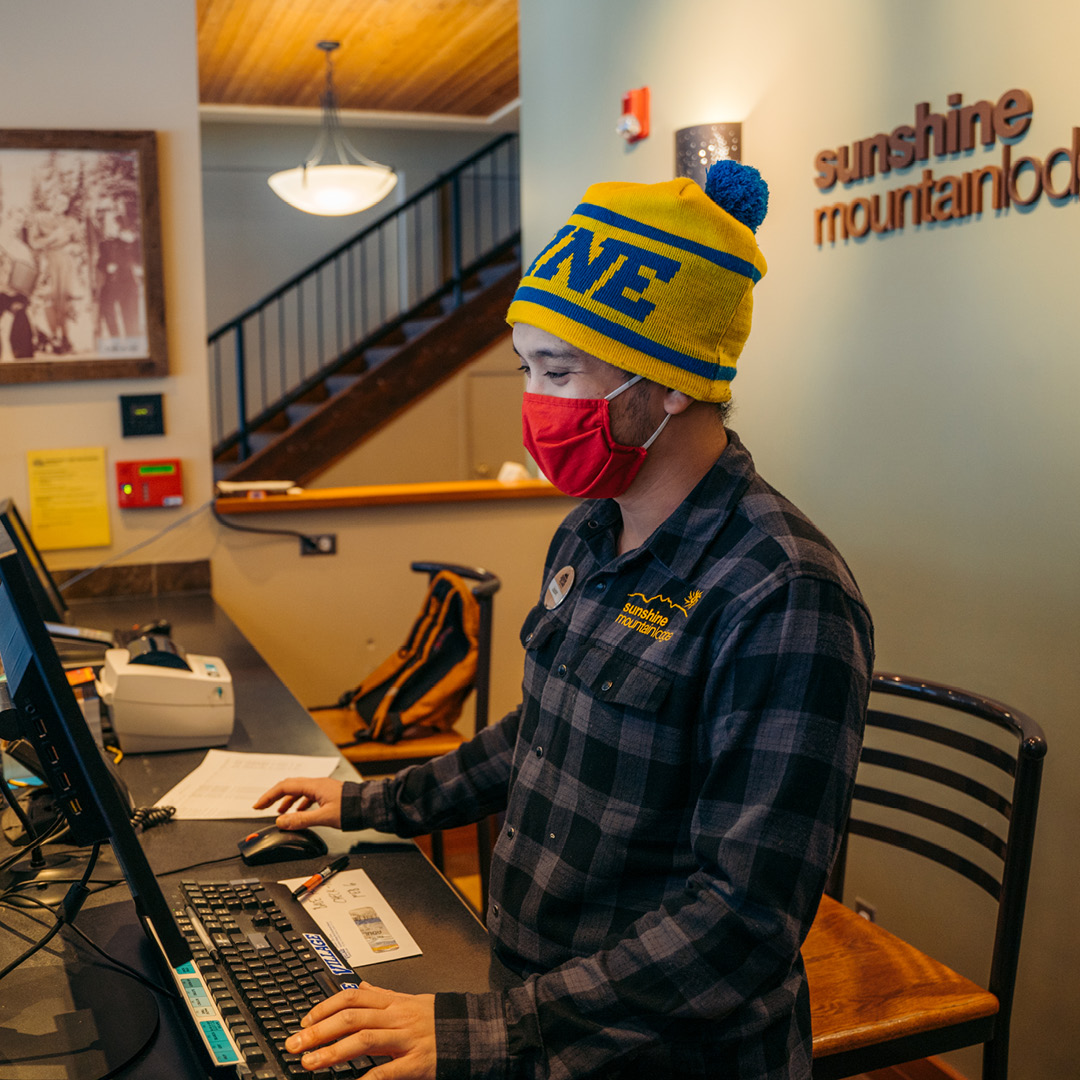 Mar 23, 2021
Meet our Service Excellence Winners for January 2021
At Banff Sunshine, it's our team members who bring the magic of our resort to life. Each season we employ nearly 800 team members, each of our team members plays an important role in helping us deliver our goal of turning every guest into a raving fan of the Canadian Rockies and Banff Sunshine.
In a typical year, we like to honor our team members who go above and beyond at our monthly Service Excellence Awards Dinner. Like many things, due to Covid, this year we have had to adjust the way we show appreciation for the Sunshine Team Members who regularly go above and beyond to deliver exceptional service.
We might not be able to gather, but we can share our appreciation for our team members who brighten the slopes of Banff Sunshine Village!
Meet Our Front-Line Shining Stars For January 2021:
Shining Star of the Month:
Andrew Leighfield, SML Bellman
A first-year bellman, Andrew joined the Sunshine Mountain Lodge bell team, at our check-in desk in our Bourgeau Base Area at the beginning of our ski and snowboard season. To date, this season Andrew has been a leader in regard to ensuring covid protocols are followed. Andrew has been instrumental in creating specific waiting areas for guests to either drop off or pick up their luggage this season which allows for greater social distancing and improved efficiency. Andrew is a true shining star at Sunshine and we are thankful for the positive attitude he brings to work each day, and his focus on health and safety.
Customer Excellence Team Member of the Month:
Katie Kreczman, Level 3 Ski Instructor
Originally from the UK, Katie first joined our Sunshine Ski School in 2014. Over the past seven seasons, Katie has invested in herself and has developed her craft, progressing from a level one ski instructor to a level three instructor (with her sights set on her level four). Her passion for skiing is contagious! Katie is one of our most requested child instructors. As an instructor, Katie is known for her friendly off-work persona. She genuinely cares about the kids she teaches, and will often volunteer her time, off the clock, to watch the kids for 10 minutes or so allowing parents to enjoy a run or two to themselves.
Social Ambassador of the Month:
Tyler Gillespie, Chimney Corner Bartender
Tyler is a second-year Chimney Corner Team Member. He originally joined the Chimney Corner as a server and has worked his way up to our head bartender. As a bartender, Tyler has taken ownership of the restaurant's cocktail program with weekly cocktail specials. To help build awareness for his delicious creations Tyler has taken to social media to communicate the daily drink specials. His social posts are clean, professional, on-brand, and have helped increase sales at the Chimney Corner.
Sunshine Safety Hero of the Month:
Genevieve Nevin-Jones, Lift Ops
Genevieve is a first-year lifty, who while on duty witnessed a guest in distress while working the top shack of Strawberry Express. She responded quickly to the incident, calling ski patrol and ensuring the area was clear. When patrol arrived on the scene, Genevieve shared her account of the incident and assisted patrol with minor, yet necessary, tasks so that patrol could focus on the guest. Throughout the ordeal, Genevieve stayed calm, cool, and in control of the situation. Her fast thinking helped the guest receive immediate attention and prevented other accidents from occurring.
Resort Service Team Member of the Month:
Mellisa Power, Retail Associate
Melissa was nominated for employee of the month from both the rental shop team and the retail team. She is a positive team member who is always willing to lend a hand and assist in rentals when necessary. When it comes to guests, Melissa makes an effort to go the extra mile to ensure she's surpassed their expectations.
Mountain Operations Team Member of the Month:
Christian MacDonald, Ski Patrol
Christian is a second-year Sunshine Ski Patroller, who loves being at Sunshine. What we love about Christian is that he works hard to make the day a little brighter for all guests he comes in contact with. As a patroller, Christian brings his creative problem-solving skills to the mountain. While assisting a young guest, Christian decided to give the child an iPad with a preloaded Disney movie on it to help distract from the pain. By presenting the young skier with a friendly movie, Christian was able to make the Sunshine Infirmary a happy place.
Lift & Gondola Operations Team Member of the Month:
Daesik Shin, Gondola Operator
Daesik is a first-year Sunshine Team Member who joins our Sunshine Team from South Korea. Since joining the Sunshine Gondola Team Daesik has been a positive and helpful member of the gondola team, who understands the importance of putting the guest and the team first. As a team member when the morning rush for the gondola slows down, Daesik is always looking for productive ways to stay busy. When clearing snow, on snowy days, Daesik will spell out words in our gondola plaza area to help make our base area appear that much more magical.
Food and Beverage Front of House Team Member of the Month:
Lina Elenbaas, Creekside Barista
Originally from the Netherlands, Lina is a first-year Sunshiner who has been a bright addition to our Sunshine family. As a Java Station Barrista Lina starts early, brewing the caffeine so many of us need first thing in the morning. As a front-of-house team member, Lina has taken initiative to familiarize herself with both our guests and fellow team members. Guests love Lina's ability to remember not only their orders but also their names. Lina is a true Sunshiner who is committed to providing a little extra sunshine to all those she interacts with.
Food & Beverage Back of House Team Member of the Month:
Corey Hearty, Powder Crew
Corey is a member of one of our not-so-glamorous departments, Powder Crew. Up in our village area, the powder crew team is responsible for custodial services. Despite having a dirty job, pun intended, Corey wears a warm smile whenever he's dressed in his bright blue uniform. Corey makes it his mission to find the sunshine in his job. He regularly interacts with guests and will share his tips for best enjoying the mountain.
Make the Mountain Run Team Member of the Month:
Maddy Milne, Guest Services & Executive Assistant
Since the beginning of the 20/21 Ski and Snowboard Season Maddy has been working in both the Executive Office and Guest Services. Maddy is appreciated for her positive work ethic and her natural ability to see and understand the big picture of operating a ski resort during these covid times. From a business standpoint, Maddy has been able to identify ways to improve communications between our executive office and our general office which has allowed us to better respond to guests in a timely manner. A true professional, Maddy takes on any situation with a smile (under her mask).