Tuesday, May 4
ENJOY A SPRING SHRED LESSON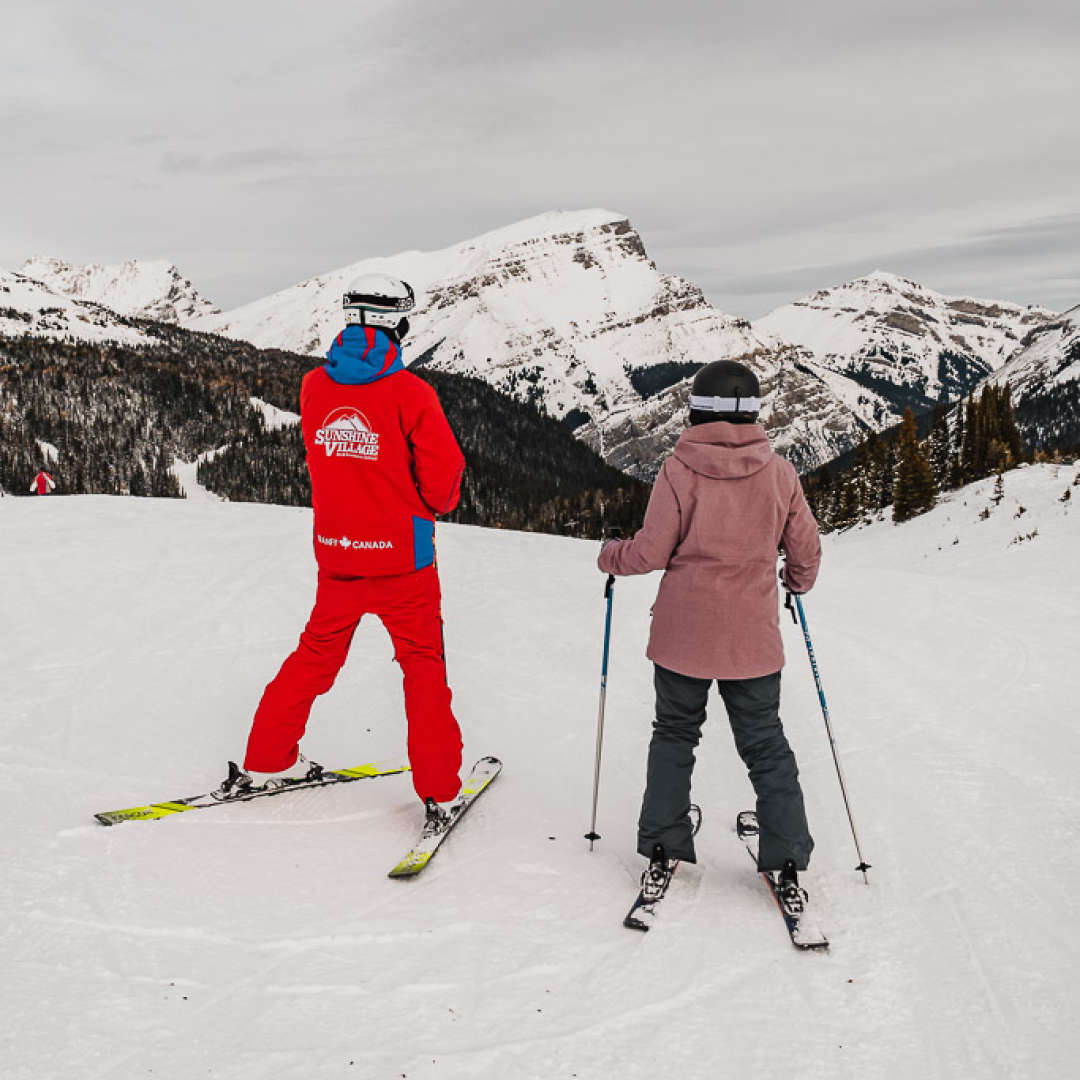 May 4, 2021
ENJOY A SPRING SHRED LESSON
Hi, I'm Rebecca and before Monday I had never taken a ski lesson. I have been skiing for about 4 years and decided I wanted to take a lesson to help fine-tune my skills. I also wanted to learn more about spring skiing and how I can make the most of Canada's Best Spring Conditions!
Taking a ski lesson can be intimidating but once I met Alex and the lesson began, I realized that I was in good hands. During my 3-hour lesson, I learned a lot! Alex's energy and enthusiasm for skiing, his patience, and his use of analogies really helped me absorb everything he was teaching. He also answered every question I had with detail and warmth.
The first thing Alex taught me is to always protect my eyes.
Whether you prefer goggles or sunglasses, it is very important you protect your eyes. The sun reflection from the snow is more intense than usual in the last three months of the season. Proper eye protection will help to block out the UV rays and the wind. The last thing you want is eye discomfort that prevents you from enjoying Canada's Best Spring Skiing.
Want to learn more about sunscreen and sun safety visit the Sunshine Times to view our Sun Safety Blog!
The second thing Alex taught me is to follow the sun.
During the spring months, the shining sun helps to soften the snow that has frozen overnight. Plan your day so you spend more time in the sun and get the best snow conditions.
Start your morning on Wawa, Standish, and Strawberry.
Groomed runs to stick to:
- Wawa bowl
- Jerrys Run
- The Dell Valley
In the afternoon visit Goat's eye, Angel, and Great Divide.
Groomed runs to stick to:
- Sunshine Coast
- South Divide
- Green Run
The third thing Alex taught me was the importance of balance.
Good balance is the foundation for good skiing. The most important thing I learned is that when skiing in traditional "S" turns, always make sure to keep your weight on your outside foot. To be able to execute a proper turn, you need to be aware of your legs and feet, this will help make sure that you know how much weight is on each foot.
To help me understand better, Alex compared the weight transfer to driving a standard car and how the transition of weight from each foot is a slower, controlled motion. Like driving a manual transmission car, if you are using erratic movements, you will be unpredictable and unstable, two things you do not want while you are on the ski slopes. This is a great analogy and really helped me control my movements on the mountain.
This year we invite you to fall in love with spring skiing too! If you would like to make improvements to your spring skiing techniques, we are currently offering private bubble lessons. Click here to learn more about our ski school and all the programs they offer.