Wednesday, October 14
We're a USA Today's Best Ski Resort Nominee!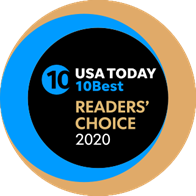 Oct 14, 2020
We're a USA Today's Best Ski Resort Nominee!
Vote Banff Sunshine Village as your favourite Ski resort in North America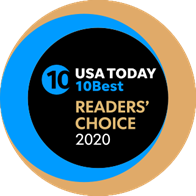 Winter has arrived at the slopes of Banff Sunshine Village, and we are all smiles as opening day gets closer and closer. Are you, like us, counting down the days until we can all carve up Canada's Best Snow again?
This week, the foot of snow we received was not the only reason we were thankful for! We are excited to announce that we are nominated for the 2020 10Best Readers' Choice travel awards!
USA Today's expert panel selected Sunshine Village as a contender for Best Ski Resort in North America! We are honoured to be part of this list along with other top ski resorts.
The winners are chosen by skiers and riders, and we would greatly appreciate your help in securing a spot on the 10Best! Please take a moment to voice your choice and vote Banff Sunshine Village as your favourite place to ski. Let's show North America where the best snow and all the fun is at!
Voting ends Monday, November 9th. You can vote once per category per day.
Why would you vote for us?
1. Sunshine Village is home to Canada's Best Snow
Our location 7,200 feet high on the Continental Divide, in the heart of the Canadian Rockies, makes us a natural magnet for the greatest snow in the country. As Canada's highest Ski & Snowboard resort, Mother Nature spoils us with light, dry, soft, and silky snow every season. Our delicious natural snow creates an incredible ski and snowboarding conditions, complemented by views so picturesque they leave you with an indelible in-print.
2. The extra-long winter season means extra-long fun
The fun at Sunshine Village starts in early November and rides all the way through to late May. Our seven-month shred season makes us the longest non-glacial ski season in Canada. With nearly 200 days of skiing and snowboarding in the Canadian Rockies, there are no excuses not to enjoy the world-class slopes of Sunshine's three mountains.
3. Sunshine's diverse ski and snowboard terrain offers something for everyone
Our vast and varied terrain is suitable for all ability levels of winter sports enthusiasts from first-timers to the most extreme riders who want to access the most extreme big mountain runs. Our 3 mountains offer more than 3,500 acres of skiable terrain in which all ages and ability levels can have tons of fun.