Wednesday, September 13
Sodexo Live! Named New Hospitality Partner at Banff Sunshine Village Ski Resort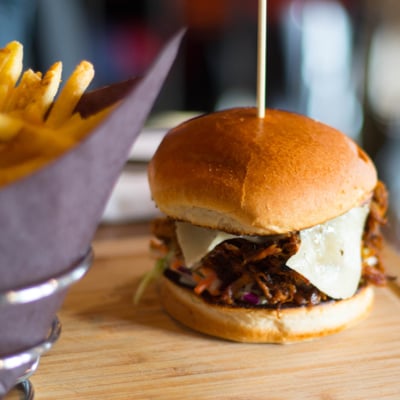 Sep 13, 2023
Sodexo Live! Named New Hospitality Partner at Banff Sunshine Village Ski Resort
Sodexo Live!, hospitality partner to the world's most iconic venues, announced a new agreement to provide world-class hospitality at famed Canadian resort Banff Sunshine Village, the premier ski and snowboard destination in the Canadian Rockies. This upcoming ski season guests of a Banff Sunshine will enjoy more than just Canada's Best Snow, as Sodexo Live! will be elevating the food and beverage experience at Banff Sunshine Village's on-mountain dining venues, including restaurants at Sunshine Mountain Lodge.
Located just 90 km (55 miles) west of Calgary International Airport (and 15 minutes west of downtown Banff), Sunshine Village is a world away from the ordinary. This new Sodexo Live! partner venue resides 7,200-feet high on the Continental Divide in the heart of the Canadian Rockies and offers 360-degrees of uninterrupted mountain views.
Known for its diverse ski terrain, and extra long ski season, Banff Sunshine offers a true mountain experience for skiers and snowboarders of all ability levels. With a ski season that stretches from early November until late May, hungry skiers flock to the resort's slopes to enjoy the longest non-glacial ski season in Canada and curated new menu items.
Together, Sodexo Live! and Banff Sunshine Village will give guests of the Canadian Rockies a food experience worthy of the iconic location.
"We're thrilled to have a partner that believes in the powerful memories created by the right culinary offerings," says Kendra Scurfield, VP of Brand & Communication at Banff Sunshine. "It's our belief that good food makes a ski day that much better. Together with Sodexo Live! we will collaborate on new menus and hospitality enhancements, like incorporating more local vendors."
The partnership between Banff Sunshine and Sodexo Live! will see more regionally influenced ingredients on menus, expanded culinary offerings (including more kid-friendly choices to best-in-class cuisine), and increased points of sale to get guests back to the slopes quicker.
"Banff Sunshine Village is a sought-after destination by people around the globe, for both its family-friendly atmosphere and excellent snow sport offerings, so it should boast a hospitality program that encompasses and reflects those things," said Belinda Oakley, Chief Executive Officer, Sodexo Live! North America. "We look forward to refreshing culinary options and adding a new layer of excitement to future visits, whether in the peak of winter, or the equally adventurous summer."
Sodexo Live! maintains a significant, long-term presence in the ski industry, serving as the hospitality partner of choice to 15 enchanting resorts in the U.S. and Canada. It is also the hospitality partner to renowned Canadian sports venues like Tim Horton's Field in Hamilton, Winnipeg's Canada Life Centre and BC Place in Vancouver, among others.
Sodexo Live! manages prestigious conference, cultural, and sporting venues and major events all over the world. With 40,000 employees and 500 sites, Sodexo Live! offers clients a range of bespoke catering, sales, and event management services, helping to transform the consumer experience into unforgettable memories. Sodexo Live! commits to unlocking customers' full potential while favoring local communities. Sodexo Live! contributes to the success of prestigious events such as Royal Ascot, the Tour de France, the Rugby World Cup and soon the Paris 2024 Games, and showcases exceptional venues such as the Eiffel Tower Restaurants, Bateaux Parisiens, Yachts de Paris, the Royal Academy of Arts in London, the Museo del Prado in Madrid, the Hard Rock Stadium, the Scottish National Gallery, and the Hollywood Bowl in Los Angeles.
Banff Sunshine welcomes Sodexo Live to the village!