About the Destination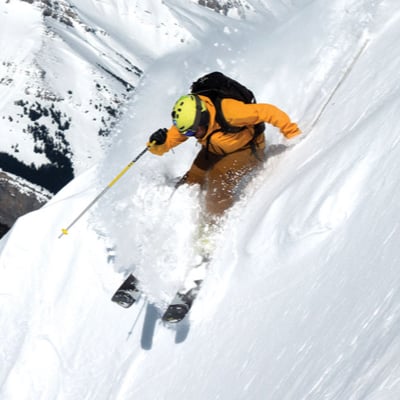 about the destination
Banff: Canada's original ski town.
Canada's First National Park
Banff was first settled in the early 1880's, during the construction of the Trans Canada Railway. At the time, the Government of Canada was eager to build a railroad that would connect Vancouver to Montreal. What is now Banff National Park was first discovered in 1883, when three Canadian Pacific Rail workers stumbled across three natural hot springs on the side of Sulphur Mountain. In 1885, the Government of Canada, noting the rare beauty of Banff, established Banff as Canada's first national park. In Banff's early days, the Government of Canada promoted Banff, and its hot springs, as a must-see travel destination. Originally, Banff National Park was a 26 km2 federal reserve. In 1887, the reserve area was increased to 673 km2 (260 sq mi) and named "Rocky Mountain Park". This was the beginning of Canada's national park system.
How did Banff get its name? The name "Banff" orginiated during the construction of the CP railway. In 1884, the president of the Canadian Pacific Railway, George Stephen, declared the area Banff after his hometown of Banff, Scotland. Banff's famous castle, The Fairmont Banff Springs, was built in the late 1880's. The hotel was to be the flagship property of Canada's great hotels. The majesty of the mountains, the grandeur of the Banff Springs, and wild of Canada drew travellers to the area from across North America and the world and continues to do so today.
Banff: A Household Name
Banff's star as Canada's premiere tourist destination has been a part of our town since the early days. Canada's first Prime Minister, John. A. MacDonald, was quoted saying "I do not suppose, in any part of the world there can be found a spot, taken all together, which combines so many attractions…" when referring to Banff. Artifacts and indications of Banff's early days as a railway town can be found throughout the town of Banff, Sunshine Village and Banff National Park.
If you stop in Banff, you'll notice a funny shaped mountain in the middle of town that's quite small in comparison to the the other mountains. This mountain has a name that doesn't quite fit with those around it - Tunnel Mountain. Tunnel Mountain got its name because a railway tunnel was supposed to go through the mountain. The engineers had the tunnel completely designed, when a land surveyor discovered another pass that didn't require any expensive bombing.
At Banff Sunshine, our Old Sunshine Mountain Lodge (now the house of Mad Trapper's) was first built by the CP Railway and was used by employees surveying the land, long before we welcomed our first guests.
Over the years, Banff and Sunshine have welcomed celebrated guests from around the world. Notable guests include Marilyn Monroe, Clark Gable, Burt Reynolds, Wayne Gretzky, The Queen of England, Bill Gates, Alec Baldwin, John F. Kennedy, and countless more. As Marilyn Monroe said, "Banff is a place, where no beauty can compete with the beautiful scenery that is the Canadian Rockies."
Canada's Original Ski Town
Skiing in Banff has been a tradition since the early 1920's. Snowboarding wasn't introduced until the 1980's, did you know Banff Sunshine Village was the first resort in Canada to allow snowboarding?
Banff National Park is home to three ski resorts: Banff Sunshine Village, Lake Louise and Mount Norquay. Combined, Banff National Park offers skiers and snowboarders nearly 8,000 acres of skiing, two gondolas, 26 chairlifts and 30 feet of feather-light, dry, Canadian Rockies powder annually.
A Place to Celebrate Winter!
The town of Banff is a vibrant destination to explore! Wintertime in Banff offers the opportunity for epic skiing and snowboarding in the great Canadian Rockies. In addition to some of Canada's best ski terrain, Banff is home to many other fun winter activities including dog-sledding, tobogganing, ice-skating, snowshoeing and much more. Banff boasts more than 130 pubs, bars, restaurants, coffee shops and bakeries to satisfy every palate, and its nightlife rocks 'til the wee hours of the morning. With more than 50 options for accommodation, you're sure to find something to fit any style and budget.
Getting to Banff
Getting to Banff is easy! If you're coming by air, fly into the Calgary International Airport (YYC). From the airport you can drive or hop on an airport shuttle to Banff. The town of Banff is about an hour and 30 minutes from the Calgary International Airport.
Sunshine Promotions
7 Months of Canada's Best Snow!
Buy your season pass today.
BUY NOW
Dreaming about your next skication?
Book your Sunshine Mountain Lodge stay today!

BOOK NOW
Book a multiweek ski or snowboard lesson today!

Freeriders and Jumpstart programs are booking now.
BOOK NOW