Wednesday, March 3
5 Blue Runs With Incredible Views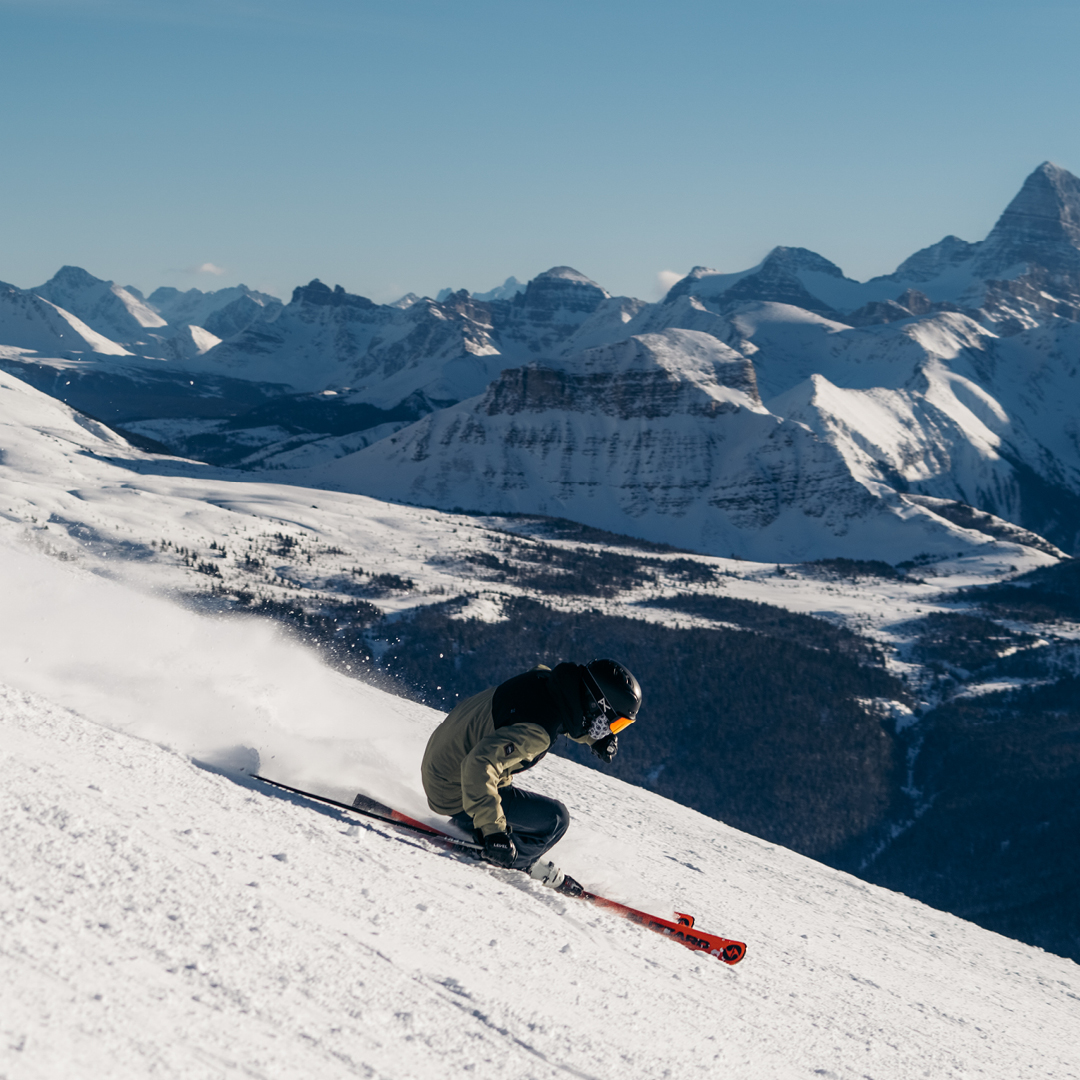 Mar 3, 2021
5 Blue Runs With Incredible Views
At Banff Sunshine village we are surrounded by gorgeous mountain views. When skiing around the resort, it's easy to become enamoured with the breathtaking views of the Canadian Rockies. Here's a fun fact, at Banff Sunshine, you do not need to be an advanced skier or snowboarder to enjoy our spectacular views. We've rounded up a list of 5 accessible blue runs with incredible and iconic Sunshine views.
Here is a list of our top 5 blue runs with breathtaking views and where to access them:
Tin Can Alley
Tin Can Alley, is a Sunshine Classic the fun blue run is found to the skiers left off of Wawa chairlift. Once at the top of Tin Can Alley, take a moment and enjoy the panaremic view of Goat's Eye, Delirium Dive and Lookout Mountain. If you are lucky enough you may even catch our snow safety performing avalanche control work in Delirium Dive.
Sunshine Coast
A quick skiers left off the Goat's Eye lift takes you to this long, beautiful, crusing run. This run allows you to do a switchback of the entire mountain which gives you magnificent views of our village and the surrounding mountains the entire way down.
Strawberry Face
Located off of Strawberry Express, our beginner chair, Strawberry Face offers perhaps the best view of our Village area. Once you're at the top of the strawberry chair take a skier's left to get to the Strawberry face. You'll know you're on the right run because you will get a great view of the resort, with a breathtaking backdrop of Bourgeau mountain.
South Divide
Like Sunshine Coast, South Divide is a stunning run to carve up with jaw-dropping views of Mount Assiniboine. To get to South Divide take a quick lookers right off the Great Divide chair lift. Before you start to ski or ride down take a look to the South, located on the Great Divide you will see Mount Assiniboine. This grand mountain, accessed only by hiking or helicopter stands at 3,000 meters high (add in feet) and has rightfully been given the nickname "Matterhorn of the Rockies".
Upper Canyon
To access upper canyon, take the wolverine express quad to Short and Sweet, from here you will have a direct line to "Upper canyon ". Make sure you remember to pick up some speed or you might have to do some skating. Upper Canyon, is part of our old ski out, and is historic way to end your ski day. At Banff Sunshine Village we have some of the most amazing mountain views, but some of our most underappreciated views are our tree runs. While on Upper Canyon you'll be surrounded by towering trees. After a fresh snowfall, these pine trees look like they've been dusted with powdered sugar, which creates a very picturesque scene.
Bonus Run!
Little Bunkers
An immediate lookers right from Standish Express will take you to this scenic run. Before you descend down the mountain look to the Southwest to see the majestic monarch mountain.
While you're out shredding Canadas best snow don't forget to stop and take in the views.