Monday, November 29
The Art of Mountain Life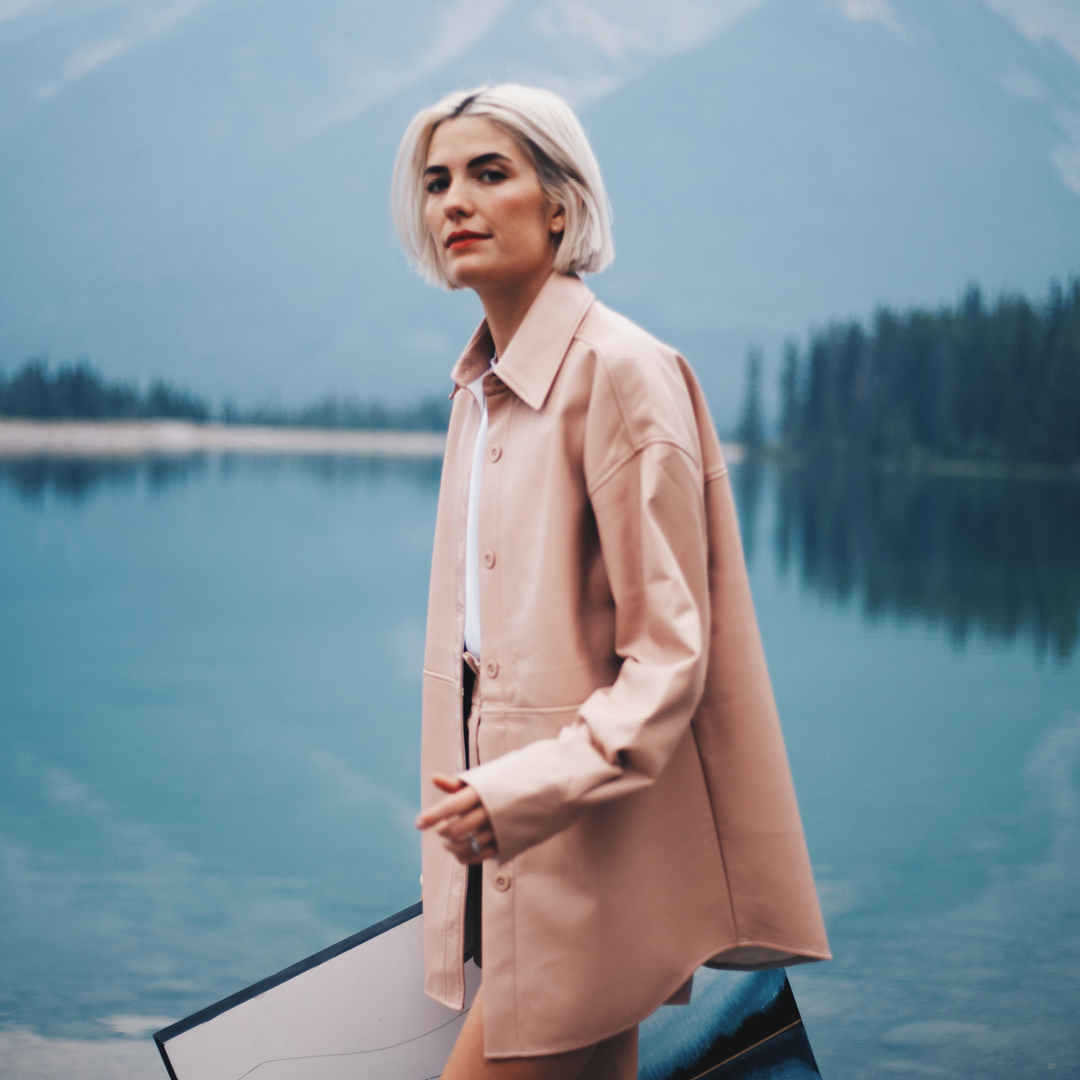 Nov 29, 2021
The Art of Mountain Life
Sunshiners To Know: Kerry Langlois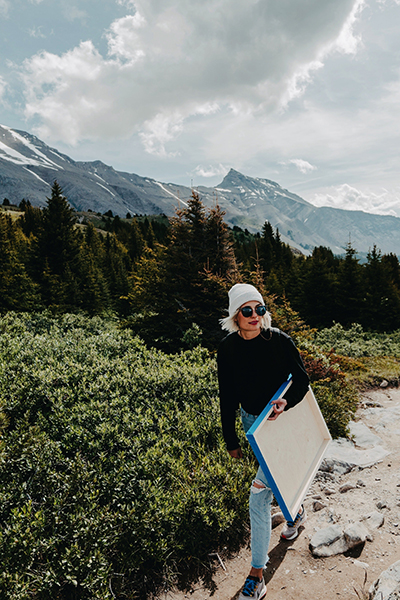 At Banff Sunshine, we're lucky to have an incredible community of skiers and snowboarders who are in constant pursuit of chasing their dreams when they're not carving up Canada's Best Snow.
Banff has long been a haven for the creative. Lucky for us, local artist and Canmore local Kerry Langlois would agree. We might be biased, but at Sunshine, we believe there is no more fabulous muse than the drop-dead gorgeous Canadian Rocky Mountains we're fortunate to call home.
Born in Banff (yes, people were "actually" born in Banff until 2013) and raised in Canmore, Kerry is a contemporary Canadian painter whose work can be described as mountain modern. Her stunning work is bold yet simple, abstract, and yet incredibly detailed. At first look, it's clear her work is inspired and enriched by her presence in the Canadian Rockies.
A self-described "artsy kid," Kerry knew she wanted to be an artist at a young age. As a child, when asked what she wanted to be when she grew up, she would confidently retort, "I'm going to be an artist." In pursuit of her dream, after graduating high school in Canmore, Kerry moved to Montreal, where she earned her bachelor's in fine art from Concordia University.
After 7 years in Montreal, the call of the mountains (we like to think the call of our Sunshine Terrain Parks) and the undeniable muse of the Canadian Rockies persuaded Kerry to move home. We caught up with the artist on the rise to talk snowboarding, art, and inspiration.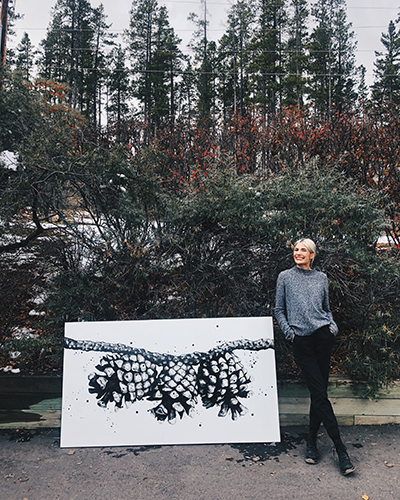 A Conversation With Kerry Langlois:
SV: What brought you back to the bow valley?
KL: I returned to Canmore in 2014 with the intention of saving up to go traveling, but then I fell in love with the mountains again and never left.
SV: What are your favourite activities to do in the rockies? Do your activities help with your creative process?
KL: In the summer I love to golf and in the winter I snowboard. My creative process is very intuitive. Having a rigid 9-5 schedule does not work for me. Instead I like to dedicate time every single day to getting outside and enjoying my other passions so that I can be more productive and creative in the studio. I truly believe that living a balanced life leads to better work, at least for me when it comes to my paintings.
SV: How does living in the Canadian Rockies inspire your art?
KL: Living here is a huge influence on my work. I describe my current body of work as mountain modern - everything is nature inspired but I'm not necessarily recreating a landscape based on an actual place. I'm more interested in capturing the feel of a place and creating contemporary paintings inspired by the beauty of our natural world.
SV: How did you get into art, what's your artist background?
KL: I was always an artsy kid. "Artist" was my answer to "what do you want to be when you grow up?" for my entire life. Whether it was drawing, making bead necklaces, embroidering, or building forts in our basement, making things has always been a huge part of my life. I moved to Montreal to go to art school when I was 18 and I've been making art ever since.
SV: What's your favourite run at Sunshine? Why?
KL: My favourite run at Sunshine is through the Divide and Spring Hill Terrain Parks. Sunshine park crew does such an incredible job of building and maintaining world class parks, and I feel truly lucky to get to ride them every winter. When I'm not in the park I love all the natural features and side hits on Standish.
SV: Thanks Kerry! We look forward to catching some park laps with you this winter.
To learn more about Kerry and her work, visit www.kerrylanglois.com, or follow her on instagram at @kerrylangloisart.
If you, like us, are fanning out on her work you can find her work at Canada House Gallery in Banff, at Adele Campbell Fine Art in Whistler and at Assiniboia Galleryin Regina.