Wednesday, February 16
Fun Facts About Our Banff Sunshine Chair Lifts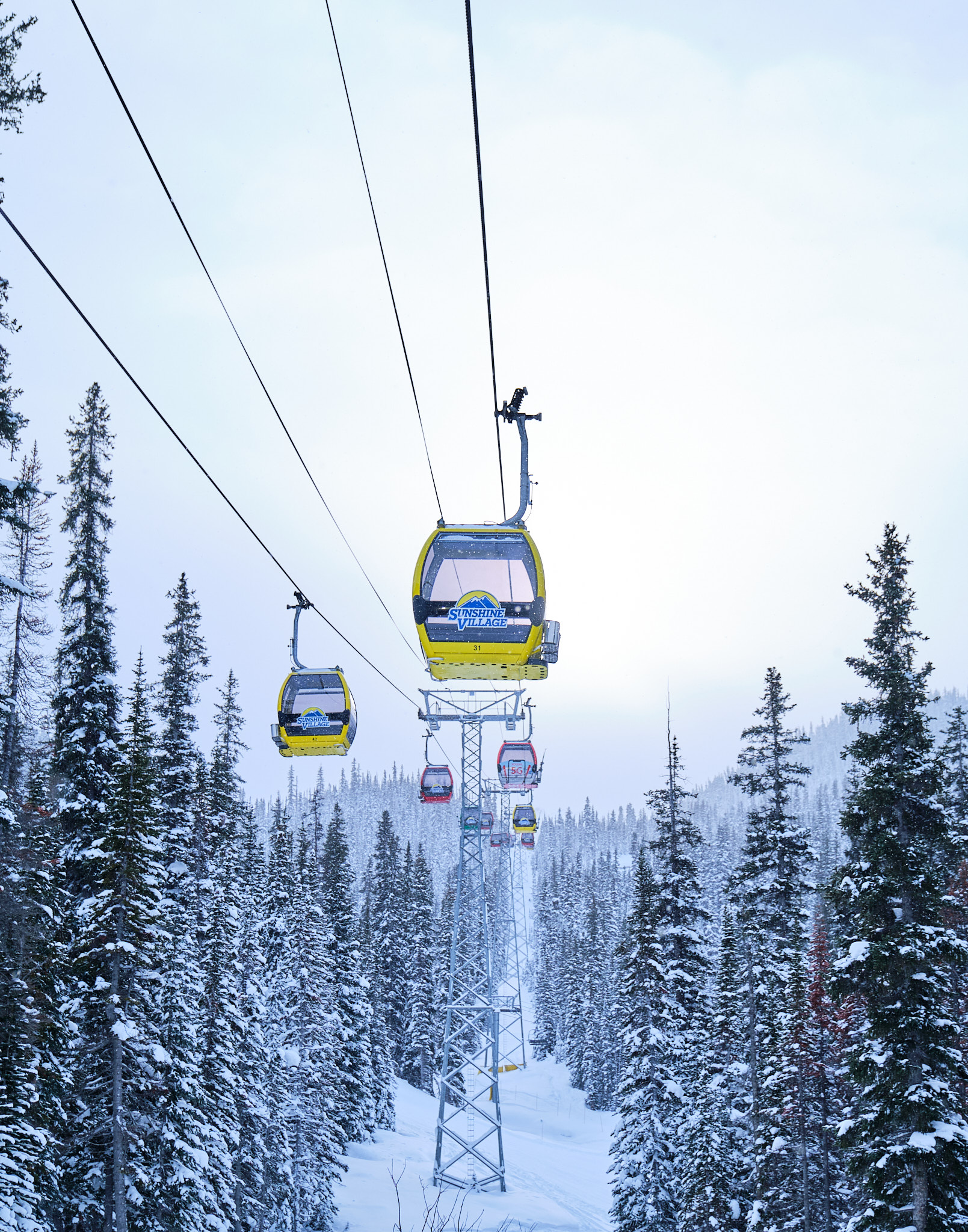 Feb 16, 2022
Fun Facts About Our Banff Sunshine Chair Lifts
When people ask us what makes Sunshine, Sunshine – we can launch into tangent after tangent about our incredible snow (thanks to our unique location high on the continental divide), our extra-long ski season (which spans from early November to late May – this year we are open until May 23rd, our three mountains of diverse terrain (from easy greens to double blacks so extreme), our on mountain hotel, and of course our 12 creatively named modern lifts (we are home to Canada's most modern lift system).
At Banff Sunshine, we believe skiers and snowboarders want to spend time skiing or snowboarding which is why we continually invest in our lift system. From our 12 unique chairlifts, skiers and snowboarders can easily access our 3,358 acres of skiable terrain.
From Strawberry Express to Goat's Eye Express, each chair at Sunshine was purposely built to efficiently cover as much of our mountain as possible. At Sunshine, we are known for our high-speed lifts that fly you from our village. Take a ride on any one of our lifts and enjoy 360 degrees of jaw-dropping, stunningly beautiful mountain views.
Have a favourite chair? Or in need of a chairlift conversation ice breaker? You're in luck! We collected some fun facts about our Banff Sunshine chairlifts! (These facts will also come in handy the next time you play Banff Sunshine Trivia)
1. Of our 12 lifts, the longest chair at Banff Sunshine is The Great Divide, it is 1725.17m or 5660ft long. Yes, that's right Great Divide is over 1.7km long! (Which means the lifts haul rope is nearly 3.5 km long.) Great Divide is also the only lift in Canada to fly in both Alberta and British Columbia.
2. Our Shortest lift at Sunshine is Jackrabbit, named after Jack Rabbit Johannsen, a pioneer in the ski industry who lived to be 111! Jack Rabbit Johannsen was famous for crediting skiing for his longevity.
3. Of all our lifts, Wolverine Express is the only chair at Banff Sunshine with a top drive system.
4. When it comes to the tallest tower of any chair at Banff Sunshine, contrary to what you might think, Wolverine Express can claim that! At 52.5 feet tall, or (17.4 m), Wolverine's Tower 12 is the highest point of any of our lifts.
5. Funny enough, Goat's Eye Express, the chair you would think would have the highest tower, actually can claim the shortest tower. At just 10.7 feet (3.26 m), Goat's Eye tower three is the shortest of all our towers.
6. While the prize of the longest chair goes to Great Divide, the award of most elevation gain goes to Goat's Eye Express. When ridding Goat's Eye, you'll gain 1860 ft of elevation or 567m.
7. Built in 1988, Angel Express is our oldest chair, and more importantly its claim to fame is that it is the Canadian Rockies first express chair.
Just to the skiers right of Angel, is Teepee Town Express. You'll know it's Teepee Town because of the bright orange bubbles. Built in 2015 Teepee Town is Canada's Only Heated Lift.
8. If you were to add up all of the chairs on all of our lifts, you would get to 637 chairs! Of the chairs, 112 belong to Angel Express.
Since replacing old Teepee Town with Teepee Town LX in 2015 – the chair went from the least ridden lift to the most popular chair on our mountain.
9. All of our chairs but Jackrabbit and Wawa are high speed lifts. To speed up Wawa (which gets its name from a native Canadian word for Goose) we added a conveyor belt to help prevent mis loads at the drive station. Since installing the conveyor belt the average ride time of Wawa has dropped by a full minute.
10. Bet you didn't know that Strawberry and TeePee Town can run in reverse? Our two Doppelmayr lifts have a reverse feature.
Not a skier, but still want to enjoy the beauty of Banff Sunshine? Both Standish and Angel can accommodate foot passengers during our winter months.
11. At Banff Sunshine, we have a winter Olympic connection! Our Strawberry Express was originally used at the 2010 Vancouver Winter Olympics.
For safety, each of our lifts has a wind system. The wind system monitors the speed of the wind and will automatically stop the lift or slow it down if it becomes too windy.
Which lift is your favourite?