Lookout Lounge & Bar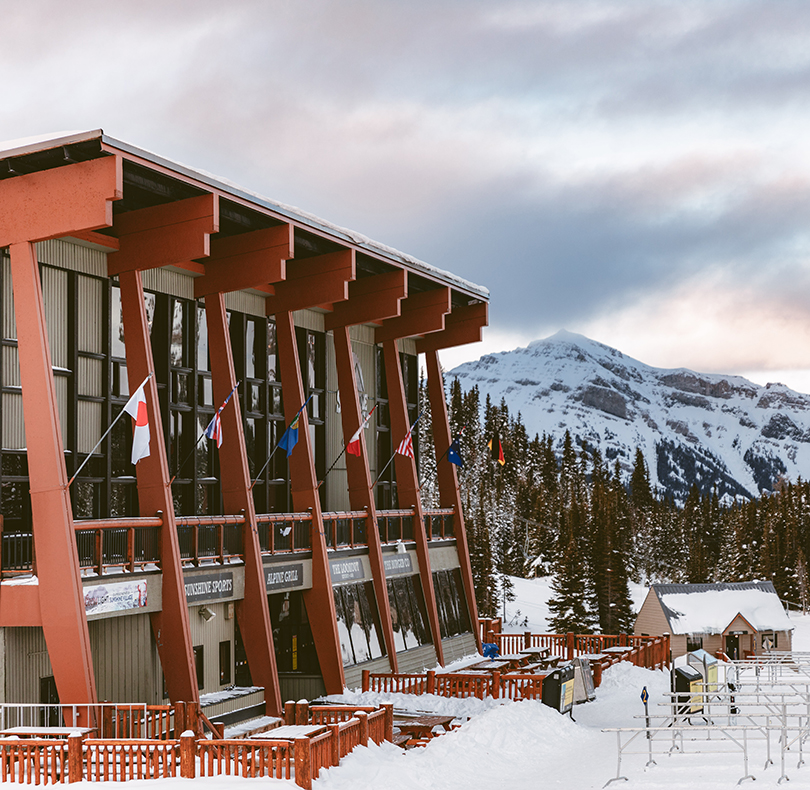 TO START
SOUP OF THE DAY $10
Dinner roll and Butter
CAESAR SALAD (V) $15
Crisp romaine hearts, Parmesan cheese, Bacon, croutons creamy garlic Caesar dressing
Add chicken $8, add tofu $5
WINGS $18
Hot , Bourbon BBQ or Sea salt & pepper. Served with Crudité and Ranch.
CAPRESE SALAD $18
Roma tomatoes, fior di latte, garlic, basil pesto, arugula, balsamic reduction, olive oil
SUNSHINE NACHO $18
Lattice cut potatoes, trio cheese, jalapenos, pico de gallo, served with sour cream & salsa.
Add Chicken or Braised Beef $8, Sub Vegan Cheese $3
BRUSCHETTA (V) $16
Roma tomato, basil pesto, garlic, parmesan, crostini, balsamic glaze
CALAMARI $19
Corn starch and flour dusted Squid, pickled red onions, served with tzatziki
GARLIC GINGER RIBLETS $18
Alberta pork ribs marinated in chefs' secret spices, charbroiled with ginger garlic sauce, garnish with green onion and toasted sesame seeds
ENTREES
ALBERTA BEEF DIP$22
Shaved Prime AAA Alberta beef stacked on submarine bun with horseradish aioli, provolone cheese served with Au jus and Fries.
GRILLED VEGETABLE PANINI $18
Eggplant, artichoke, zucchini, red peppers, fior de latte, garlic aioli, focaccia bread
Add chicken $8
OUTLOOK STEAK SANDWICH $26
Sliced Prime AAA Alberta sirloin steak grilled to your perfection topped with Onion Rings and Arugula Salad served on French garlic toast with Fries
Above served with fries or soup, upgrade to Caesar Salad $3 or Poutine $4.75
FISH AND CHIPS $24
Beer batter cod served with coleslaw and tartar sauce
ASIAN STIRFRY $19
Seasonal Vegetable stir fry sautéed in teriyaki sauce, served on a bed of basmati rice
Add chicken or beef $8
PESTO PASTA $19
Basil pesto pasta in roasted garlic cream sauce, served with choice of your pasta
Add shrimp or chicken $8
PIZZA 12" All $24
Hand Tossed, San Marzano Tomato Sauce.
Gluten Free crust available $3, Sub vegan cheese $3
MARGHERITA PIZZA (V)
fior de latte cheese, fresh basil, arugula, slice tomato
MEAT LOVERS
Mozzarella, capicola, pepperoni, prosciutto ham
MEDITERRANEAN VEGETABLE
zucchini, eggplant, bell peppers, red onion, artichoke
CHICKEN PESTO
Basil Petso, Chicken, Mozza, Red Peppers, Artichoke & Arugula Salad
DESSERT
CARAMEL CRÈME BRULEE (GF) $10
Creamy caramel, crack the top
CHOCOLATE CAKE $10
Decadent chocolate, berry compote
STICKY TOFFEE PUDDING $10
Toffee drenched cake, dates.
(GFA) - Gluten friendly available, (GF) - gluten friendly, (V) - Vegetarian, (VG) - Vegan, (VGA) - vegan available
DRINKS
COCKTAILS
SMOKED ROSEMARY NEGRONI 3oz $17
Gin, Sweet Vermouth, Campari, Rosemary Syrup
BLUEBERRY LAVENDER LEMONADE 2oz $16
Vodka, Lemon, Lavender Syrup, Soda
SMOKED OLD FASHIONED 2oz $17
Bourbon, Simple Syrup, Angostura Bitters
CLASSIC CAESAR 2oz $16
Vodka or Gin, Salt & Pepper, Worcestershire, Tabasco, Clamato with celery salt rim & Spiced bean garnish
WARM COCKTAILS
CINNAMON TEQUILLA HOT TODDY 1.5oz $15
Tequilla, Honey, Lemon, Cinnamon Syrup
PARK WARDEN HOT CHOCOLATE 1.5oz $15
Spiced Rum, Butterscotch Ripple, Hot Chocolate, Orange Bitters
BLUEBERRY TEA 1.5oz $15
Amaretto, Grand Marnier, Earl Grey Tea
BEER
DRAFT 20oz
Belgian Moon
20oz - $12.50 JUG - $34.50
Coors Light
20oz - $10.25 JUG - $27.75
Molson Canadian
20oz - $10.25 JUG - $27.75
Hop Valley Bubble Stash IPA
20oz - $11.25 JUG - $30.75
CANS
Pilsner - $9.00
Heineken - $12.00
Heineken 0.0% - $7.00
Sol - $11.00
Granville Lions Winter Ale - $11.00
Murphys Irish Stout - $11.00
New Castle Brown Ale - $11.00
OTHER CANS
Strongbow - Original Dry - $11.00
Strongbow - Dark Fruit - $11.00
Vizzy - Blueberry Pomegranate - $11.00
Vizzy - Pineapple Mango - $11.00
Arizona Hard Peach Iced Tea - $11.00
House Wines
RED
The Show Cab Sauv
Look for dominating aromas of prune and smoky oak with floral, licorice and cassis notes. On the palate expect resonating plus flavors with soft texture all the way through the finish.
5oz 15$
8oz 20$
Bottle price 60$

Manos Negras Red Soil Pinot Noir
The autumn berry aromas are earthy with flavours of bramble, chocolate and plum with some earthy spice
5oz 15$
8oz 20$
Bottle price 60$
WHITE
11th Hour Sauv Blanc
Lime zest, elderflower and notes of guava come together to form an expressive nose. It has a textural, slightly saline and crunchy, zesty lime sorbet finishes on the palate.
5oz 15$
8oz 20$
Bottle price 60$

Cline Chardonnay
Orange Blossom, citrus and pineapple aromas and flavors. The palate is lush with a creamy texture and integrated oak and vanilla on the finish.
5oz 15$
8oz 20$
Bottle price 60$
ROSE
La Vie En Rose
Pale rose wine with fresh red berries and fruit drops on the nose. Full and refreshing on the palate, with the acidity and richness bringing out the very pleasant aromatic range, reinforcing the first impression on the nose.
5oz 12$
8oz 17$
Bottle price $50
PROSECCO
Botter Conegliano Val DOCG
The prosecco is light and lemony with green apple floral characters.
5oz 15$
Bottle Price 60$
Subject to availability