We want you to enjoy Canada's Best Snow and the longest season in the Rockies (in a normal year) with our new payment plan!
Be ready to hit to slopes, stress-free, on winter's return with our 2020/2021 Season Pass Installment Plan. When you purchase your season pass with our easy installment plan program, you'll be able to spread out the cost of your season pass purchase in five affordable payments.
Here's how it works:
- Secure your Banff Sunshine season pass with an initial payment of $103.95 (includes GST). Due at your time of purchase or August 30th at noon (MST).
Your next four payments will be divided into equal parts, each part represents the remaining cost of your pass.
- The second payment will be due September 1st
- The third payment will be due October 1st
- The fourth payment will be due November 1st
- And your last payment will be due December 1st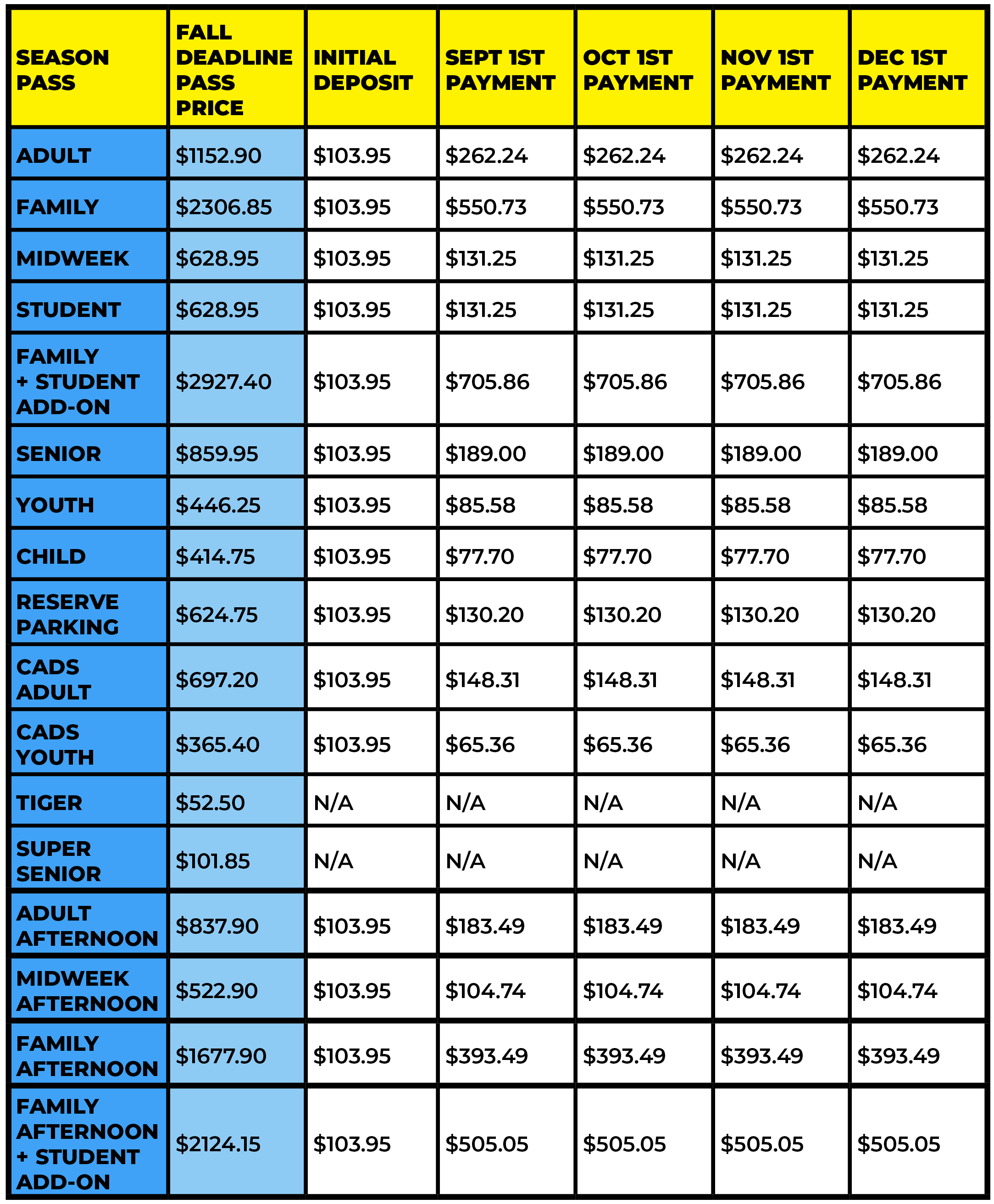 * All prices include GST.
*Note that If you opted for the Refund Option, the refund fee will
be taken upon the first payment of your season pass.
Interested in purchasing your 2020/21 Sunshine Season Pass with our installment plan? Perfect, here's what we'll need from you. To create your pass in our system, we will need a valid credit card and email address from you. As a Sunshine Installment Plan Pass purchaser, your credit card will be charged automatically on the payment dates. Please make sure your credit card expiry date is valid thru to the end of December 2020. Should a payment be declined by the bank, credit card provider or other, the pass will become invalid and the passholder contacted to resolve before the next visit.
New for 2020/21, we at Banff Sunshine Village are offering a No-Questions-Asked refund policy on all unused Sunshine Season Passes, less a $45+GST administration fee. Click here to learn more about our 2020/21 Season Pass Refund Policy.
To help us issue your pass on time, we kindly ask that you take a couple of minutes to sign your 2020/21 season pass waiver HERE.